Are Consumers Embracing Video-First, Click-to-Connect Solutions As Part Of The Buying Journey?
2020 has been a great lesson for us all. We have been reminded, amongst many things, that the tides of retail hold an unpredictable nature. As the buying journey takes on a new form, it's time to decide between two approaches: 1) maintain the status quo and react to what comes next, or 2) lead with innovation and shape those new buying behaviors with next-gen solutions.
At BDS, we chose the latter – to re-look at the shopping experience with a new, physically distanced lens and speed up our digital transformation to meet the needs of today's consumers. We put ourselves in the shoes of the shopper. How do we still create human connection in a safe, yet exciting, way? How do we demo products if we can't be there in person? How do we complete a sale if we can't walk the customer to the register? Alternatively, how can we bring that all-important human element to e-commerce?
INTRODUCING A VIDEO-FIRST, CLICK-TO-CONNECT SALES SOLUTION THAT MEETS CHANGING BUYING BEHAVIORS
Our answer: a video-first, click-to-connect solution called Tap-a-TechSM. Through a completely touchless, web-based experience, Tap-a-Tech allows shoppers to connect one-on-one with brand representatives over video to get personalized product demos and recommendations anytime, anywhere, just as if they were interacting in person.
The solution replicates the traditional trusted shopping experience via video with a simple tap of a screen. Online shoppers can connect with a live brand representative through a button on a product's webpage. Alternatively, brick-and-mortar shoppers can use their mobile device to scan a QR code that is affixed to a product's package or display in the aisle for instant contactless assistance. Behind the scenes, brands can control the look and feel of the experience by stationing experts in a variety of settings: at home, in-store, or in a custom branded BrightShopSM space.
Tap-a-Tech is one of many recent digital-first innovations from BDS that are designed to create brand hype, power engaging experiences, forge connections, boost conversions, and re-instill consumer confidence. Additionally, it augments the core in-store basics that you should already have in play – Market Development, Assisted Sales, Interactive Display Installation & Management, and more – so you can meet consumers in the channels and environments they're already visiting.
WHAT'S DRIVING THE ADOPTION OF VIDEO-POWERED SOLUTIONS AMONG CONSUMERS?
The fact is: buying behaviors have already changed. And if you're not meeting your customer where they are, then you're already behind. As we enter into the official start of the holiday shopping season, let's look at how these buying behaviors have altered and why you should really be considering video powered solutions, like Tap-a-Tech, going into 2021.
Online Shopping Has Become an Essential Need
The rate at which consumers resorted to online shopping during the height of the pandemic changed the course of buying behavior, and we are now seeing its effect across all channels. The top driver of online sales now is necessity, with over half of online shoppers purchasing items online that they would normally purchase in-store. Other top drivers include finding the best savings, shopping out of boredom, and supporting charity.
A notable online behavior that has taken off even more for consumers is reading online reviews – this plays a big role in shoppers' buying decisions with 80% of consumers 'very often' or 'always' reading product reviews. Consumers look to reviews since they can't see or touch the product like they are able to in-store.
With additional store closures and stay-at-home orders, over half of consumers are shopping online more than usual, and 45% of these shoppers don't expect their shopping habits to change long term. Needless to say, online shopping is the biggest portion of the buying experience right now and will continue to stay that way for a while.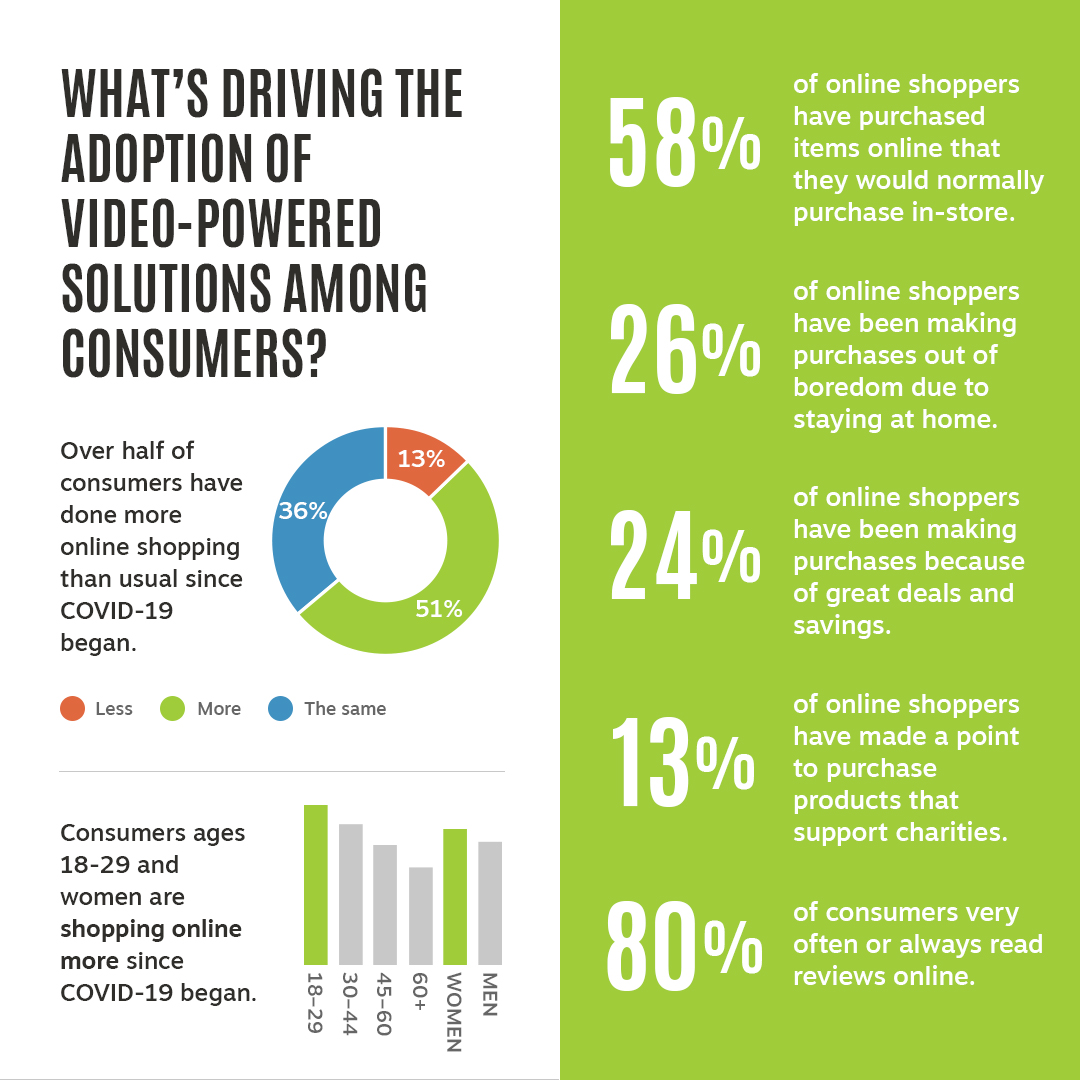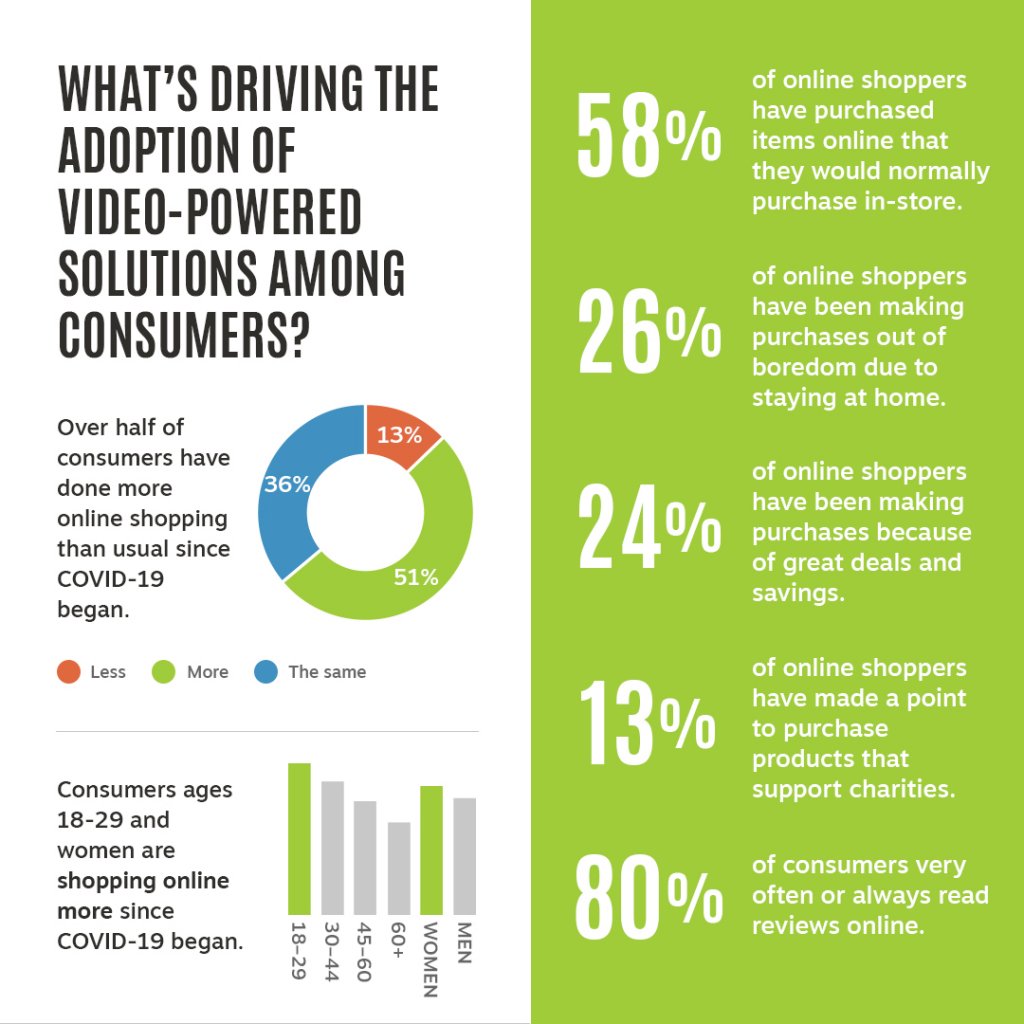 Demand for Video Content Is at a High
With an increase in online shoppers, brands are looking for ways to keeping consumers interested – virtually. The answer is video. Video content is in high demand because people are more likely to pay attention to it, with over half of consumers wanting to see more video content from a brand or business they support.
Video content has proven to affect purchase decisions too. 8 out of 10 people have purchased a product or service after watching a brand's video. Additionally, 66% of marketers get more qualified leads per year with the use of video marketing, and 93% of marketers say they have landed new customers thanks to video. Implementing video in forms of short clips, virtual sales assistance, augmented interactive displays and a few direct/indirect methods with influencers and nano influencers via social media have all been in high demand in the last 10 months, and there's no sign of stopping.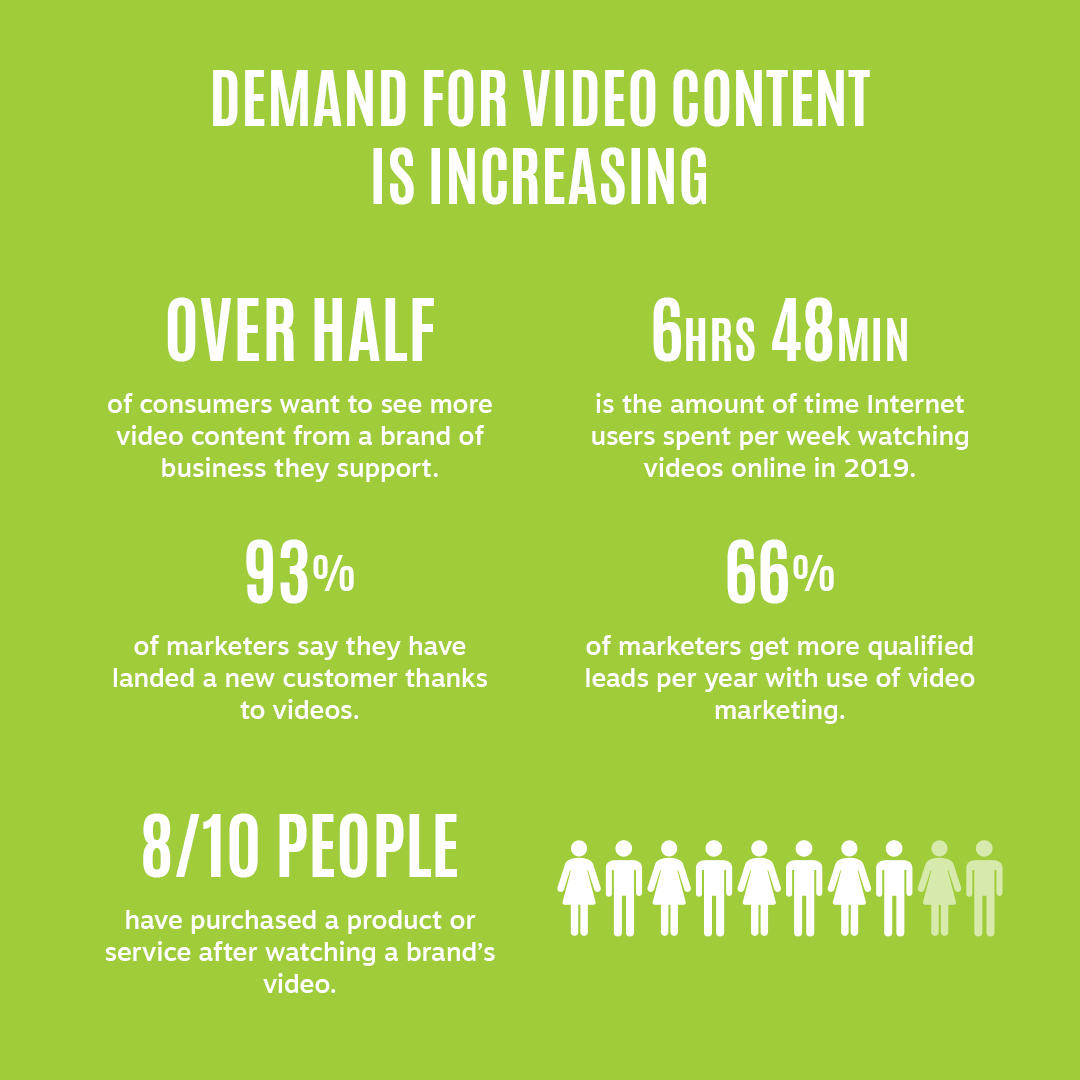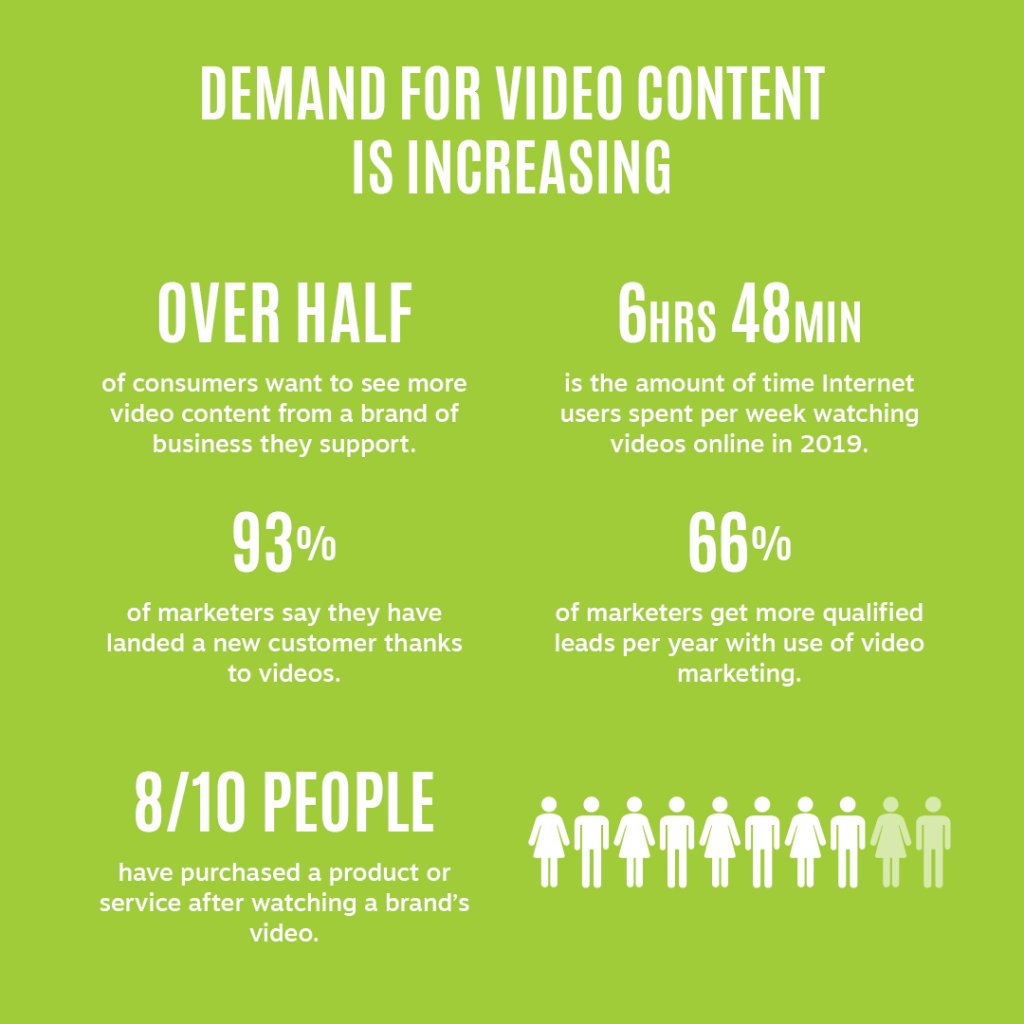 Shoppers Are More Likely to Make a Purchase Using Virtual Services
Overwhelmingly, consumers prefer to engage with a virtual brand expert over other omnichannel solutions. Why? Video engagement provides far more emotional cues than static images or text, allowing brands to build an empathetic connection that very closely mirrors real life. 90% of customers use video to help make purchase decisions, 72% prefer video to text for receiving branded marketing information, 49% respond negatively to online ads. Providing virtual alternatives for consumers to engage with that enhance the product experience has proven to be crucial to the buying journey during the pandemic.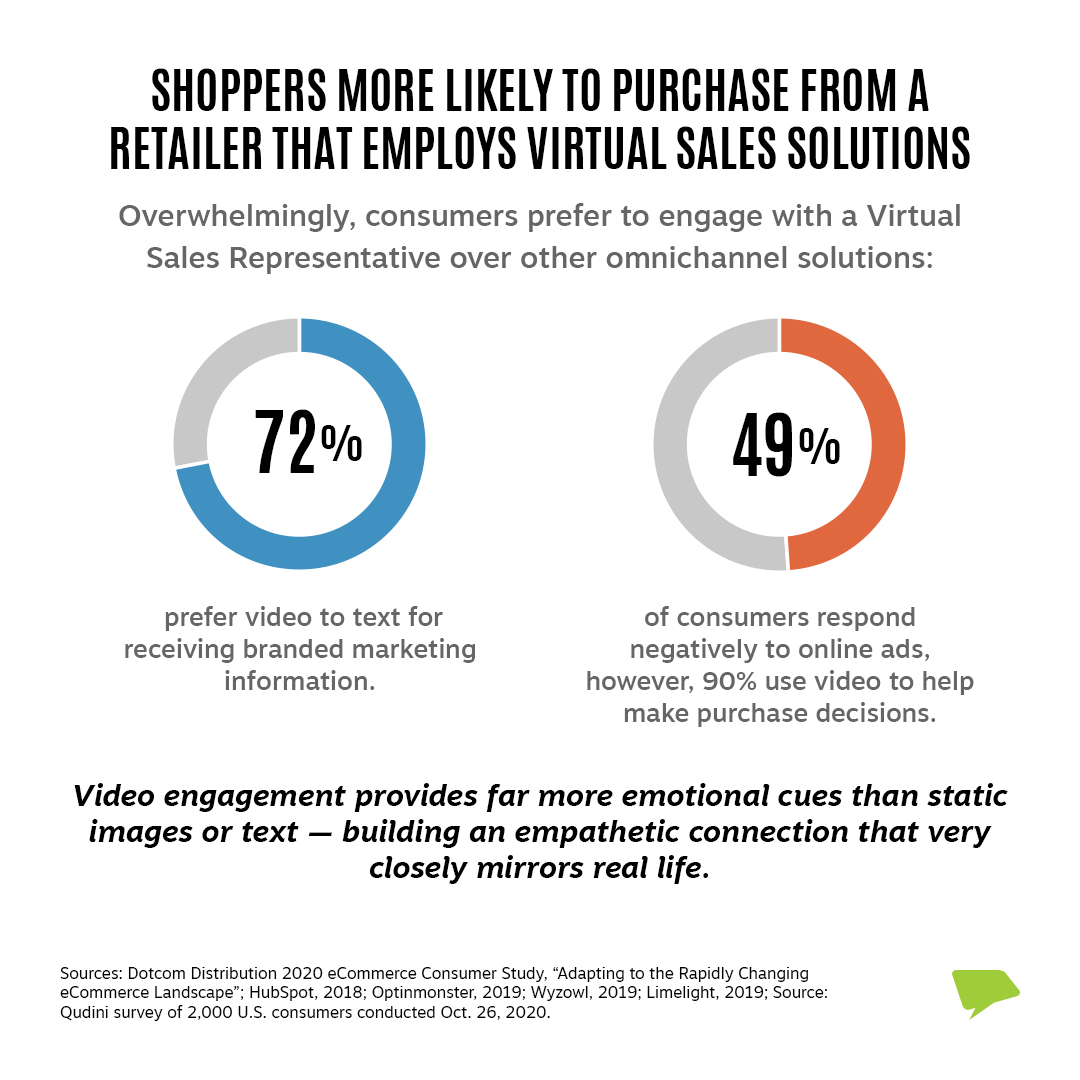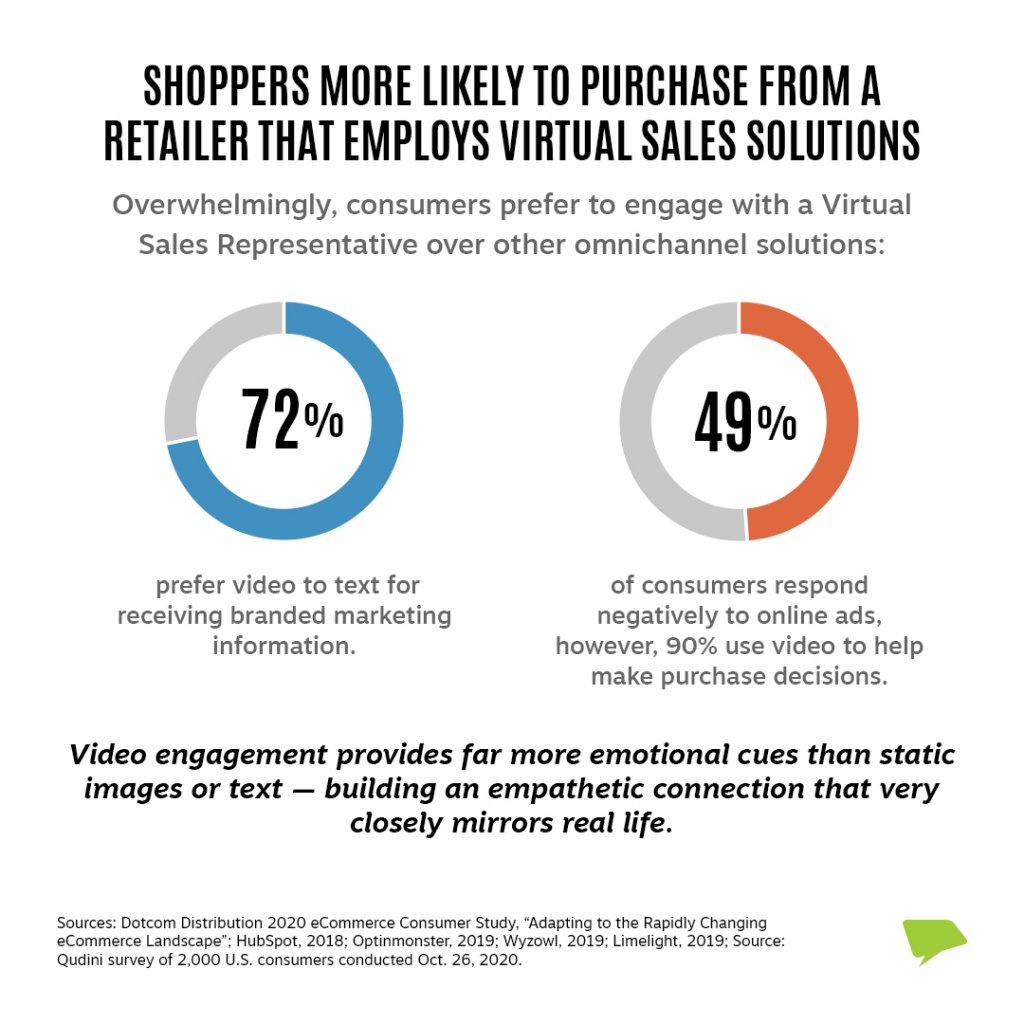 THE IMPORTANCE OF HUMANIZING THE DIGITAL EXPERIENCE
While online shopping and virtual experiences will continue to be a mainstay, it's important to remember the human element in the center of it all. At the end of the day, we know that people buy from people they trust – and even though it's not as simple as it used to be – our job is to create the environment and tools that make that human connection even easier, more accessible, and more memorable, regardless of whether it's in person, online, in a virtual world, or over video. We're excited to be able to extend what we've always done best at BDS – connecting people with products – and ensure that brands can meet their customers everywhere with Tap-a-Tech.
To learn more about how Tap-a-Tech can be part of your game-changing strategy for 2021, visit https://www.bdssolutions.com/hype-hive/ or send us a message at [email protected] You can also take a look at our latest video here: https://youtu.be/yc9nqYvFvP0
Want to view the entire infographic? Access it here! https://bdssolutions.com/0_Adoption-Of-Video-Powered-Solutions.pdf