Buzzworthy Insights – Most Shoppers Are Ready To Return To Stores
04.19.2021
Buzzworthy Insights
Brick-and-mortar stores are seeing some light at the end of the tunnel with consumers indicating a strong desire to return to malls and shopping centers once they are vaccinated. 73% of consumers who typically visited shopped centers intend to return again after they have been vaccinated.
The biggest categories that will see shifts toward in-person shopping are toys, games, and hobbies, at 121%, and apparel, footwear, and accessories, at 76%. In-store promotions are the top reason that consumers have for wanting to shop in a physical store, especially for Gen X (54%) and 55+ (52%).
But, there are some buying behaviors that gained momentum during the pandemic will likely continue:
1 in 5 consumers plan to primarily shop online in each product category.
Convenience is the main reason global consumers continue to shop online, followed by value, and the wide variety of available products.
Nearly 1 in 4 shoppers in the U.S. and the U.K. say they don't feel safe shopping in-store and that they don't find the in-person shopping experience enjoyable anymore.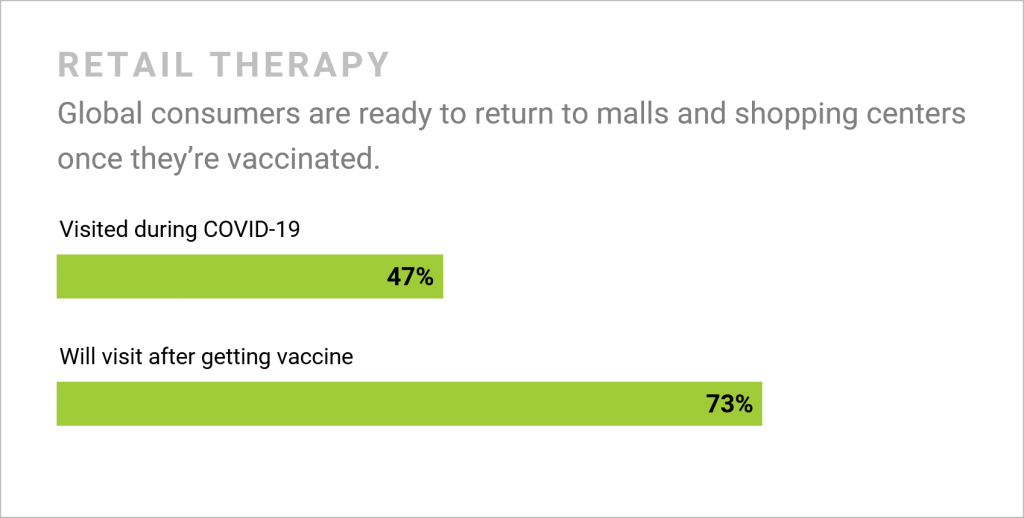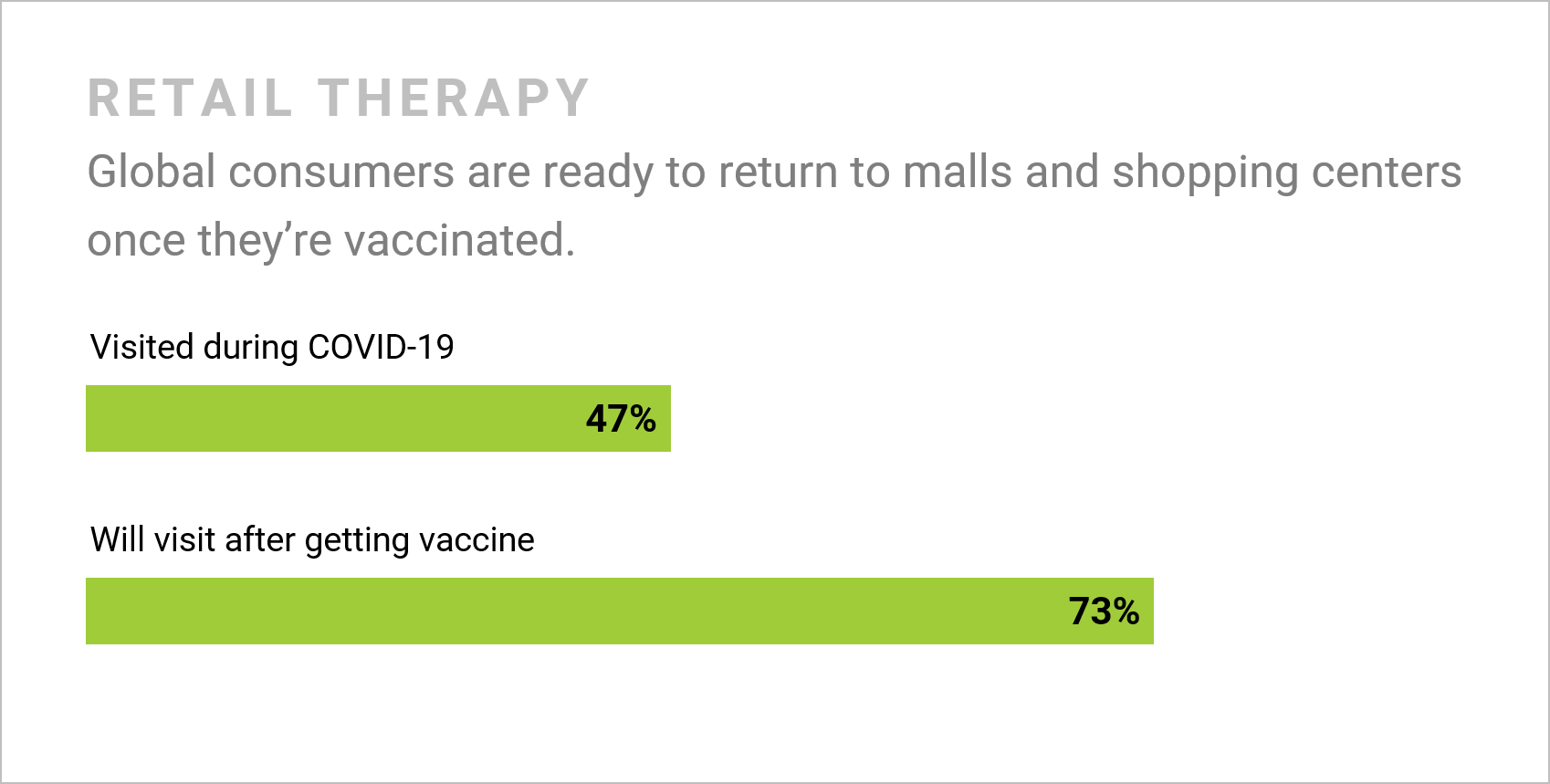 Sources:
Stimulus Checks Boost Q1 Online Spending
March's stimulus payments helped drive strong e-commerce performance in the first quarter of 2021.  Daily online spending in the U.S. peaked for the quarter on St. Patrick's Day, growing 117% year-over-year, which coincided with the official payment date for the first batch of stimulus checks distributed to Americans.
For the entire quarter, U.S. digital revenue rose 45% YoY, well above pre-pandemic levels. Product categories with the most digital YoY sales growth in the first quarter as reported by Salesforce include sporting goods (101%), home appliances (96%), and luxury handbags (95%).
On the other hand, product categories with the lowest YoY digital sales growth for the quarter included active apparel (42%), home, dining, art & decor (40%), and general handbags & luggage (8%).
Globally, digital revenue grew 58% YoY in the first quarter. According to Salesforce, this healthy global digital revenue increase was driven by a combination of an increase in the amount of money spent by shoppers per site visit (31%) and overall online traffic growth (27%).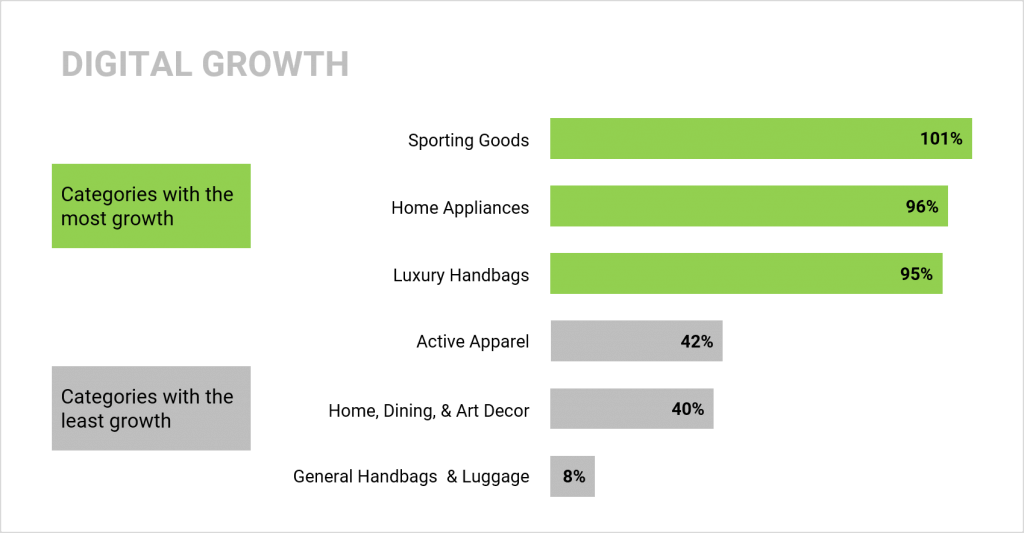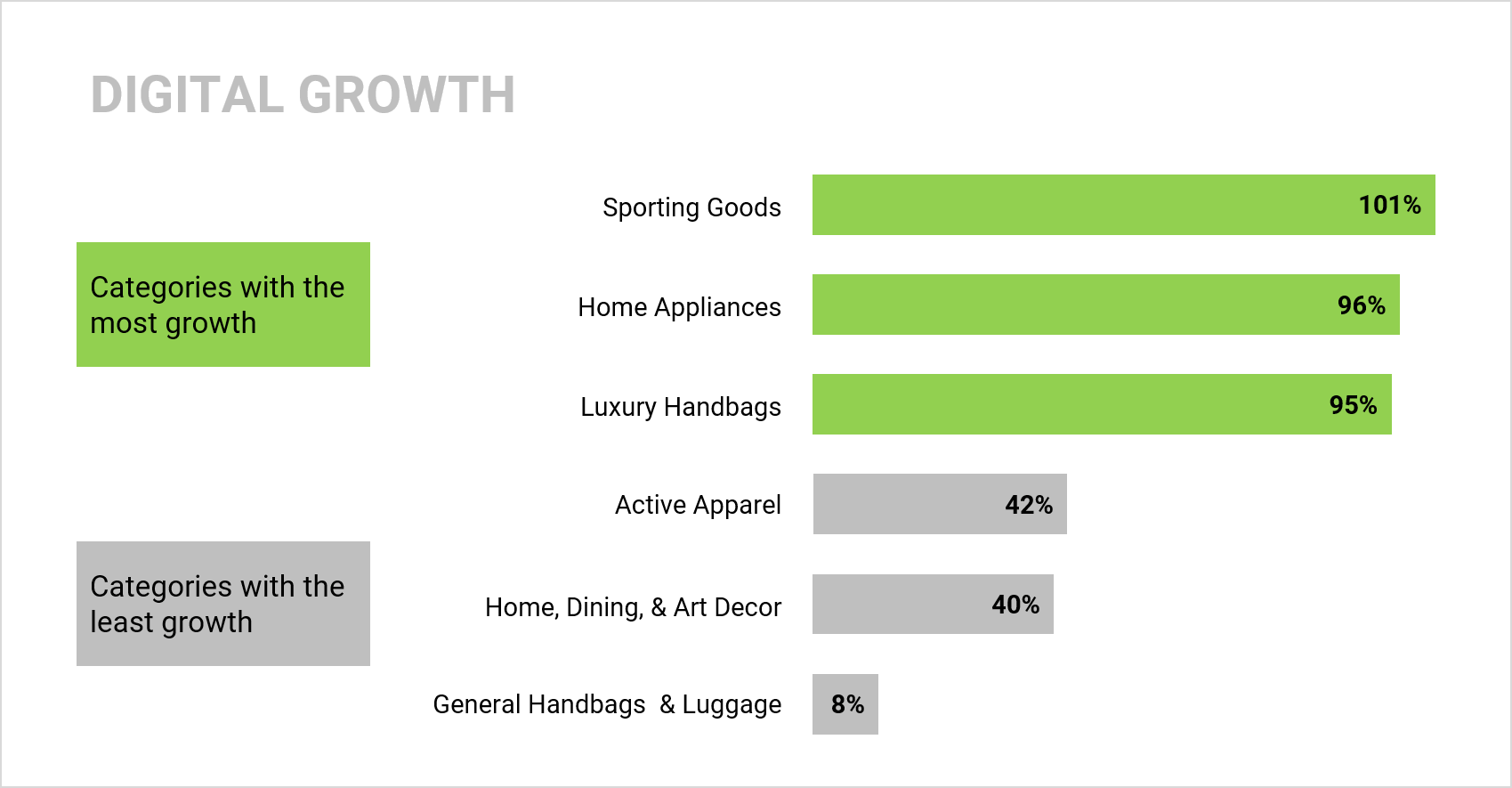 Source:
Brand Spotlights
Chick-fil-A
Chick-fil-A is partnering with Kiwibot, a robotic delivery service, to help launch its next iteration of delivery robots. The Kiwibot 4.0 is now delivering from up to three Chick-fil-A locations in Santa Monica, CA and more robots could be deployed at additional locations this year.
The Kiwibot 4.0 features sensors that detect people, traffic lights, and vehicles to create its delivery path. The delivery robots are also supported remotely by human supervisors to cross streets and stop immediately if needed. Average deliveries take 30 minutes and cost $1.99. (View source)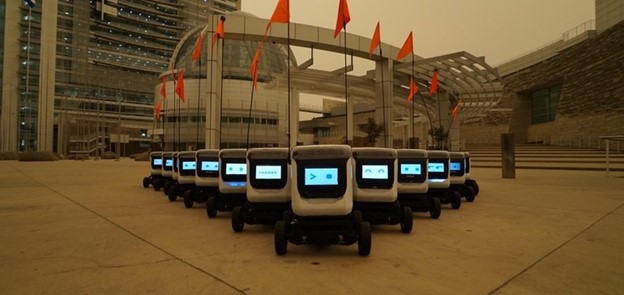 eBay
eBay will live host events across the country to authenticate some of the most popular items in collectible product categories, such as, sneakers, luxury watches, and trading cards.
At each event, customers can bring their own items for authentication and appraisal and will leave with an estimate of the item's worth and the option to list their items on eBay. Fans will also get an all-access look at some of the most unique collections owned by athletes and celebrities.
Authentication practices include vetting and verifying all new and pre-owned collectible sneakers sold on eBay for over $100, routing luxury watches to a third-party authenticator for assessment before being shipped to the customer, and letting buyers and sellers of sports memorabilia use Prova Group SmarTag solution to verify items. (View source)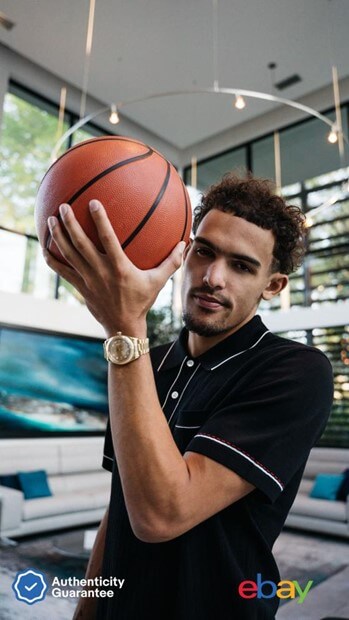 Kroger
Kroger has gone live with its customer fulfillment center (CFC), a leading-edge automated warehouse, that combines vertical integration, machine learning, and robotics with affordable and fast delivery service for fresh food.
Over 1,000 robots travel around giant 3D grids known as "The Hive", that contains totes with products and ready-to-deliver orders. As customer orders near their delivery times, the robots retrieve products from The Hive, which are presented as pick stations for items to be sorted for delivery. After being packed, orders are loaded into a temperature-controlled Kroger delivery van which can store up to 20 orders. (View source)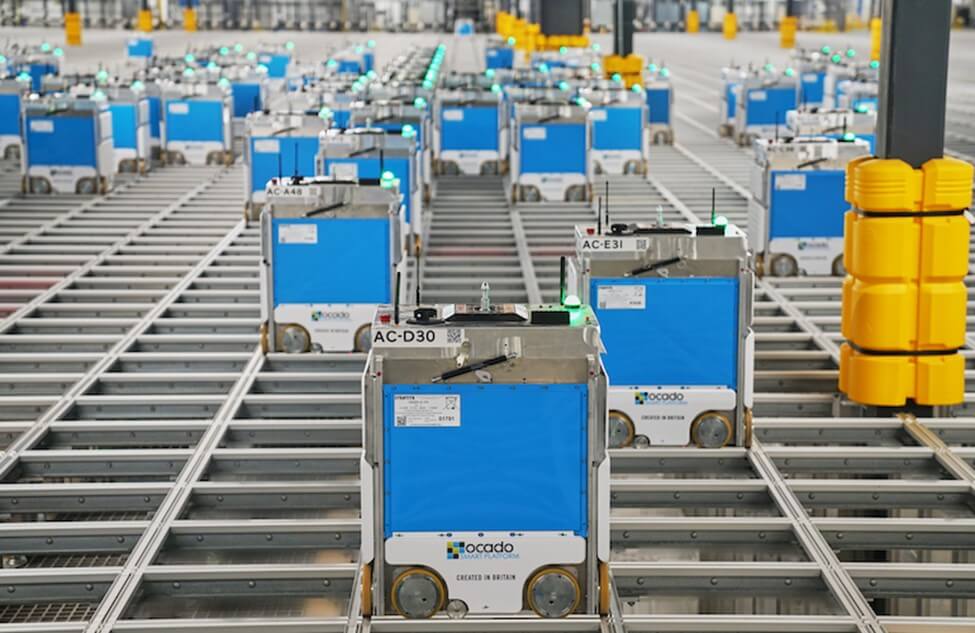 Photo, Super Market News: (View source)
Lowe's
Lowe's updated its profession customer (Pro) experience and designed it for speed and convenience, saving Pros time and money. The updated Pro experience includes a dedicated area called, "The Pro Zone", for grab-and-go popular pro items, new products, and value packs located at the Pro entrance.
Other features include Pro trailer packing, windshield washing stations and free air pumps, dedicated Pro checkout, and flexible credit options that can save Pros 5% off on eligible purchases. (View source)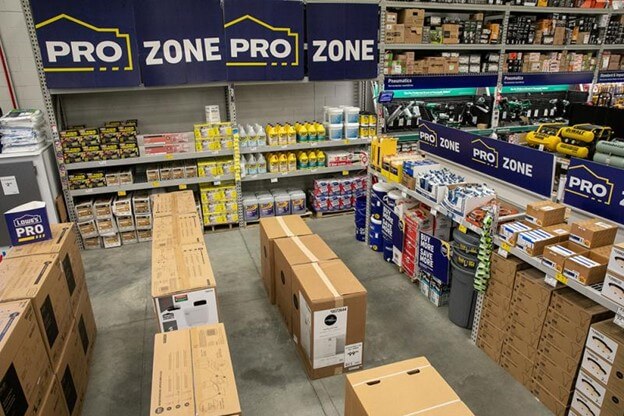 Nike
Nike is introducing a new program called "Nike Refurbished," which resells returned shoes at discount prices. After a shopper returns a pair of shoes to a participating Nike store within a 60-day return window, eligible footwear is added to the Nike Refurbished lineup. Nike Refurbished is also covered by Nike's 60-day wear test. If it's not what a shopper needs, they can return it. (View source)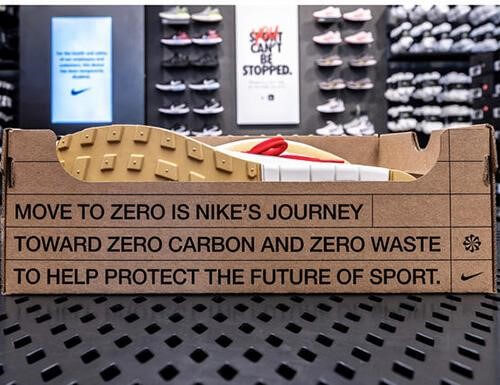 Taco Bell
Taco Bell opened its first digital-only store in New York City's Times Square. The restaurant is based on the Cantina format, which has a smaller footprint and a more modern, upscale kitchen and menu that includes alcoholic drinks.
The location is designed to simplify and modernize the consumer experience and optimize the roles of store employees from manually taking orders toward higher-level customer service activities. (View source)
There are two options for ordering food and beverages:
Place an order through one of 10 self-service digital menu kiosks
Order ahead via ecommerce site or mobile app
Other Newsworthy Headlines
Dollar General
Dollar General is planning to hire 20,000 employees during its in-person and virtual hiring events from April 19th -23rd. The positions are open across store, distribution, transportation, and corporate operations. (View source)
McDonald's
McDonald's is closing hundreds of restaurants that are located inside Walmart stores throughout the country. The closing will leave McDonald's with about 150 sites inside Walmart by the end of the summer, down from 1,000. McDonald's has been gradually downsizing its footprint – the pandemic caused McDonald's to accelerate the closings as consumers increasingly opt for drive-thru. (View Source)
Regal Cinemas
Regal Cinemas will be reopening over 500 theaters this month after half a year of closed theaters and an operating loss of $2 billion. Attendance will be capped between 25% and 50% of capacity depending on the location. (View source)
Walmart
Walmart plans to convert the majority of its U.S. part time employees to full time by the end of its current fiscal year. This change follow Walmart's full time staffing strategy that has been successful in its distribution and fulfillment centers, where more than 80% of the employees are full time. (View source)
Wayfair
Wayfair will host its annual 48 hour "Way Day" online sales event starting April 28th. Way Day deals include free shipping, discounts of up to 80% off on Wayfair's retail brands, and hourly flash deals. (View source)