BDS INTRODUCES BRAND SHOP SERVICES FOR MANUFACTURERS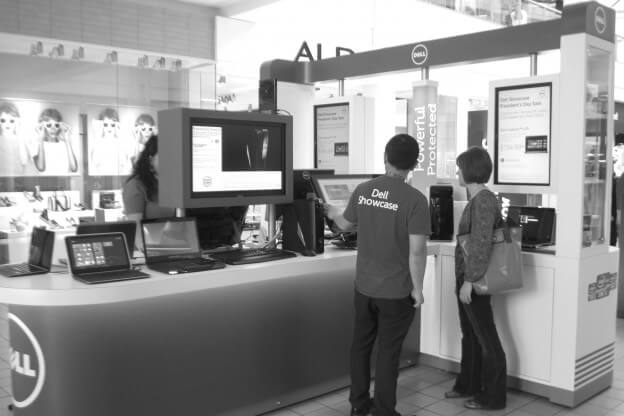 BDS Marketing Inc., recently introduced Brand Shop services for manufacturers as a retail format for brands to directly engage with consumers, just in-time for the fast-approaching holiday shopping season. Brand Shops sales professionals guide consumers to products that best meet their lifestyle needs; by meeting these needs, Brand Shops are able to generate higher product sales transactions and overall revenue growth for brands in apparel, consumer electronics, entertainment, home appliances, and retail, among others.
BDS Brand Shops is ready to support consumer brands in their efforts to increase brand awareness, drive sales, launch new products, and create positive customer experiences, while alleviating the burden of temporary or seasonal holiday staff recruiting. Leveraging its network of more than 50,000 highly skilled and vetted sales professionals, BDS' Brand Shops are quick to activate, with BDS owning the initiative in its entirety, from start to finish.
BDS saw these results in action last year when the agency completed a Brand Shops program for a leading consumer electronics manufacturer, resulting in per-unit revenue increases of 25 percent, at a time when overall consumer electronics sales were down seven percent.
BDS Brand Shops services include:
Design: brand insights, consumer insights, strategy, creative, visualization
Build: creative, layout, mock-up, production, testing
Install: site selection, timing coordination, logistics, crew work, compliance
Talent: recruiting, staffing, performance management and compensation
Performance Management: goals and success evaluation, quality control, communication
BDS' Brand Shops encourages purchases to be placed at retail locations or online through offering Brand Shops-specific incentives, such as accelerated shipping, brand gift cards, and discounts available only through the BDS Brand Shops. Brand Shops can be implemented on any one of five platforms, including Store within a Store, Pop-up Stores, Branded Small In-Line Stores, Retail Mobile Units, Retail Booths and Virtual Stores, all of which engage consumers in retail environments and allow them to interact with a company's products while providing a convenient and easy way to purchase products and services.