Brick-and-Mortar as the Gateway to Everything Retail
06.02.2021
Trending Topics
Over the past few years, especially with the onset of COVID-19 social distancing guidelines, the future of physical brick-and-mortar retail has been in question with both brands and consumers. Will it survive? Can it compete with e-commerce? The answer to both is yes, and it's being driven by consumers that increasingly want both connected services and immersive shopping experiences. Given the fact that this year's rate of store openings is outpacing store closures, retailers have also decided that closing is not the answer – rather, the evolution of the traditional physical store is. As consumers move toward digital shopping experiences, brick-and-mortar has transformed into a gateway that links to various touchpoints along the customer journey.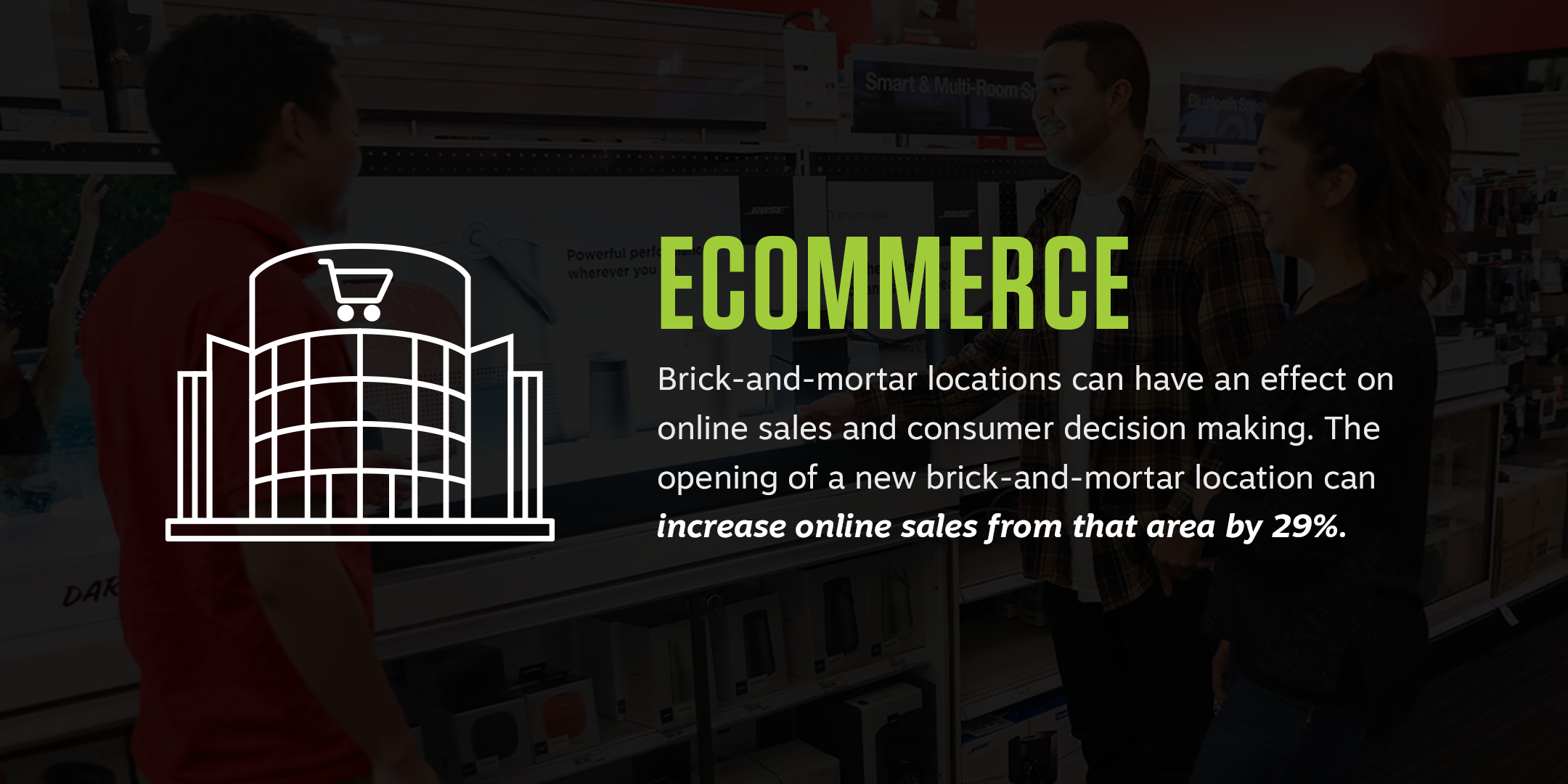 In-Store Shopping Is Still #1
Although online shopping was driven by the pandemic, in-store shopping remains the most popular way people prefer to buy. Younger generations, especially, like the ability to tune out social media with unique, immersive shopping experiences. For connected consumers, brick-and-mortar locations influence their decision making, not only in-store but digitally as well. The opening of a new physical store can increase online sales in the surrounding area if consumers have a good experience interacting with the brand, or simply notice the store while driving by. Shopping in-store can even encourage consumers to use a brand's technology. A downloadable app with access to promotions and store navigation will encourage shoppers to use it again when they shop online. Collecting shoppers' information and purchase history through technology, such as an app, facilitates a more personalized shopping experience online, and in-store associates can use this information to their advantage when assisting and upselling customers.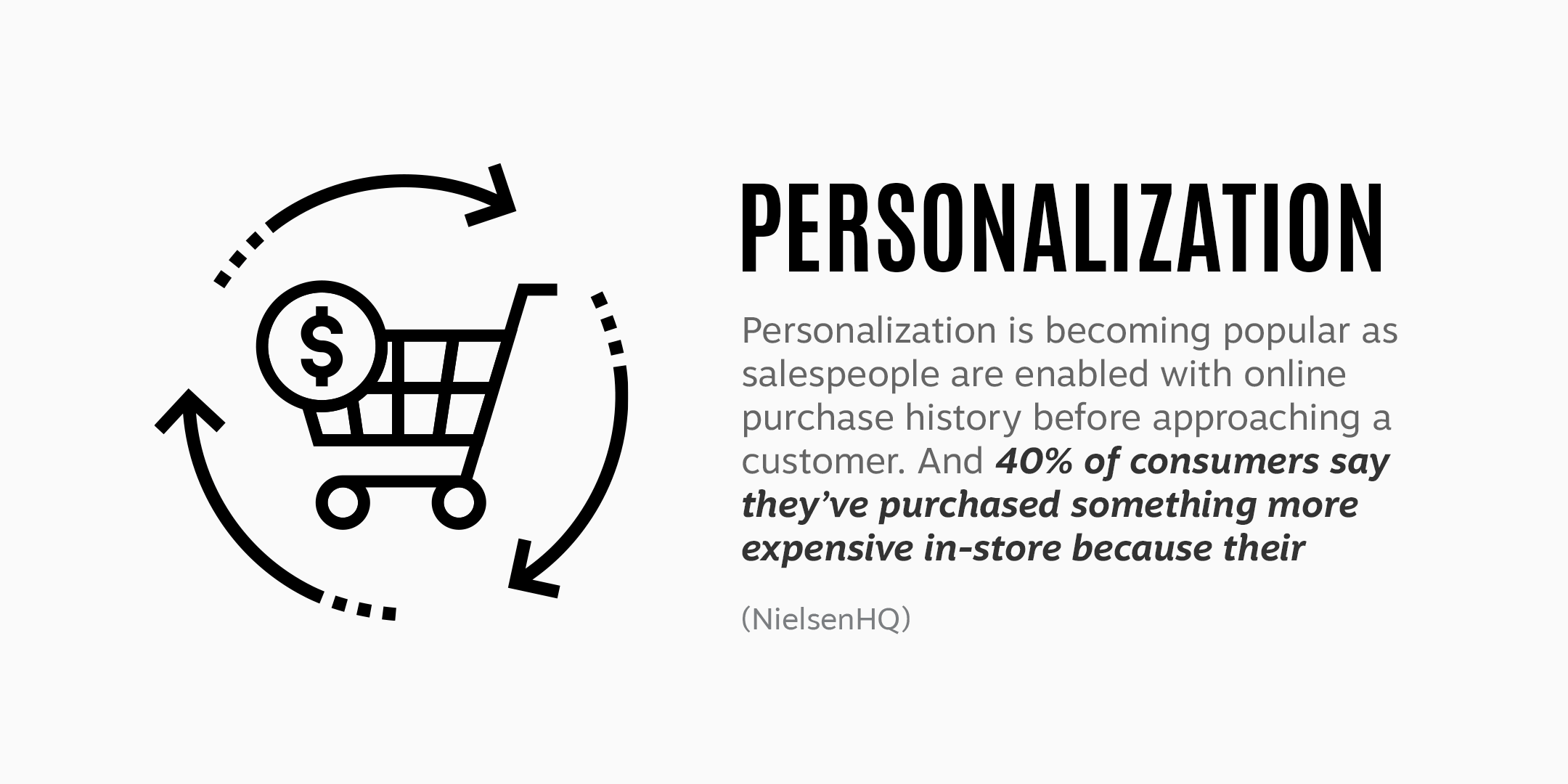 The Environment Creates the Experience
Brands should think of brick-and-mortar as an environment for interactive shopping experiences, and as a window to see which products are available for purchase online. Full product lines should be available in-store for customers to visually inspect and demo while inventory can consist of top products that are best sellers. A lower in-store inventory will allow for the store to occupy a smaller footprint, reducing rent and utility costs, while keeping the sales floor an intimate space where each customer is greeted and assisted immediately. Instead of being responsible for constant restocking and managing a larger floor, employees can focus on the process of engaging, selling, and ultimately providing personalized service. See below for some real-world examples of retailers who are using brick-and-mortar as a gateway to e-commerce, livestreaming, and AR/VR interaction.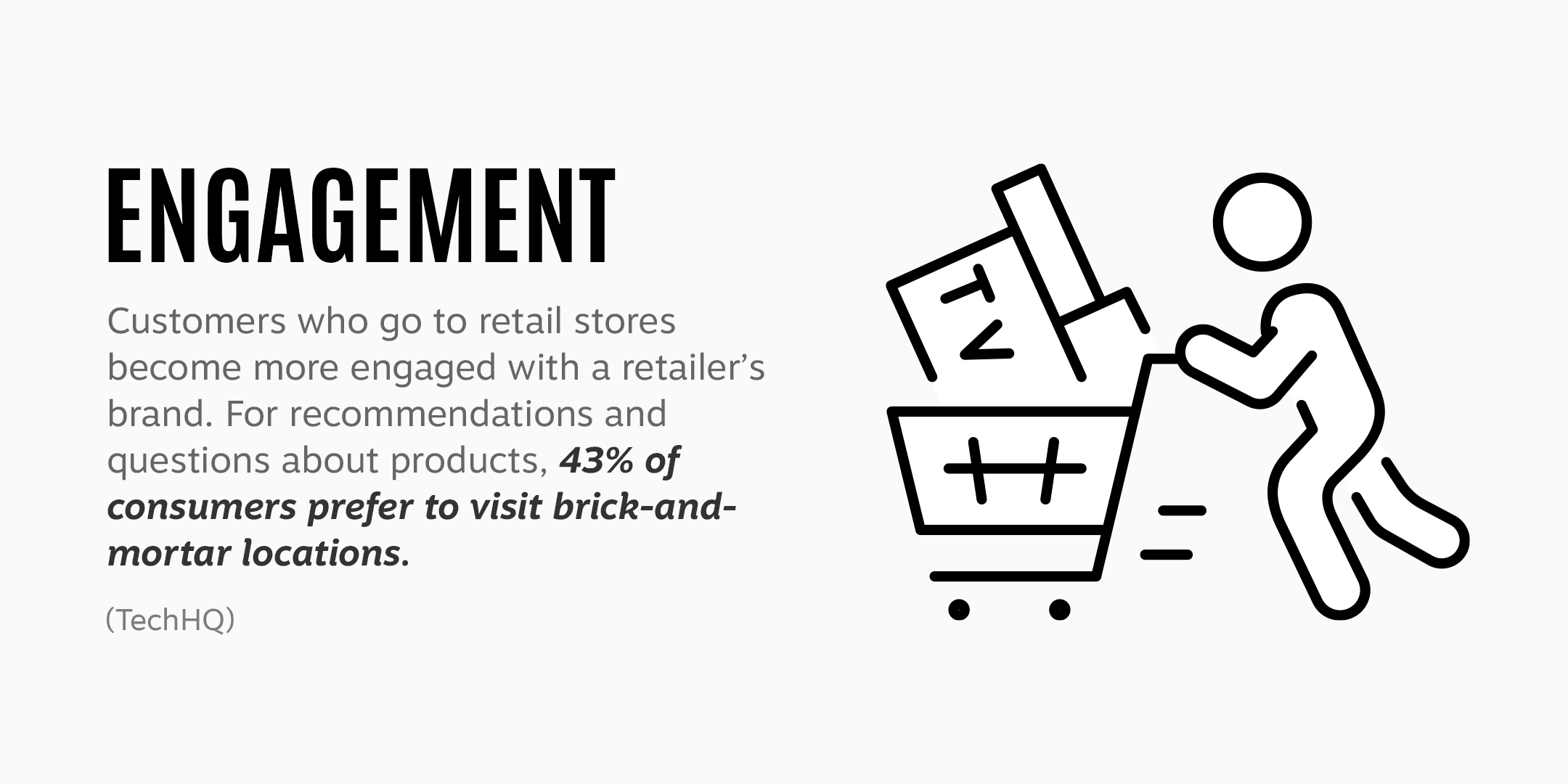 Case Studies
FastShop, São Paulo: Brick-and-mortar as a gateway to e-commerce.
FastShop is a leading electronics store in Brazil that specializes in providing a unique, personalized shopping experience with a digital twist. The retailer has combined the in-store "demonstration test and learn concept" with online fulfillment, allowing customers to order in-store and opt for speedy delivery to their home. After a shopper learns and demos a product of interest with a store associate, an in-store QR code is used to enable an online purchase, while in-store.  For fulfillment, FastShop partners with Uber to deliver the product to the home in less than 2 hours from the retailer's nearest hub. Personalized service is further demonstrated as customers are allowed to negotiate prices with the sales associates. This interaction is part of FastShop's customer engagement strategy and serves as one of the retailer's differentiating factors. (View source)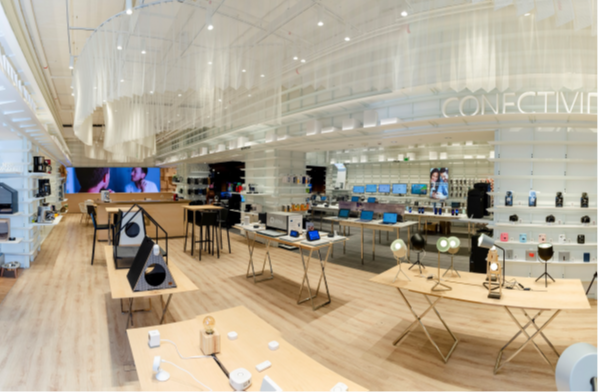 Photo: GDR/FastShop
 Shopline, Hong Kong: Brick-and-mortar as a gateway to livestreaming.
Chinese e-commerce retailer Shopline helped to create thousands of small online businesses within the past year as consumers spend more time online than in shopping malls. The platform has a livestreaming base to provide access to live content, encouraging sellers' engagement with their shoppers. Shopline has flipped the script and opened its first-ever brick-and-mortar location in Hong Kong. The location is not just a normal store; instead, the store acts as a physical set for livestreaming content, but it also allows consumers to shop "pop-up style" in-store and interact with the livestreaming host and audience. Shopline's sellers are interested in entering the brick-and-mortar space based on this model as one-fifth have expressed interest in setting up a physical presence. The popularity of their service caught on and Shopline now has served over 530 million customers internationally. (View source)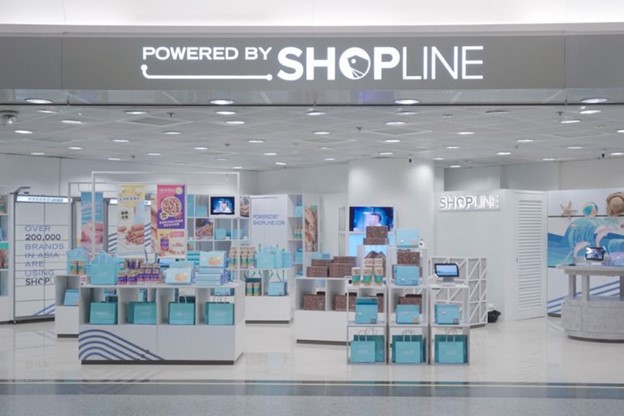 Photo: Retail in Asia/Shopline
Avon, Los Angeles: Brick-and-mortar as a gateway to immersive experiences.
Avon, a 135-year-old direct-to-consumer cosmetics brand, opened its first physical U.S. location, Studio 1886, in Los Angeles. The physical store is a community space for customers as well as Avon representatives. Studio 1886 is a 'playground for beauty lovers' and showcases all of Avon's best-selling collections. The store is curated with AR/VR tools at the 'Make Up Bar' that allow shoppers to virtually try on makeup and get shade matched with foundation, eyeshadow, and more. The augmented reality tools also enable the 6 million representatives around the world to experience training, learn about new products, and feel like part of a community. AR/VR helps create an emotional experience for both shoppers and representatives and a deeper sense of ownership towards Avon's products. It also eliminates any doubt a customer may have about a product's characteristics. (View source)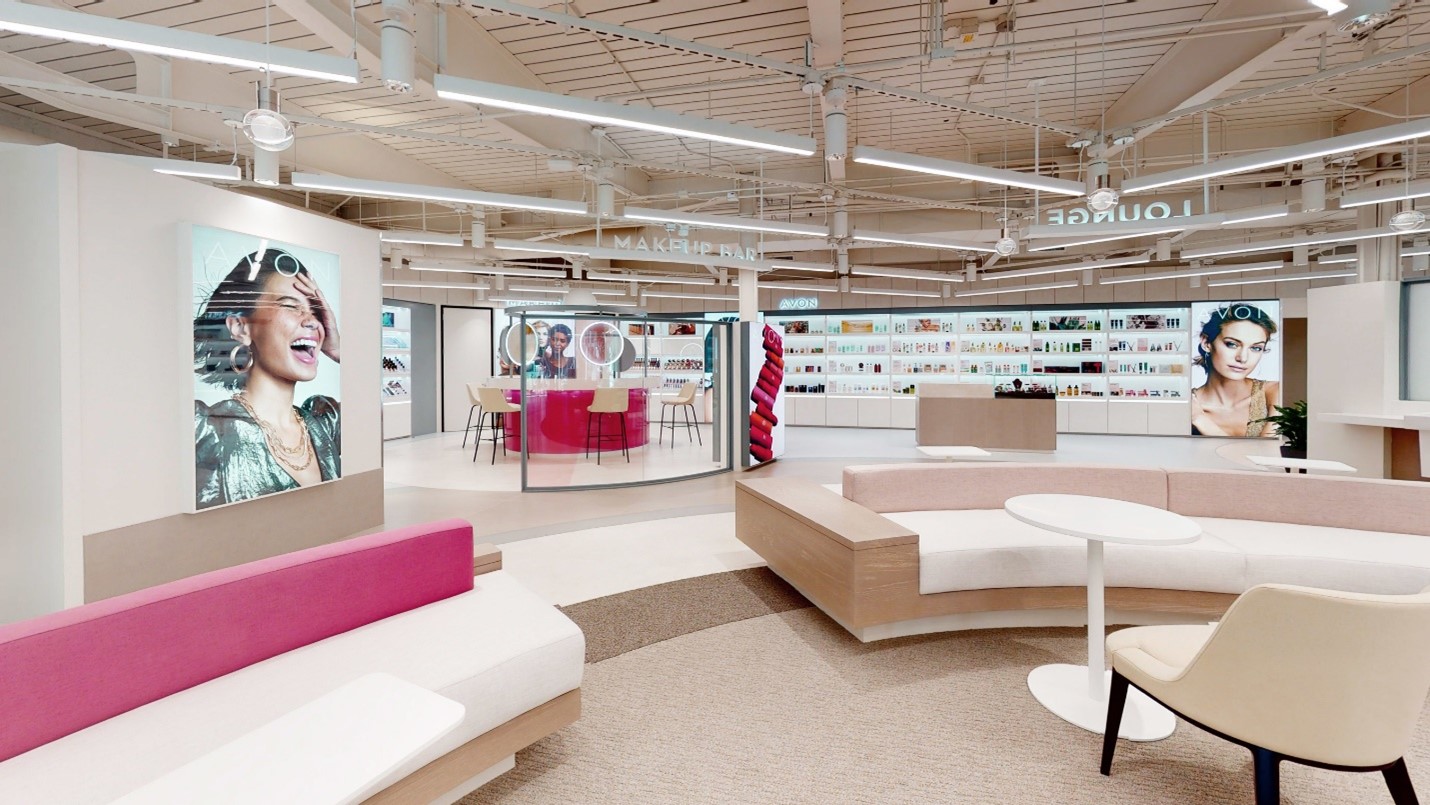 Photo: PRNewsfoto/New Avon Company
What This Means for Retail
Brick-and-mortar locations are more than just a place to shop in-store, they act as a gateway to various touchpoints along the customer journey that each offer its own unique shopping experience to consumers.
Brands must understand that consumers are becoming increasingly connected, both digitally and in-store. Offerings such as online shopping and experience-driven events, must resonate with your target audience and connect seamlessly to current services.
Personalized experiences are becoming very popular. Customers want brands to know what they want and how they want it. Salespeople should be enabled with online purchase history before advising a customer in-store, using the data as talking points to guide their next purchase.
Make customer engagement a top priority. Customers that go to brick-and-mortar locations become more engaged with brands. If an item of interest is not available in their size or favorite color, they will order it through an online channel, further demonstrating the connection between brick-and-mortar and online.
Consider the current footprint of your stores and how to save costs. Smaller retail spaces will decrease rental, utility, and employee costs, and provide a more personalized and intimate setting. Lower inventory levels and not worrying about restocking will increase the time that store associates spend with customers.
Industry Insights
Store openings are outpacing closures in 2021. (View source)
In-store shopping remains the way most people prefer to buy. (View source)
Consumers are looking for unique experiences – over 50% would attend a pop-up store, while 42% would participate in an experience-driven social event or a demo inside the store. (View source)
40% of consumers say they've purchased something more expensive in-store because of experience was personalized. (View source)
For recommendations and questions about products, 43% of consumers prefer to visit brick-and-mortar locations. (View source)
The opening of a new brick-and-mortar location can increase online sales from the area by 29%. (View source)
87% of consumers are either using of willing to use in-store tech. (View source)
Brick and Mortar "Showrooms?" How Stores Can Survive in the Digital Age. (View source)
Thanks for reading!
At BDS, we know a thing, or two about new and emerging trends and we've developed our own suite of services to help brick-and-mortars integrate and enhance the shopping experience with digital solutions. Reaching out to talk about your options is as easy as clicking here!
Find more from Shasta Catli on her LinkedIn profile, and make sure to click follow to stay up to date on current business/retail insights.