Buzzworthy Insights – A Peak Into The New Year
01.03.2022
Buzzworthy Insights
Gen-Z's Shifting Shopping Habits
Fast fashion is taking over the hearts and minds of Gen-Z. Social tracking platform Gist compared data from October/November 2019 to October/November 2021 on the shopping website used by Gen-Z. Taking the number one spot, Shein, followed by Zara, and in third place, Princess Polly. Urban Outfitters, the number one spot in 2019, is now number 16, passed up by many companies every other generation probably hasn't even heard of. Unsurprisingly, Etsy has risen greatly within the last year, especially during this holiday season as it jumped from 8th to 5th. (View source)
AI Revolution
Robots have been slowing integrated into the modern workplace for the past decade, due to the COVID-19 and labor shortages of the past year, introductions have been increased in order to meet consumer demand. Along with companies we've spoken about previously that have harnessed delivery and back-end prep robots, Buffalo Wild Wings and White Castle are testing burger flipping and chicken wing making robots. Sam's Club is harnessing robots that scrub floors and scan inventory, freeing up associates to better help customers, going to stock shelves when missing inventory has been identified. Starbucks is making many stores cashierless by having tablets at the counter, freeing associates to prepare drinks faster. A leading provider of the software many of these robots' use, Brain Corp., said the amount of square footage covered by these robots has increased 40% in the retail sector alone. (View source)
New Years in The Metaverse
As many opted out for attending New Year parties due to rising omicron cases, Decentraland hosted a virtual ball drop identical to the one in Times Square. Two major companies with the blockchain-based virtual word, Digital Currency Group and Jamestown, recreated the ball drop on December 31st as a part of their "MetaFest 2022", along with featuring many immersive games and other events. Populaurity of the platform has greatly grown within the last year and surprisingly, the island country of Barbados will be opening a virtual embassy in Decentraland. Roblox, another Metaverse environment, featured a New Year's party, hosted by Paris Hilton, on her own virtual island within the platform.  (View source)
Holiday Shopping Stats
Unvaccinated states led the way for in-store shopping this holiday season (Nov 1. – Dec. 24).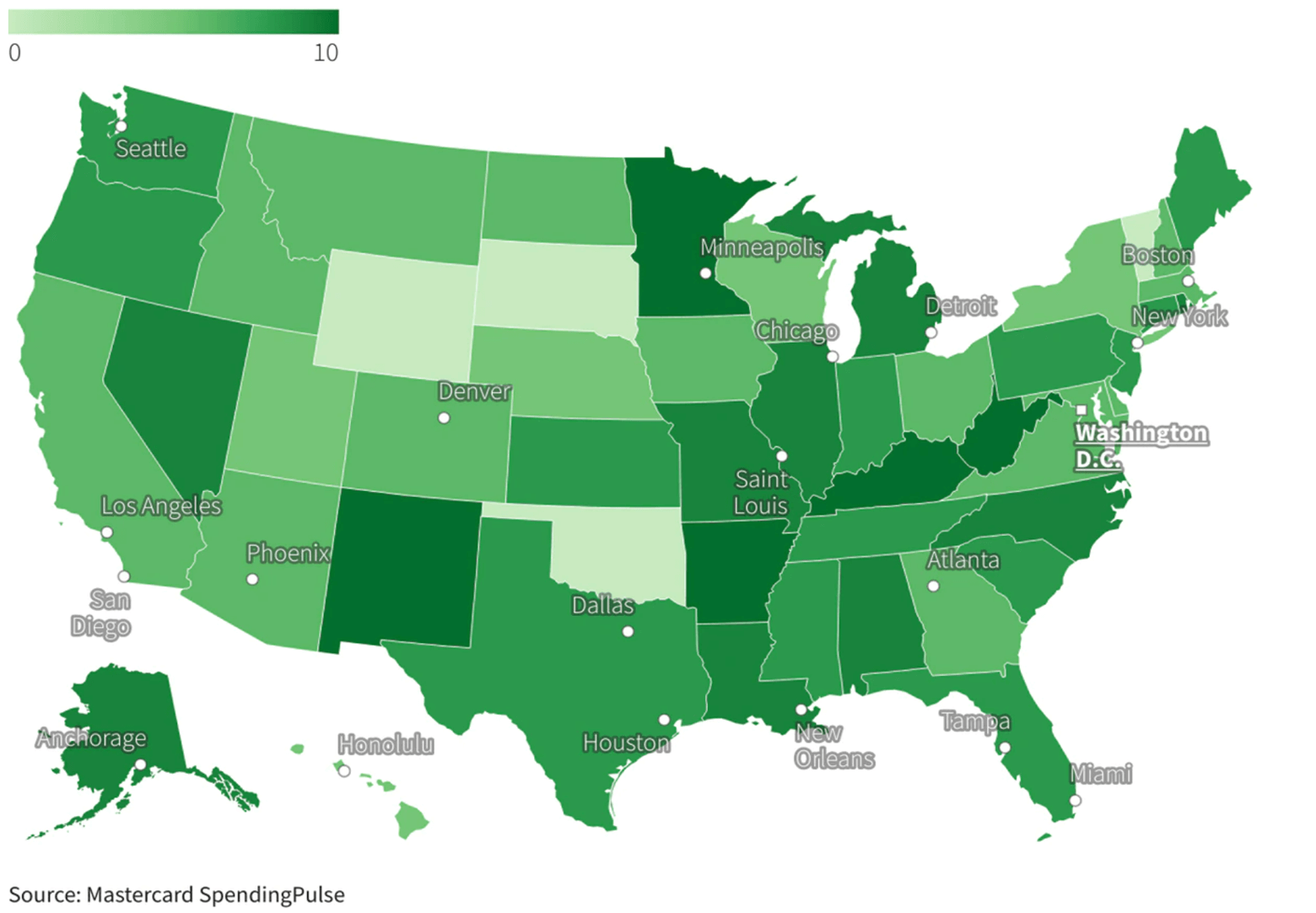 Consumers returned to stores in greater numbers than most expected, leading the way, states with lower-than-average vaccination rates. As many vaccinated people became cautious once again due to rising omicron cases, unvaccinated consumers were unafraid and led the way for returning in-store shopping. According to Mastercard SpendingPulse data, the average in-store increase was 8.1%, while many states with vaccination rates under 55% saw increases more than 10% – including Arkansas, Kentucky, and West Virginia. Outside the Midwest Region, we see varying increases as New York at a 72% vaccination rate saw in-store sales rise 5-6%, Illinois at a 64% vaccination rate saw an increase of 9-10%. Minnesota and New Mexico, two of the highest vaccinated states, saw increases higher than 10%, likely due to supply chain concerns, as in-store shopping provides immediate access to products. (View source)
 NYC Vaccine Mandate
On the heels of the OSHA mandate, New York will become the first city in the US to instate a vaccine mandate on all private businesses. Taking affect December 27th, all in-person employees must have at least one dose of the vaccine. If they have opted for full vaccination, they must receive the second dose within 45 days. Noncompliance will result in fines up to $1,000 per violation, escalating for each offense thereafter. The new mandate will affect nearly 184,000 businesses but many are wary of its effectiveness as it is being introduced in Mayor de Balsio's last week and the mayor-elect Eric Adams has yet to release a statement concerning the mandate. (View source)
Thanks for reading!
If you'd like Buzzworthy Insights sent to your inbox weekly, subscribe to the newsletter.