Buzzworthy Insights – Back-to-School News
07.19.2021
Buzzworthy Insights
Back-to-School News
Spending will be at the highest level in years!
As students and parents look forward to a return to in-person learning, the back-to-school season will be the biggest it has been in years for retail. Spending is expected to reach $32.5 billion, or $612 per student, for K-12 students. This is a 16% increase from 2020. Additionally, $26.7 billion will be spent by college shoppers, or $1,459 per student.
Spending will increase across categories that contain both traditional and non-traditional back-to-school items. 40% of K-12 households plan to spend more on back-to-school items that include clothing, basic supplies, computers, and electronics, up from 22% in 2020. Technology product spending is forecast to increase 37% over 2020 as parents have realized that education is becoming more digital.
Parents are ready to spend more, and earlier, for the back-to-school season as they anticipate a return to traditional learning. The increased spending on technology for K-12 and college students shows a shift in how students learn as well as how parents shop for their necessities. (View source)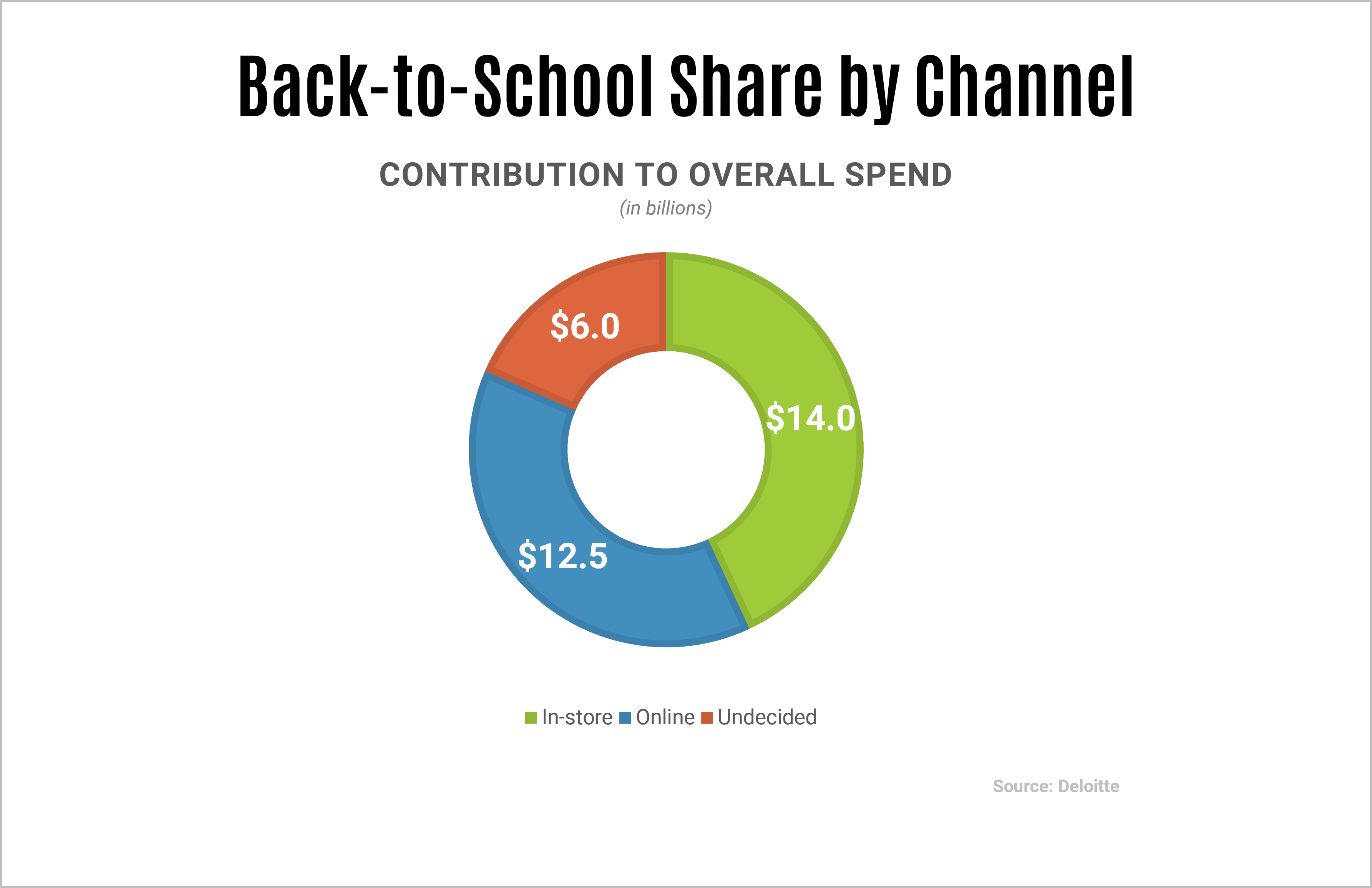 Child Tax Credit Payments
Could this act as a stimulus for retailers?
Monthly child tax credit payments, provided by the IRS, started last week and will run through December 2021. The payments will be $250 or $300 per child, depending on age, for families that qualify for the full amount. The total size of the child tax credit is $110 billion, and JPMorgan estimates that it could lift retail sales by $55 billion.
This tax credit program is a poverty-fighting tool passed as part of the American Rescue Plan, but this could potentially act as a stimulus to encourage spending on food, clothing, and school supplies. The retail sectors where middle and lower-income families spend money will be the biggest beneficiaries of a pickup in sales in the coming months. This includes grocery stores; big-box retailers like Walmart, Target, and Costco; value retailers like Dollar General; and auto parts retailers. (View source)
Scan & Ship
Sam's Club tests out a new app-based feature that stands out against competitors.
Sam's Club announced the launch of 'Scan & Ship,' a new digital feature that allows customers to buy items in-store and send the purchases directly to their home. Customers at select clubs can browse the aisles, scan the items they'd like to purchase in the 'Scan & Go' app, and choose to have them delivered to their homme at checkout on their smartphone.
Scan & Ship is helpful for customers who don't have the space to transport large items that are often packaged in bulk at Sam's Club. This new digital offering is meant to stand out from competitors like Costco and provide members more convenient ways to shop. By launching this new way for customers to receive their purchases, Sam's Club has driven its own growth and become a place to test new offerings for Walmart, its parent company. (View source)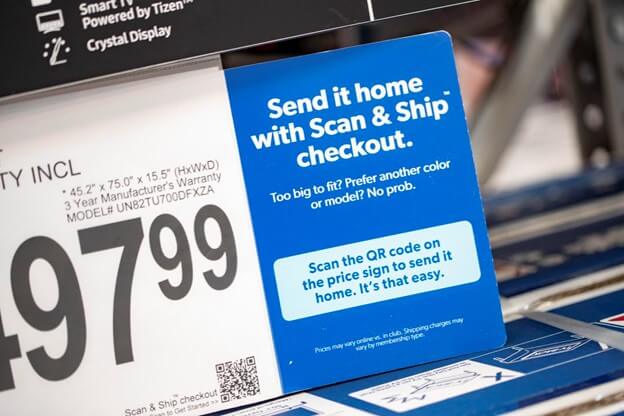 Photo: CNET Tech/Sam's Club
Retail Sales Up in June
U.S. retail sales are continuing to rise with June being the 9th consecutive month of growth.
June U.S. retail sales increased +11.0% year-over-year in June and increased +10.4% compared to June 2019 (excluding gas and automotive). Online growth remained steady, rising 8.3% YoY and 95.0% compared to June 2019, showing that the shift to digital driven by the pandemic is remaining strong.
Consumers are continuing to dine out and shop both in-store and online as they refresh their wardrobes for summer activities and travel. Sales growth for restaurants increased 55% YoY and 16.8% compared to June 2019. Department stores sales increased 67.4% YoY and 11.8% compared to June 2019. Apparel sales rose 62.9% YoY and 12.7% compared to June 2019. (View source)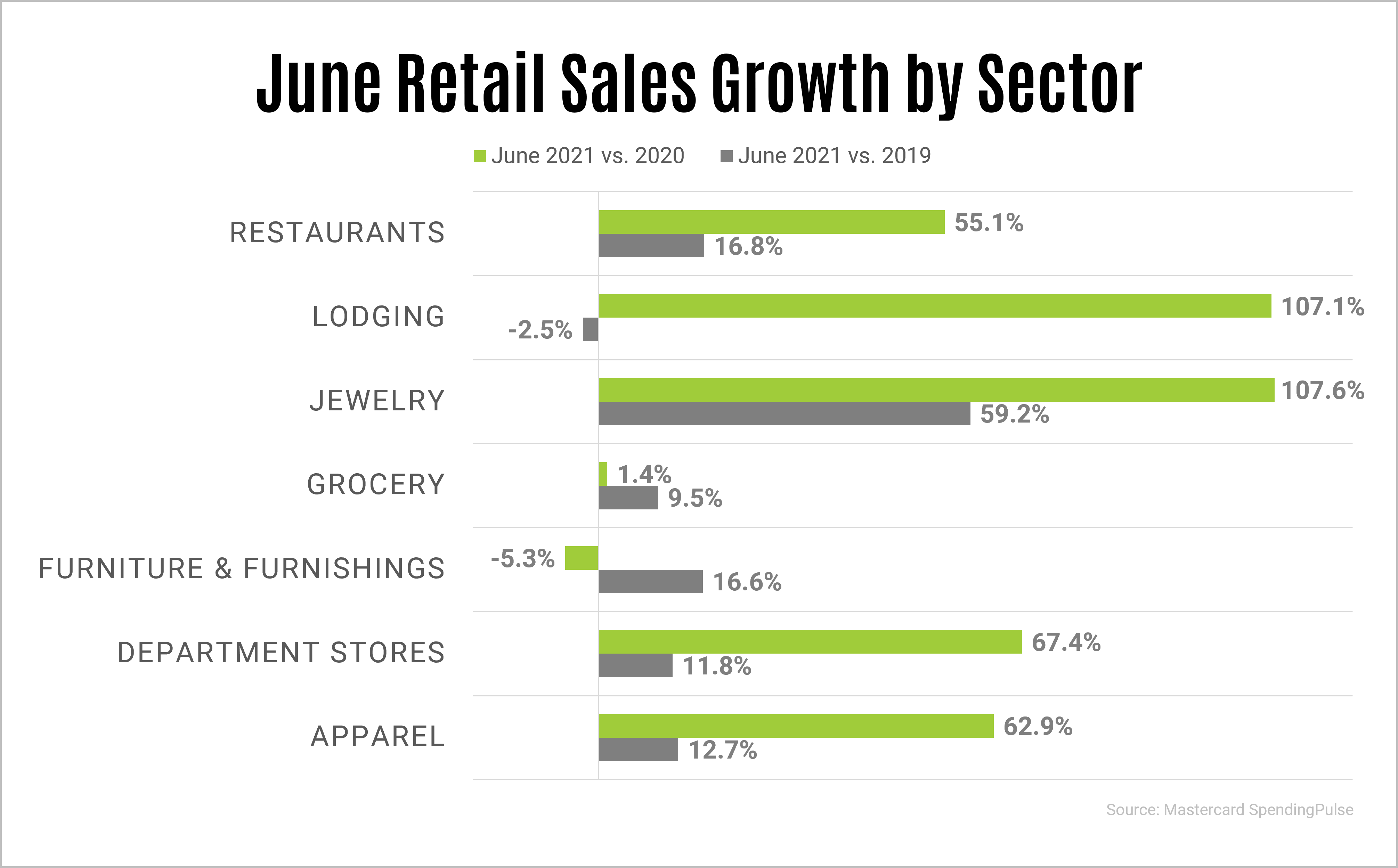 Supply Chain Affecting Construction & Remodels
Supply chain disruptions were major challenges in the second quarter and may continue.
Disruptions like issues with orders for store equipment and hardware, and filling open positions, were major obstacles for retailers in Q2. 39% of retailers said there were 'significant' levels of supply chain disruption and 86% said that at least 10% of their orders were disrupted. Additionally, 76% of retailers said it was difficult to fill available positions. Only 2% did not face any hiring challenges.
Confidence among retailers and suppliers that improvements are coming is low. Only 25% of retailers and 27% of suppliers said they are confident that supply chain disruptions will improve in the second half of the year. Despite these challenges, U.S. retail sales have surpassed pre-pandemic levels for all months in the second quarter (vs. 2019). (View source)
Thanks for reading!
If you'd like Buzzworthy Insights sent to your inbox weekly, please subscribe to our newsletter.
Sign up here: http://eepurl.com/hukcCn