Buzzworthy Insights – Black Friday & Cyber Monday Synopsis
12.06.2021
Buzzworthy Insights
Black Friday & Cyber Monday Synopsis
With the holiday season seeing sales occur earlier than ever, sales occurring on notable holiday days have taken a hit in some areas. Black Friday, a notorious day for slashing deals, only hit the low-end of Adobe's prediction, reaching $8.9 billion, a decrease from $9 billion in 2020 for online spending. As online spending saw a decrease, in-store shopping saw a huge rebound at a 47.5% increase compared to 2020. The weekend between Black Friday and Cyber Monday also saw similar results with $9.2 billion in sales, a 4.8% decrease from last year. The big winner on Black Friday, BNPL options as Klarna reported a 141% increase in purchases used with these options. As for the company that is the big winner, Amazon remains on top for the second year in a row as it accounted for 17.5% of all Black Friday 2021 spending. This remained true across all generations except Gen – Z who spent more at Walmart (12.7%).
Cyber Monday saw similar results and while it still remains the biggest online shopping day of the year, consumers spent $10.7 billion, down 1.4% from the $10.8 billion in 2020, according to Adobe's analysis. As for the early holiday season (Nov. 1st – 29th), consumers have spent $109.8 billion, an increase of 11.9% from the same period in 2020. As per the whole holiday season (Nov. 1st – Dec 31st), Adobe now predicts it will total $207 billion in sales, an increase of 10% from 2020, and would be a new record. (View source 1, source 2, source 3)
The Return of Toys R U
Consumers will once again be able to be a Toys R Us kid as a new flagship store is opening at the American Dream mall in New Jersey. The new owner, WHP Global, opened up two flagship Toys R Us stores before the pandemic in 2019, closing earlier in 2021. This installation will be permanent, debuting in mid-December and will feature a two-level slide, an ice-cream parlor, and more than 10,000 toys. Macy's and Toys R Us will be seeing their store-in-store concept come to fruition at the start of next year, with plans to open 400 across the US. A list of where these will occur is not yet available but Toys R Us has an online store within Macy's website and brought back their holiday toy book this year in time for the holidays. (View source)
Sustainability as a Top Concern for Brands & Consumers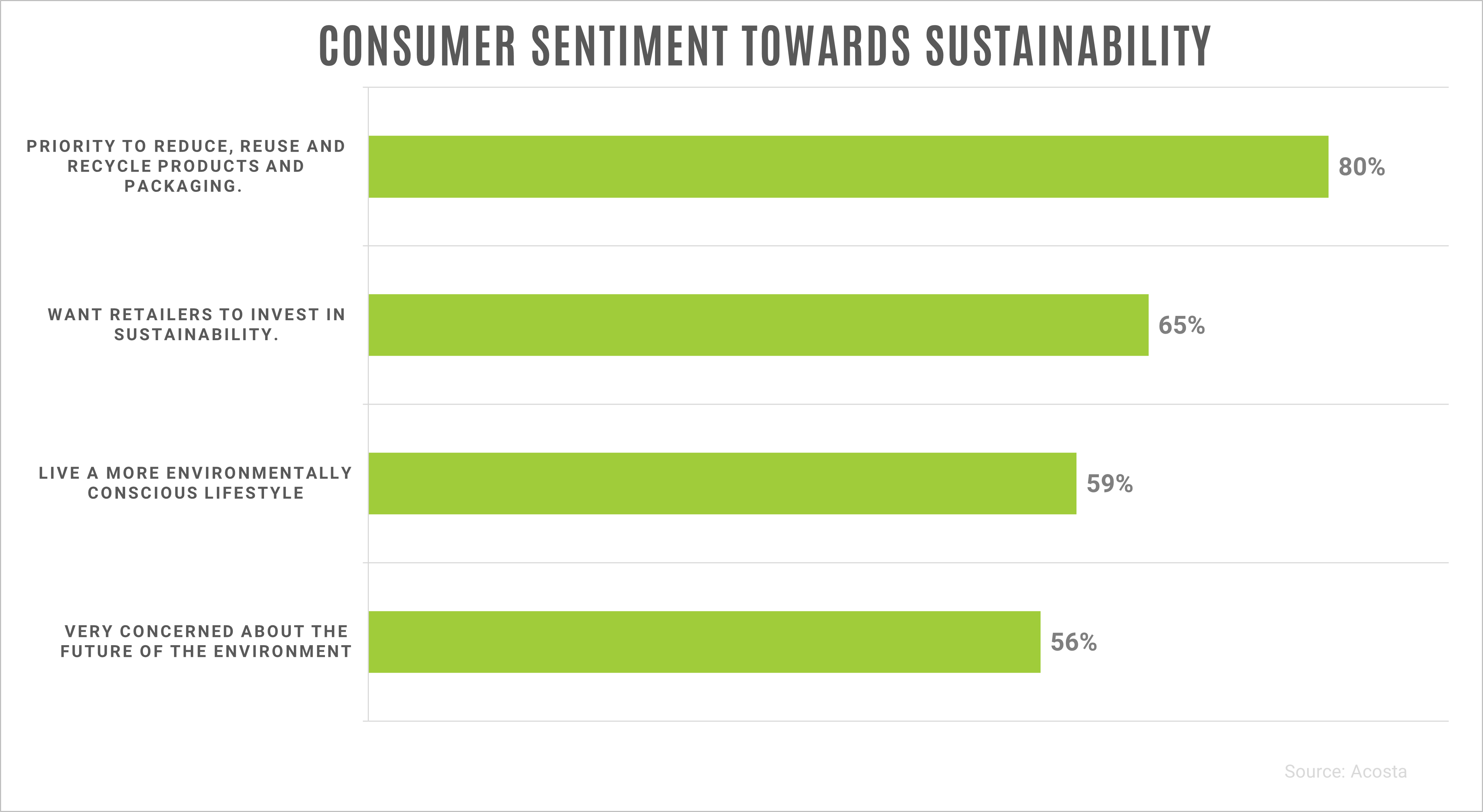 Consumers are taking precedent over the environmental crisis by shopping with brands that put sustainability at their core, especially among younger generations. 75% of millennials say sustainability is very/somewhat important when buying consumer packaged goods. For which products they are willing to spend more on, consumers note plant-based meat alternatives at 81%, followed by beauty and personal care items (80%), dairy and dairy alternatives (78%), and meat/poultry (74%). As for the top sustainable purchases made in the last year, fresh produce is top at 60%, followed by products (44%), and eggs (43%). When it comes to recycling, older generations more are inclined to do so, while younger generations (Gen – Z and Millennials) are more inclined to modify their buying behavior.
In a great step forward, Model No., a company with a mission to create sustainable, tech-forward, and made-to-order furniture, is opening their first start within the design district of Berkeley, California. The brand will produce the made-to-order furniture in their nearby Oakland, California facility that will use technological processes and inventive materials to craft eco-friendly premium furniture. (View source 1, source 2)
Digital Gifting
Consumers were obviously worried about gifting this season as supply chain disruptions brought holiday deals earlier than ever. Due to this, many companies began digital gifting programs, with Amazon announcing early on their users would be able to send a gift via text message or email address, providing great convenience to purchasers in the process. Peet's Coffee is launching a personalized digital gifting experience that will allow consumers to choose a gift item from their e-commerce site, digitally wrapping the gift, and providing the option to have a personalized greeting or video. Purchasers can then send the gift via email, text, in-person pick-up, or Facebook messenger. If the recipient does not like the gift, they have the option to exchange/modify their gifts, after their unboxing experience, before they are roasted (if it is coffee) and/or shipped. (View source)
Rise of Omicron
Rising concern over the new variant could lead to increased retail sales.
News of a new COVID variant is spreading fast, with first confirmed cases in the US starting to appear, experts speculate some holiday spending to shift towards goods rather than experiences, especially toys and electronics. CEO of the NRF, Matt Shay, said that "We know, unfortunately, that when the variants have had a real impact on the economy, the goods side of the economy have actually benefited from that because people change behavior away from the experience side of the economy and spend more time and more dollars engaged in the goods side of the economy." With 43% of consumers noting earlier this shopping season they would splurge on experience and service gifts this holiday season; we will expect to see this number decrease by a few percentage points as people finish up their holiday shopping. (View source)
Thanks for reading!
If you'd like Buzzworthy Insights sent to your inbox weekly, subscribe to the newsletter.