Buzzworthy Insights – Brands & E-Commerce
04.18.2022
Buzzworthy Insights
Brands & E-Commerce
Brands have pushed to incorporate all e-commerce trends they can. Feedvisor's fourth annual e-marketplaces report highlights what the greatest e-commerce opportunities are.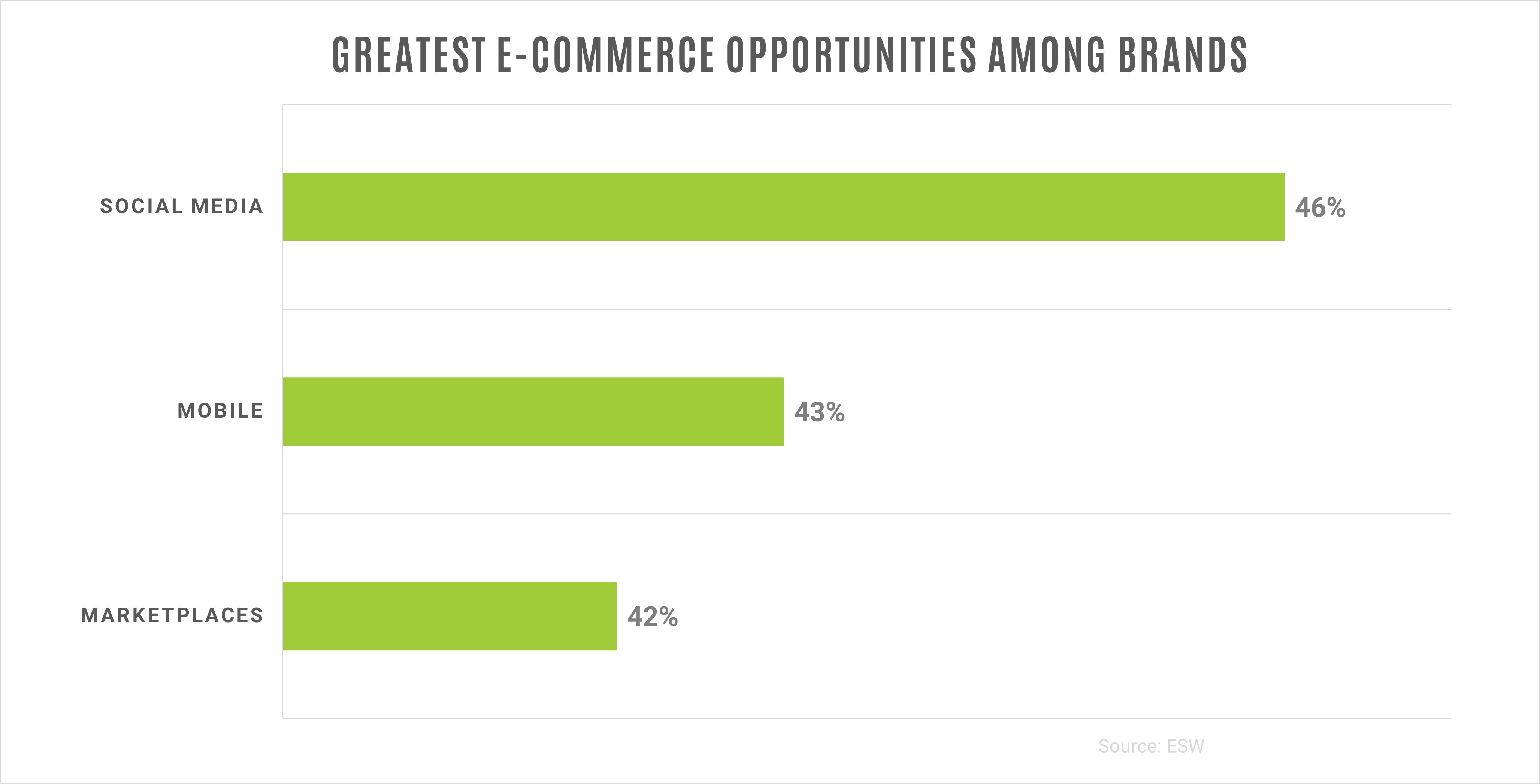 In terms of which marketplace is best, almost all brands vote Amazon, with 96% of brands indicating they have increased sales volume via Amazon, 48% have used Amazon's advertising service, and 44% have launched new products on Amazon. Of those who have used advertising services, 58% of brands reported "great value" in the service, the highest to date, with more than one in five brands spending $100,000 or more a month on advertising. Mobile saw the greatest advertising ROI, followed by desktop and video. (View source)
Space Lounging
Space Perspective, a luxury spaceflight experience company, is taking a different approach to space travel. Take a seat rocket power, we're going back several decades and improving the weather balloon to carry a capsule into space. Dubbed SpaceBalloon, the balloon will carry a housing unit 100,000ft into the air at 12mph, then start its two-hour descent back down to Earth. Starting at a mere $125,000 per person, the capsule will have 360-degree views, featuring full-service food and beverage options, and even WiFi. This experience will bring forth a new age of advertising and retail that many of us have only dreamed of. (View source)
Social Commerce Product Discovery
Many consumers have taken to social media sites to explore what new products will fit their fancy. A new study from e-commerce company ESW, found that YouTube ranked as the top social media channel for new product discovery.
The only generation not to favor YouTube, baby boomers, with Facebook leading at 36% compared to YouTube at 34%. Followed closely in second for most generations, Instagram, which even tied YouTube for most popular among Gen-Z respondents, who found TikTok to be their third most popular social platform for discovery at 41%. (View source)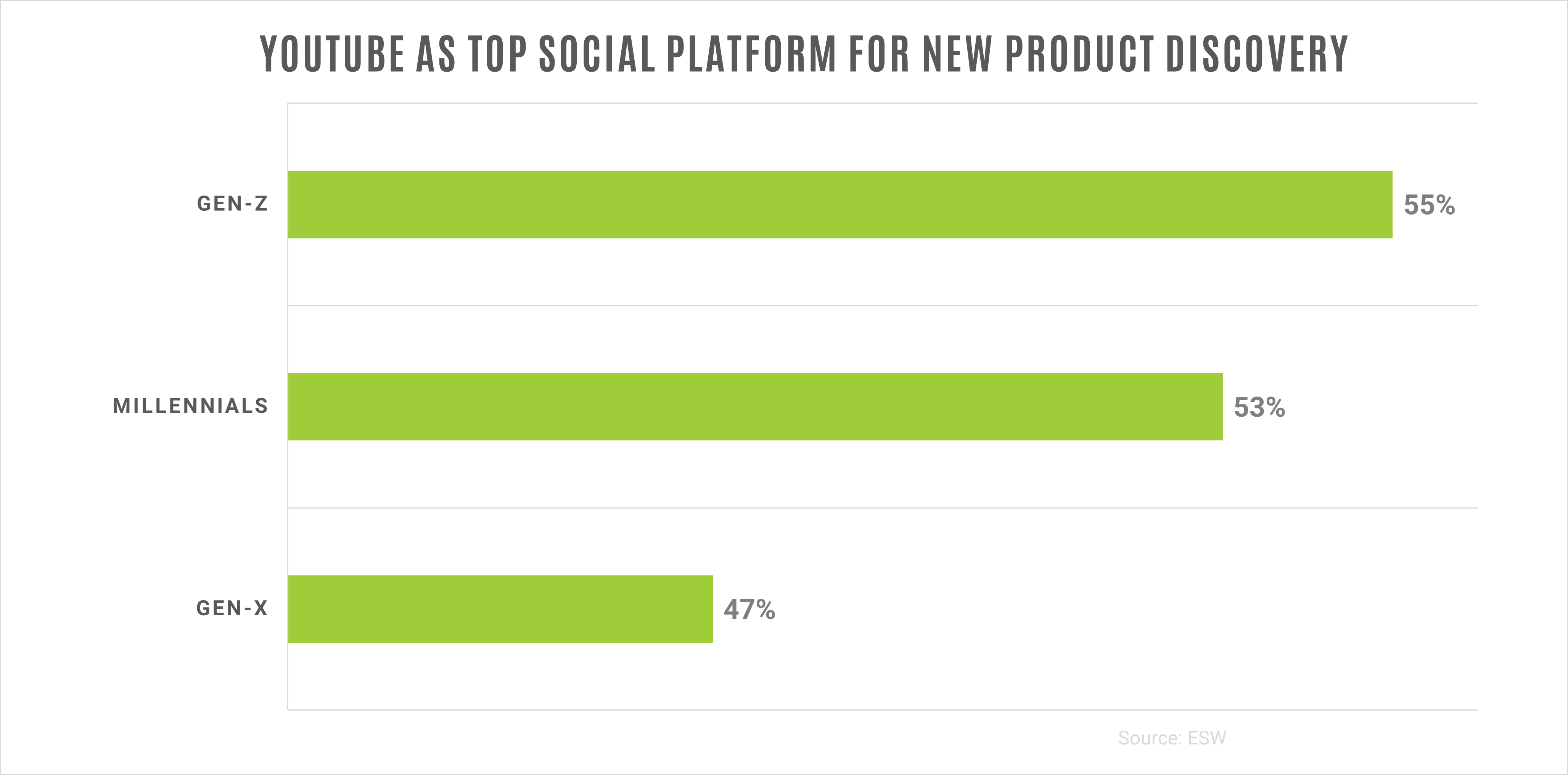 Spring Consumer Sentiment
Consumers are wanting to get back to normal but with increasing inflation, many are choosing to go out shopping only when they need something (59%), and 90% plan to spend the same or more on these basic needs, according to a recent Alvarez & Marsal survey. At the same time, eating-out and vacation spending is seeing a rebound as 18% are dining out more, and almost half of the surveyed consumers plan to travel this spring, 81% planning to do so within the US. As for overall pandemic trends, 80% of consumers have stuck with the changes they made. (View source)
Sustainability & Apparel Shopping
Sustainability is becoming a top priority for all consumers, especially when purchasing apparel and footwear products. 79% of consumers believe that sustainability is "somewhat" or "very" important when purchasing these two types of products, according to a new survey from CGS. Additionally, 68% would pay more for sustainable products, despite rising inflation, and 38% would buy more sustainable products if they received more information about the brand's sustainable initiatives. When asked what brands should prioritize the most for environmental / social commitments, 32% of consumers believe brands should commit to ethical labor practices. (View source)
Thanks for reading!
Follow the latest industry trends with insights straight from our experts: BDS Marketing Blog.