Buzzworthy Insights – Customer Retention
02.07.2022
Buzzworthy Insights
Snapchat Shopping Improvement
Brands are looking for technological ways to reinvent themselves, Snapchat doing so by improving their shopping experience, enabling users to view multiple products with just use of one of its lenses. Snapchat announced their users interact with their AR lenses more than 6 billion times per day, with 93% wanting to use these lenses for shopping. At release, users will be able to shop at Ulta Beauty and MAC Cosmetics, with other brands to follow in the coming months. This comes at a time when millennials and Gen – Z drive the adaptation of social spending, with Accenture predicting the social commerce industry to reach $1.2 trillion by 2025, 62% of it being accounted for by Gen – Z and Millennial shoppers. (View source)
Store Associate Mobile Empowerment
The Roots Corp. is looking to change the way in-store associates interact and learn. In partnership with Yoobic, 2,000 associates across it's 100 North American stores will be able to utilize gamified training content, available to be instantly accessed via app, non-interrupting to their workflow. In addition, the platform also offers a social media type experience, connecting all employees across the organization, allowing them to share success stories, ask questions, and review latest corporate news/policies.
City Furniture is implementing a mobile solution that allows their associates to communicate with in-store shoppers. Via a combination of iPad's, Zello instant messaging app, and Pryme push-to-talk buttons, associates are able to have questions answered, answer customer questions, and access their device to further help customers. (View source)
Customer Retention
Consumers want an experience when in-store shopping, not just to find their product and leave, as all generations agree a negative customer experience is worse than a poor experience with a product. According to a new Telus International survey, the majority of consumers (65%) want at least part of their customer journey to be automated. When it comes to social shopping, 79% of Gen – Z consumers made at least one purchase from a social media ad, even though Baby Boomers come in last, 48% still made at least one purchase from a social ad within the last year.  (View source)
The generational difference of a good customer experience leading to future purchases can be seen below.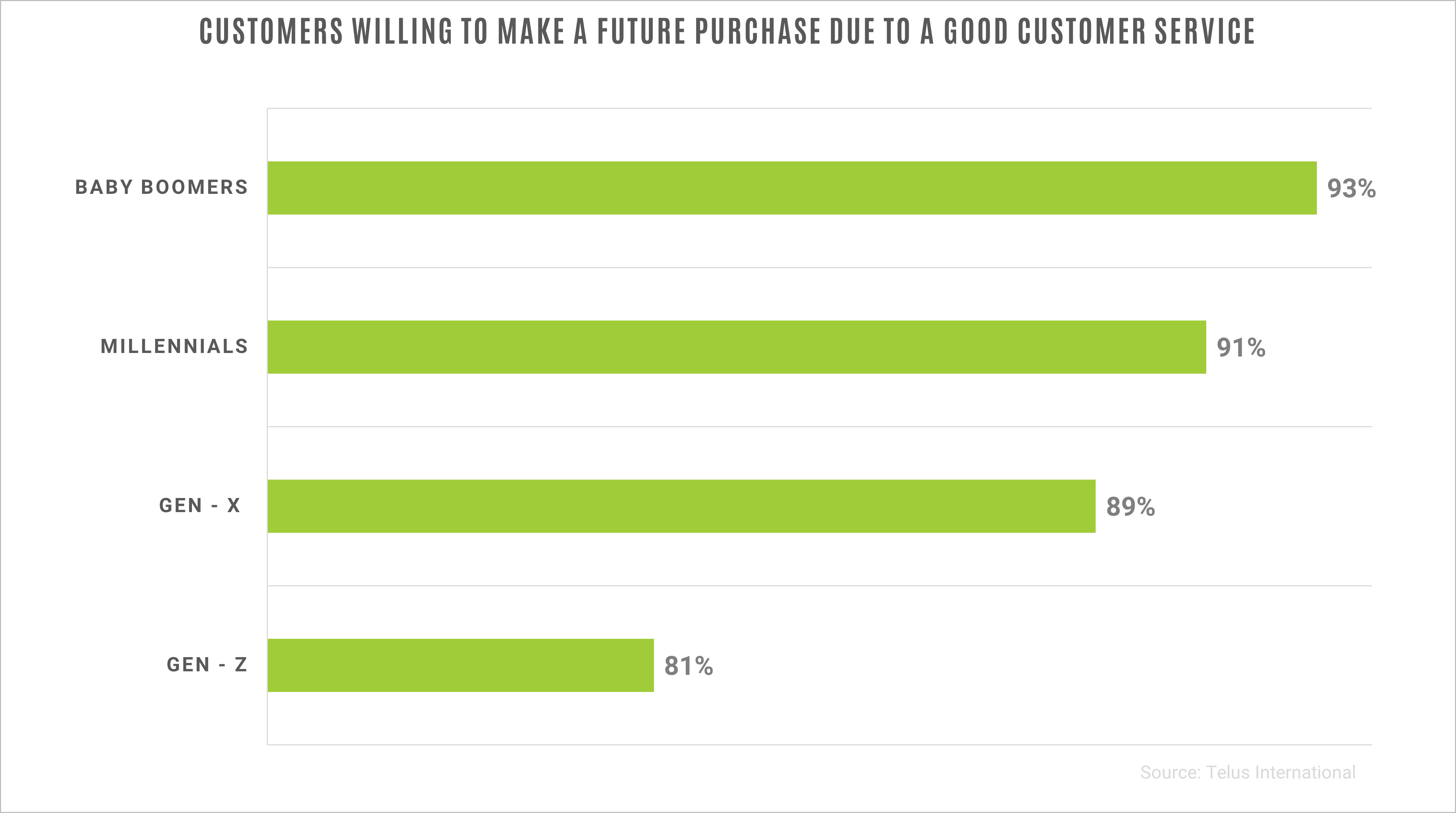 Timberland's Metaverse Experience
The famous footwear company, Timberland, is taking their first steps into the Metaverse with an experience called "TimbsTrails". In partnership with digital agency R/GA, consumers will be able to "play" through six game levels, each highlighting an aspect of Timberland's history, focusing on the iconic yellow boot they are known for. The final level will highlight their movement towards the future, showcasing their sustainable GreenStride boot. Consumers that successfully complete all six levels will be eligible to win prizes, such as a gift card or a pair of their GreenStride boots. The experience will first only be digital, updated on a per season basis, and later adapted to be experienced in retail stores. (View source)
Walmart's New Store Design
Walmart is redefining its store space, taking on a similar layout to one of its greatest competitors, Target. This will be the final step of their two-step plan, which began in 2020 with wayfinding and signage upgrades, along with integration of the online and offline experiences. This step will consist of redesigning their Springdale, AR store into their storytelling atmosphere, the layout will feature "nodes" to cross-sell products. Referred to as solution based rather than product based, the "nodes", similar to what is seen at Target, will feature a certain set of products such as grooming tools or showcase a brand's apparel, also featuring QR codes and interactive displays to better help the customer. (View source)
Thanks for reading!
If you'd like Buzzworthy Insights sent to your inbox weekly, subscribe to the newsletter.