Buzzworthy Insights -Dollar General Associate Education
04.25.2022
Buzzworthy Insights
Dollar General Associate Education
Many businesses are looking for new ways to improve employee retention, providing free education and educational programs to employees shows promise. Dollar General, in collaboration with Workforce Edge, will be providing full-time employees paid degree programs at Strayer and Capella University. Additionally, employees and their family members will have access to Sophia Learning, a self-paced online platform for college credit classes.
As these programs have become more popular, skeptics have noted that there needs to be better internal marketing and the hybrid learning programs are what have the biggest impact. A 2021 CNBC report showed that few employees even know these benefits exist and for ones that do, balancing a full-time job, family, and school, is just not possible, making Sophia Learning and programs alike the best option for many. (View source)
Lowe's Associate Education
In partnership with Guild, Lowe's Companies is giving full and part-time employees the opportunity to access 100% debt-free programs. Initially set for over 300,000 eligible associates, the programs are designed to help in the areas of cybersecurity, data analytics, logistics, supply chain, and technology. The programs will vary from English language and high school completion courses to undergraduate degrees and certificates. Additionally, any associate wanting to start a pre-apprentice program in HVAC, solar, appliance repair, multi-family facilities management, or electrical/plumbing will have 100% of the cost covered by Lowe's. The programs will be across 23 universities, including many historically Black and Hispanic serving institutions. (View source)
The Next Generation of Celebrities
Step aside celebrities, the rise of the social media influencer is here. According to a new survey from #paid, 53% of Americans are more likely to purchase a product from an influencer, compared to 47% for celebrities. When it comes to overall purchasing influence, a close friend or family member still holds the top spot at 59%, 31% said a social media influencer, and 10% cite celebrities. In a day and age when everyone is trying to become an influencer, 61% cite lack of self-confidence as the greatest prevention to becoming one. (View source)
Delivery & Sustainability
Sustainability is clearly top of mind for all businesses and consumers. Over the past couple years, nearly all big business has reinvigorated their sustainability programs, with consumers seeing a dramatic shift in preferences due to the pandemic and better understanding their purchasing impact. According to Blue Yonder's new sustainability survey, delivery is where most consumers are willing to sacrifice in order to practice more sustainable habits.  86% are willing to delay e-commerce deliveries for the sake of improving sustainability if given an incentive to do so, of those, 29% are willing to delay up to five days, and 28% are willing to delay a week or more. (View source)
In-Store Shopping Experience 2022
According to a new ChaseDesign survey, 85% of consumers will be doing more in-store shopping this year, up 6% from 2021. This comes as coronavirus is put on the backend due to supply chain issues and the Ukraine war, driving people back to stores where they can get the product immediately, see what's new, and talk with store associates. As for what technology is driving in-store shopping, self-checkout is seeing a massive rise in usage with shoppers citing it as the most used technology tool in physical stores, followed by the retailer's app, and QR codes, all of which had increased usage within the last few years. (View source)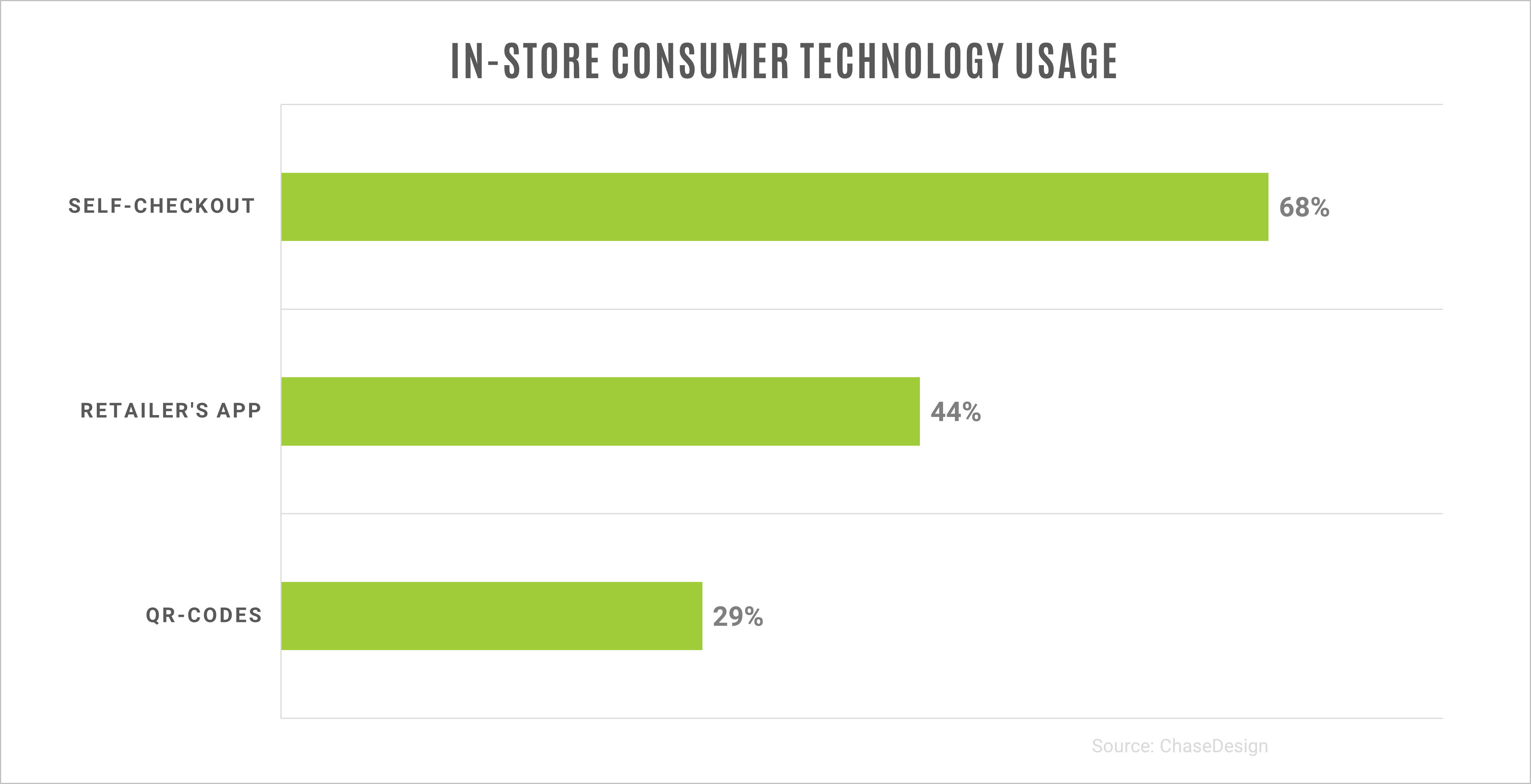 Thanks for reading!
Follow the latest industry trends with insights straight from our experts: BDS Marketing Blog.