Buzzworthy Insights – Holiday Season Returning to Normal
11.08.2021
Buzzworthy Insights
Holiday Season Returning to Normal
Family gatherings and in-store shopping returning with caution.
The White House has recently introduced its vaccine mandate, bringing about the hopeful downfall of this seemingly ever-lasting pandemic. Due to this, we will be seeing an increasing number of shoppers returning to stores with two-thirds indicating so, and best of all, 71% of US consumers indicate they will be celebrating in-person with loved ones this holiday season. Due to this long absence, consumers are most looking forward to spending time with these loved ones this year (76%), followed by giving and receiving gifts (53%). Despite the recent uplift, consumers still have their worries as 65% of consumers are worried of contact with others and insufficient store policies, along with 17% indicating they will still have "hybrid gatherings", mixing virtual and in-person. In regard to gifts, this holiday season is seeing unprecedented supply chain issues, pushing consumers to purchase earlier than ever before, and making them more particular with who they shop with. Leading this change in sentiment, consumers shopping at local and eco-friendly businesses. (View source 1, source 2)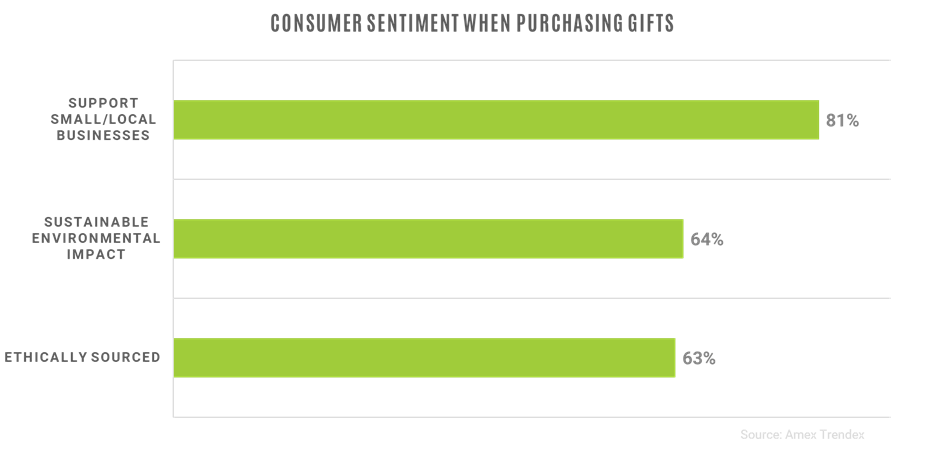 Vaccine Mandate
Private businesses of 100 or more employees will have until January 4th  to have their workers fully vaccinated or undergoing weekly testing, affecting an estimated 84 million U.S. workers. All employees are required to wear masks indoors, starting December 5th exemptions will be given on medical or religious grounds. Failure to adhere to any of the regulations will result in fines ranging from $13,653 – $136,532 per violation. Many are skeptical, in particular, the Retail Industry Leaders Association who requested at least 90-days in order to implement these changes. Noting that this change will be hard to implement during the holiday season, especially on top of mitigating supply chain issues, and OSHA not having the necessary workforce to properly monitor the program. The RILA has also called the fines "unnecessary and unhelpful", pitting the government against private companies. On top of this concern, they note the nation does not have the testing capacity in order to fulfill these requirements, voicing these opinions to the Biden administration. Full details of the plan and remarks on the new authorization for child vaccines can be seen at the Source 2 link. (View source 1, source 2)
Walmart Expansion in AR & Sustainability
Testing of AR shopping during the holidays and sustainable bag programs.
An unlikely hero is progressing in the fight for sustainable bag usage in grocery stores, Walmart. Through several in-store pilots and initiatives, including completely eliminating bags in a Vermont store, Walmart is now testing out their "Fill It Forward" campaign that allows consumers to scan their reusable bags to gain points, which can later be converted into donations for local charities. In addition, a program that allows consumers to "rent" reusable bags through an app, allowing them to keep the bag up to 30 days for free or be charged $2 to keep. According to a Walmart blog post, the "Fill It Forward" campaign has increased usage of reusable bags by 31%. As more testing is conducted, Walmart looks to phase out traditional bagging in favor for the most efficient initiatives.
Alongside this project, Walmart is introducing their new omnichannel campaign, "Joy. Fully." Which will feature on and off-platform shoppable livestreams with various influential publishers, influencers, and partners. In addition, they are partnering with Pinterest for "Taste. Fully" which will feature shoppable recipes from prominent supply partners. In partnership with Facebook comes their new AR lens retail experience, allowing customers to interactively browse gift ideas. Partnered with facial recognition software, the consumers can "look around" and based on their facial expressions when viewing, be directed towards where they can buy these products. (View source 1, source 2)
BNPL Space Developing Clear Leader
The BNPL space is rapidly expanding and with expansion brings more competition, Klarna is looking to become a clear leader by developing their own universal shopping app. After recently acquiring the price comparison service, PriceRunner, Klarna is launching their own mobile app that will allow users to shop at all online stores, even if that store isn't partnered with Klarna. If they are not directly partnered together, the user is able to create a free one-time virtual card in order to "pay with K". Including the option to shop at online stores, the app will feature curated content based on consumer favorites, exclusive deals, price drop notifications, delivery tracking on Klarna and non-Klarna bought items, monthly budgeting, and returns, among more options to come soon. (View source 1, source 2)
Metaverse Expansion
Nike and Pacsun begin expansion preparation.
After several events in Fortnite and Roblox, along with their plans for "Cryptokicks", Nike is submitting trademark applications in an effort to protect their invaluable logos and slogans from the uncertainty of how trademarking and patents will work in the Metaverse. This is leading many to believe that Nike will be moving to enter this space, according to recent job openings from the company, there are many virtual design jobs open, including a virtual material designer of footwear post saying, "this role sits in the Digital Product Creation group, a team focusing on igniting the digital and virtual revolution at Nike." (View source)
Pacsun is expanding their digital footprint after their successful introduction of BitPay, a bitcoin payment system. In partnership with multiple companies, Pacsun is rolling out virtual experiences including AR, digital gaming, and NFT's, as an effort to gain more traction in Gen Z's shopping habits. Cryptocurrency users will also play a special part as Pacsun will be offering special promotions, paid search efforts, and unique user displays. Furthermore, there will be weekly livestream shopping events showcasing in-store curated collections of gifts, featuring brand partners and guest influencers for exclusive merchandise. (View source)
Thanks for reading!
If you'd like Buzzworthy Insights sent to your inbox weekly, subscribe to the newsletter.