Buzzworthy Insights – Improving In-Store Experiences
12.20.2021
Buzzworthy Insights
Improving In-Store Experiences
Shoppers want to see more user generated content within stores.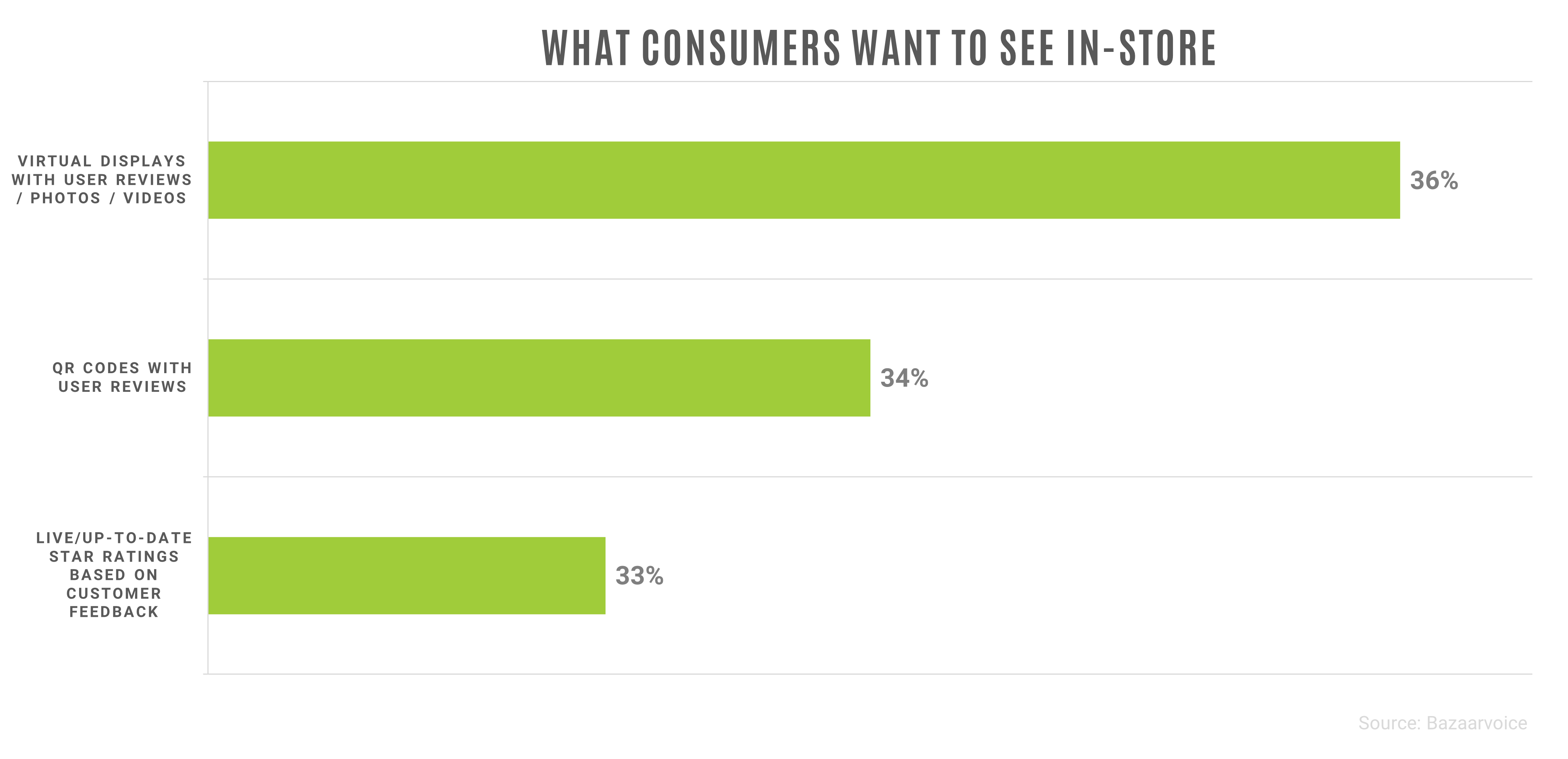 Consumers are returning to stores and with it comes the evolution of connected commerce. The greatest thing consumers want to see in store, user generated content (UGC), viewing it as the most influential content. The top two types of content consumers find most influential are written reviews from customers (48%) and photo / video content (30%), coming in last was celebrity endorsements (9%). While brands have been implementing technologies into their stores, only a third plan to implement UGC material. While a third of consumers in a global survey noted they want to see this material in store, 60% want to see it on the brand's retail socials and websites. Among brands, they rank reviews the most influential (64%), followed by photo / video content from consumers (43%), and last was celebrity endorsements (19%). (View source)
Resale Market Booming Across All Generations
Peer-to-peer marketplaces are growing at an unprecedented rate these past two years, Baby Boomers alone have increased resale participation from 39% in 2019 to 81% in 2021. Among other generations, Gen – Z has increased participation by 44%, Gen – X by 35%, and Millennials by 33%. The reason many are participating in the movement is the concern for the planet, with over 50% of respondents indicating this is their main reason. Among sellers of these products, Millennials and Gen – X take the top spots at 54% and 47%, respectively. 83% of these consumers plan to continue shopping resale items, regardless of the reasons they shop secondhand. (View source)
BNPL – Holiday Season 2021 & The Future
Many consumers, across all generations, used buy now, pay later options due to the burden checkbooks were already feeling due to the everlasting pandemic. In general, almost 30% of consumers still have not fully paid off their 2020 holiday season shopping. Millennials and Gen – Z lead the way with missed payments as 43% of Gen – Z and 31% of Millennials have missed at least one payment. As for what they are making these purchases on, home and furniture goods (known for being bigger ticket items) top the list at 42%.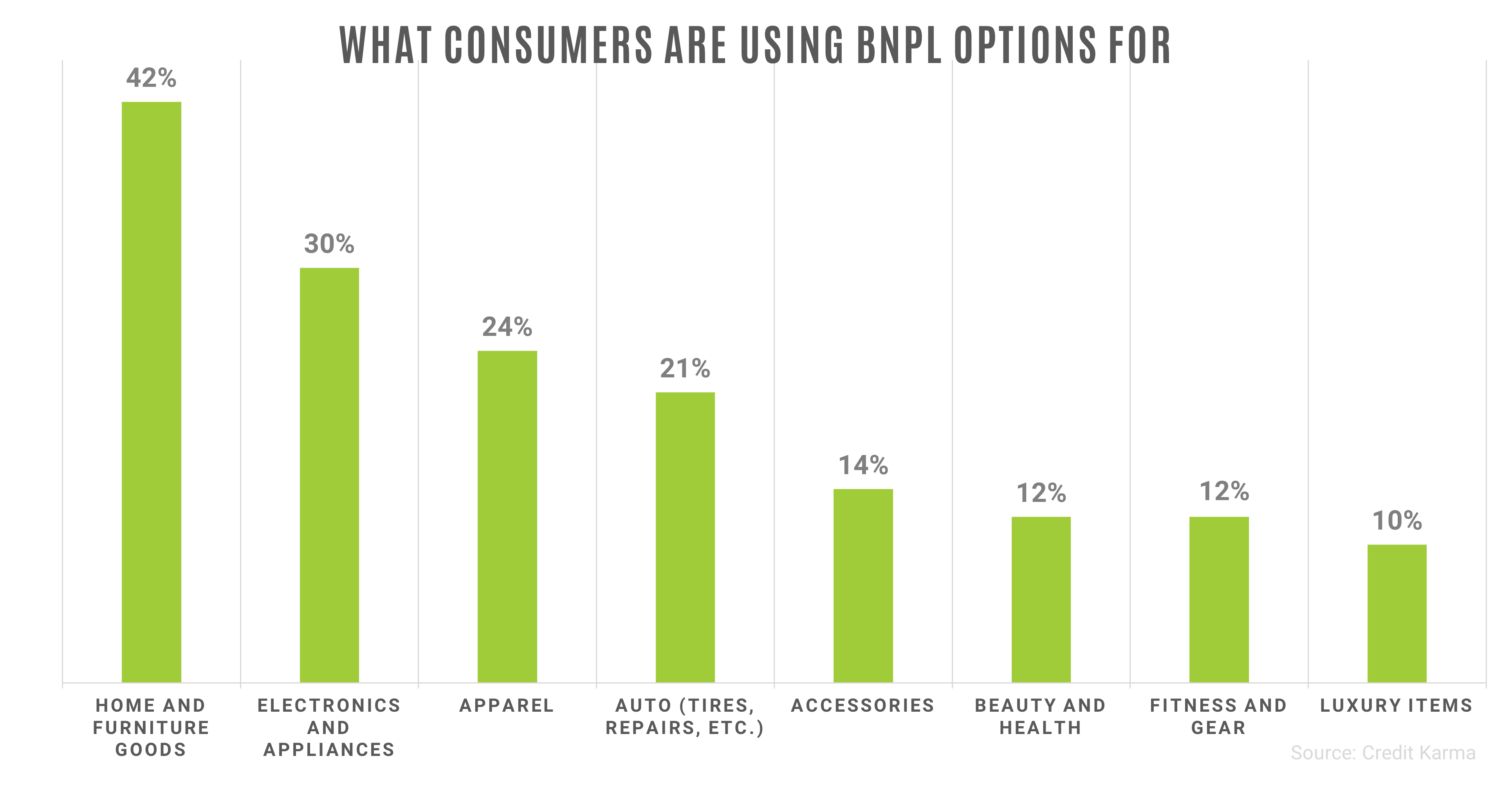 As the BNPL landscape becomes more entrenched, Klarna is rapidly expanding in order to gain market share within the US and outside, especially in the UK. After an initial test of 100,000 shoppers within the US and UK, Klarna is launching their browser extension that will allow users to access their service of BNPL options, cash back, and automatic couponing among all retailers, no matter if they are a Klarna partner. (View source 1, source 2)
Connected Commerce
As some consumers develop their digital skills, others have become deeply entrenched in their ways, purchasing goods online on a daily basis. New PYMNTS data shows that 3% – 5% of consumers are making daily digital transactions, compared to 7% who make daily in-store transactions. 60% said they make weekly / monthly transactions online, compared to 88% making weekly / monthly transactions in-store. Surprisingly, we see a 12% share of consumers buying gasoline somewhere else than in-store. We are also seeing consumers swap preference as to where they buy (in-store vs online), in electronics & appliances (41% vs 32%, respectively), and clothing & accessories (31% vs 28%, respectively). (View source)
November Retail Sales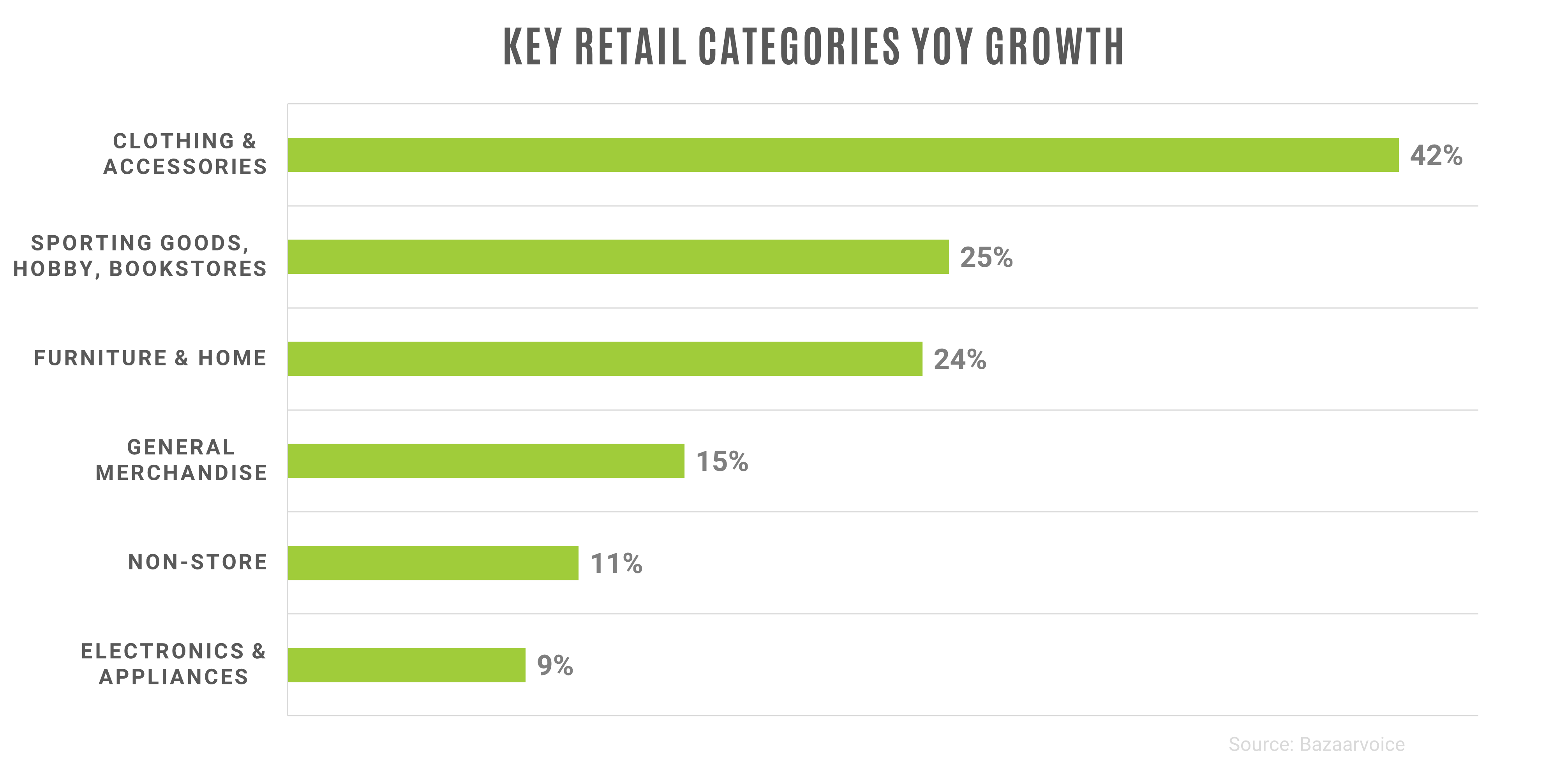 Holiday sales reports thus far have been contradicting, November retail sales in general have seen a large increase, up 16.4% from 2020 and 26.7% from 2019. Inflation had a large role to play in this increase, and while it did not impact these noted categories too heavily, the impact in other areas made consumers spend less in these non-essential categories. Along with inflation, the supply chain woes lead brands to decrease normally exceptional holiday deals in hopes of slowing sales down, allowing their inventory to catch up. Even so, as inflation still rises and holiday deals mostly gone, the pandemic has created an aura of gratitude that consumers are delighted to be in, continually spending on themselves and others in time for holiday gatherings. (View source)
 Thanks for reading!
If you'd like Buzzworthy Insights sent to your inbox weekly, subscribe to the newsletter.