Buzzworthy Insights – In-Store Mobile & Automated Technology
02.28.2022
Buzzworthy Insights
In-Store Mobile & Automated Technology
Post pandemic is all about redefining your brand experience, be it from mobile empowerment to automating simple processes, brand's listening to their customers' needs to establish upgrades will come out in front. According to Incisiv, 93% of brands expect an increase in the use of consumer mobile devices in stores by 2025, and 83% expect an increased amount of technology deployed in stores. Additionally, by 2025, the percentage of automated associate tasks for specialty/department stores is expected to nearly double from 37% to 72%. For the highest deployment priority of the next two years, empowering the store associate with capabilities such as real-time inventory tracking and Wi-Fi connectivity, ranks highest among all surveyed brands. (View source)
Walmart Start
Walmart is introducing a beauty accelerator program, Walmart Smart. Beauty brands within the hair, skin, cosmetics, nails, and/or the fragrance and beauty categories are eligible to apply for the opportunity, open from February 18th to March 7th. The program will include a virtual classroom series, access to a brand management consultant, training on Walmart's ad platform – Walmart Connect, mentorship/networking opportunities, and launching of their product into 1,000 – 3,500 stores, with the possibility of a company wide launch. Announcement of the winners will be later this year with products arriving in stores between this coming December and March 2023. (View source)
IKEA Expanding New Store Format
Expanding upon their idea of having in-house interior designers, IKEA is now opening their new store format. The first is opening in a non-busy shopping mall within West London, with more to come in the US and Canada. Choosing the mall is a major part of the new idea, with IKEA wanting to create somewhere that is full of community, low traffic malls are a perfect space to do so. The new store will be a quarter of the traditional size, with 4,000 products on display and 1,800 for immediate purchase and take away. The store will also be IKEA's first store featuring self-serve counters / checkouts and a new Deli that will open an hour earlier than the IKEA. (View source)
Delivery over Pick-Up
During the pandemic, curbside pick-up became a top wanted priority for consumers as many didn't want to risk public exposure. Now as the pandemic resides, home delivery takes priority again. According to a recent Pitney Bowes BOXpoll survey, 64% of consumers prefer home delivery, while only 23% prefer curbside pick-up. This percentage runs higher among Baby Boomers as 73% prefer home delivery. The greatest drive for delivery, offering free shipping (64%), followed by the consumer not minding the wait on shipping (41%).  (View source 1, source 2)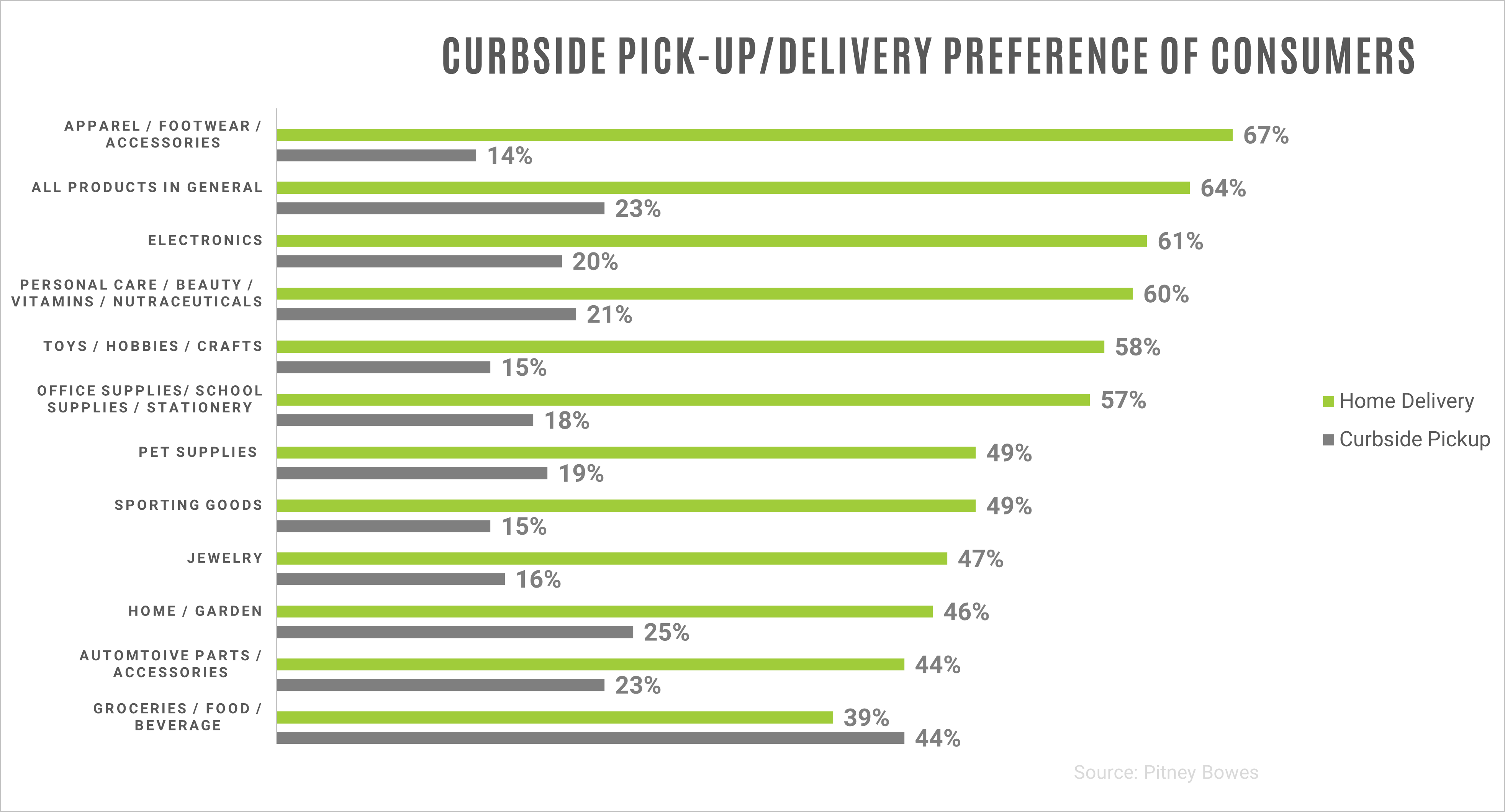 The study also gave an indication as to why consumers would choose in-store pick-up over curbside, shown below.
Crypto as a Retail Reward?
Bakket has released their yearly loyalty and rewards study, a key finding shows that 72% of those who have purchased cryptocurrency in the past six months, would be likely to redeem loyalty points for crypto. Consumers with over $100k income are more likely to use these programs, along with invest in cryptocurrency in general. As for why they invest in crypto, 43% indicate the primary reason being for long-term investment, followed by means of making quick money in the short to medium-term at 35%. Education is what's preventing people from investing in and redeeming points for cryptocurrency, as 44% indicated the greatest barrier is understanding what can be bought with cryptocurrency. (View source)
Thanks for reading!
Follow the latest industry trends with insights straight from our experts: BDS Marketing Blog.