Buzzworthy Insights – Is Back-to-School More Important than Holiday 2021?
08.02.2021
Buzzworthy Insights
Is Back-to-School More Important than Holiday 2021?
6 in 10 retailers say back-to-school is more important than the upcoming holiday season.
Retailers see back-to-school as a bigger opportunity in 2021 compared to prior years. Despite the current rise in COVID-19 cases across the country, 80% of retailers are ready for back-to-school which is much higher than those who said the same last year (65%). Retailers are 'significantly more likely' to say that back-to-school is more of a priority than holiday is (61% in 2021 vs. 48% in 2020).
This shift in focus amongst retailers comes as consumers are excited to return to in-person education. The pandemic forced families to quickly adapt to digital learning and as we enter a new school year, consumers are prepared to purchase whatever they need to make the transition back to the physical classroom as easy as possible. (View source)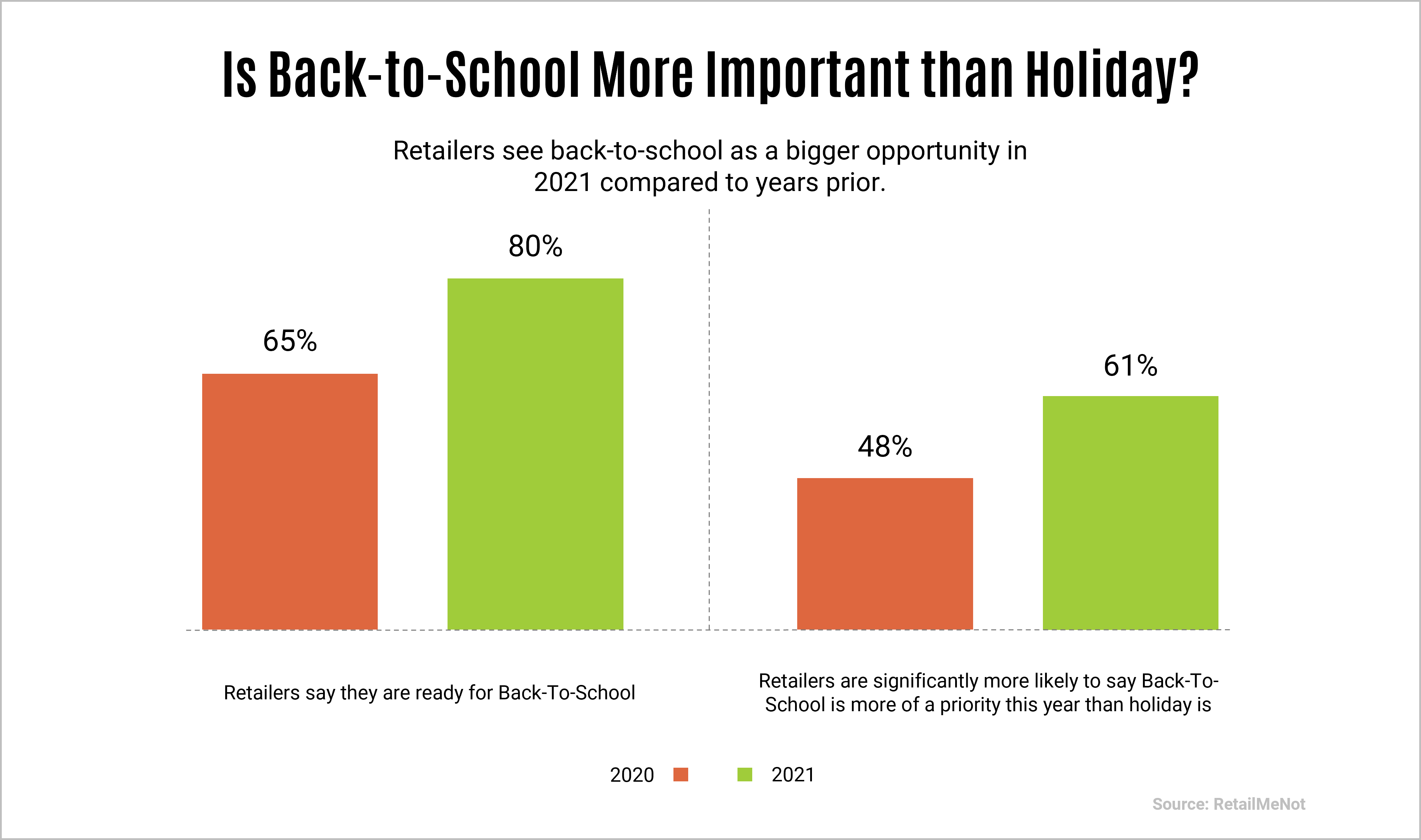 Costco Keeps Senior Hours
As COVID-19 cases increase, reduced senior hours will stay.
Costco Wholesale will continue to schedule special store hours for vulnerable shoppers and adults 60 and older. The retailer had announced previously that senior hours would end on July 26th and is instead reducing the days held from five days a week to two days a week until further notice.
Starting last week, reserved shopping time for seniors, Costco members with disabilities, and members who are immunocompromised will be held on Tuesdays and Thursdays from 9am to 10am. This move comes as the number of COVID-19 cases are rising in all states and nationwide hospitalizations are quickly increasing. (View source)
'Amazon-Proofing' Retail Centers
North Dakota mall takes steps in making itself an offline shopping destination.
Grand Cities Mall located in Grand Forks, ND granted a subsidy of about $1 million to have a SeaQuest aquarium placed in a 17,000 sq. ft. space that was once occupied by Kmart. Vacated department store spaces located in shopping malls are often sought out by e-commerce giant Amazon, turning the spaces into fulfillment centers. While the fulfillment centers provide numerous jobs, locals are concerned of the effect they have on the community in the form of traffic, noise, labor conditions, and the impact on small businesses.
SeaQuest wants to 'Amazon-proof' the Grand Cities Mall and make it the number one destination in Grand Forks, ND by keeping the experiences offline. SeaQuest's mission to sustain in-person experiences has been noticed by other retail centers. 60 developers have expressed interest in having SeaQuest be part of their properties, with landlords offering as much as $3.45 million. Retail centers and their landlords have noticed consumers' want for experiential shopping, which has happened as a result of COVID-19 barring consumers from most forms of in-person shopping over the last year. (View source 1, source 2)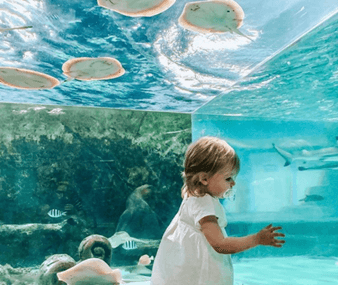 Photo: SeaQuest
Ross Store Openings Pick Up Pace
Pandemic-driven buying habits allow Ross to steadily open stores in 2020 and 2021.
Off-price retailer Ross will continue its plans of expanding its brick-and-mortar footprint to open 3,000 stores under its two banners. In June and July of this year alone, 30 new stores opened in 11 states across the country.  So far in 2021, the company has opened 60 new stores consisting of 40 Ross locations and 20 under the DD's Discount banner. Ross runs a total of 1,896 stores in the U.S. under both banners.
In 2018, Ross announced the long-term goal of running 3,000 stores 'over time' and is continuing to stick with it. Last year, the company opened 40 new stores during the pandemic as consumers' buying habits changed. Americans started shopping at discount retailers more often as they became increasingly frugal with their dollars due to financial uncertainty created by the pandemic. (View source)
Store Associates Go Online
Lamps Plus is using their brick-and-mortar employees to serve online customers.
Los Angeles-based retailer Lamps Plus is hiring sales associates to act as both in-store retail associates and online customer care agents. These hybrid employees are placed in one of the retailer's 36 stores to help customers in the brick-and-mortar location and customers on the e-commerce website.
The hybrid associates will fluctuate between the showroom and the backroom office where they help online customers by providing one-to-one consultation through phone, text, and online chat. During slower traffic days in the store, the agents may focus more on online customers. On high-traffic days, typically Friday to Sunday, the store floor will be the priority.
Lamps Plus has found value in their hybrid employees and is expanding the program. Agents from its professional trade division, Lamps Plus Pro, have been placed in stores to serve professional customers such as builders, contractors, and interior designers. Lamps Plus is just one example of a retailer that is pivoting to serve its customers in channels that are new to the company. (View source)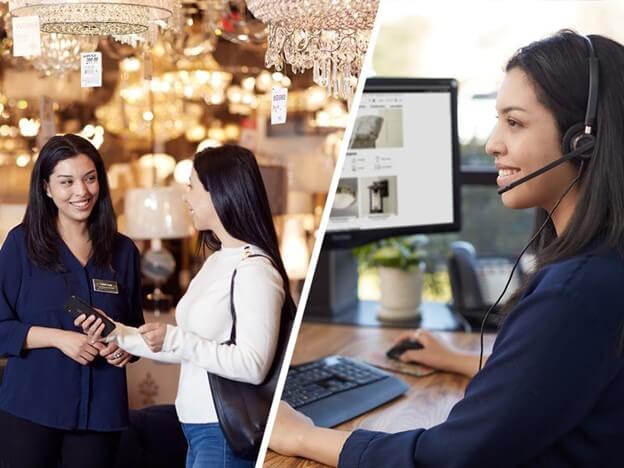 Photo: AP News/Lamps Plus
Thanks for reading!
If you'd like Buzzworthy Insights sent to your inbox weekly, please subscribe to our newsletter.
Sign up here: http://eepurl.com/hukcCn