Buzzworthy Insights – Is Black Friday Considered 'Outdated'?
07.26.2021
Buzzworthy Insights
Is Black Friday Considered 'Outdated'?
Black Friday practices will be reimagined this year and holiday sales will start earlier.
Holiday 2021 is likely to get a head start this year as 34% of consumers intend to start their holiday shopping by Labor Day. In response to the jump start, 53% of marketers have planned holiday campaigns to also start earlier. In addition, marketers will also add more domestic or local suppliers to mitigate any supply chain challenges. With consumers attitudes changing around big shopping events such as Black Friday, retailers must pivot quickly to connect with their loyal customers as they plan to shop earlier this holiday season.
These new attitudes and pandemic-driven behaviors are helping brands reset Black Friday practices. Only 60% of brands have planned a Black Friday promotion this year, down 17% from 2020.  Most brands feel that Black Friday has become outdated and is now associated negatively with consumers (80%). Three-quarters of brands will limit Black Friday promotions to the single calendar weekend, in fear that a longer promotion will devalue their brand and reduce consumer spend long term.
For retailers with a physical presence, there is hope with the increase in in-store shopping. 60% of marketers plan to make holiday shopping an 'experiential destination.' Many feel that this holiday season is the last chance to prove the value of their stores (49%). New ways to enhance the customer experience this holiday season is through AI and VR offerings (91%), introduce a subscription content program (74%), and increase discounts and services in exchange for customer data (51%). Technology should showcase holiday promotions that will aid in incentivizing early holiday purchasing and get customers excited to learn more about brands and their products. (View source)
Ulta Beauty at Target First Looks
Target and Ulta share a first look of the new 'shop-in-shops' launching in August.
'Ulta Beauty at Target' shop locations are slated to roll out in over 100 Target locations nationwide and online with more than 50 top beauty brands next month. The 'shop-in-shops' concept pairs Target's guest-centric experience with Ulta's expertise in the beauty industry to bring a unique experience to Target shoppers. In the next few years, the companies' goal is to roll out in 800 Target stores across the United States.
Each 'shop-in-shop' will be placed near the existing Target beauty section and will feature specialized displays, discovery areas, on-trend sections, and seasonal offerings. Ulta-trained team members will provide shoppers with industry-lead expertise to help customers along with production selection.
This shopping experience will also be available online at Target.com and in the Target app. Guests who shop Ulta Beauty at Target will be able to redeem rewards from both the Target Circle and Ultamate Rewards loyalty programs. Shoppers can also qualify for free shipping and use same-day delivery options like Order Pickup, Drive Up, and Shipt at selection locations. (View source)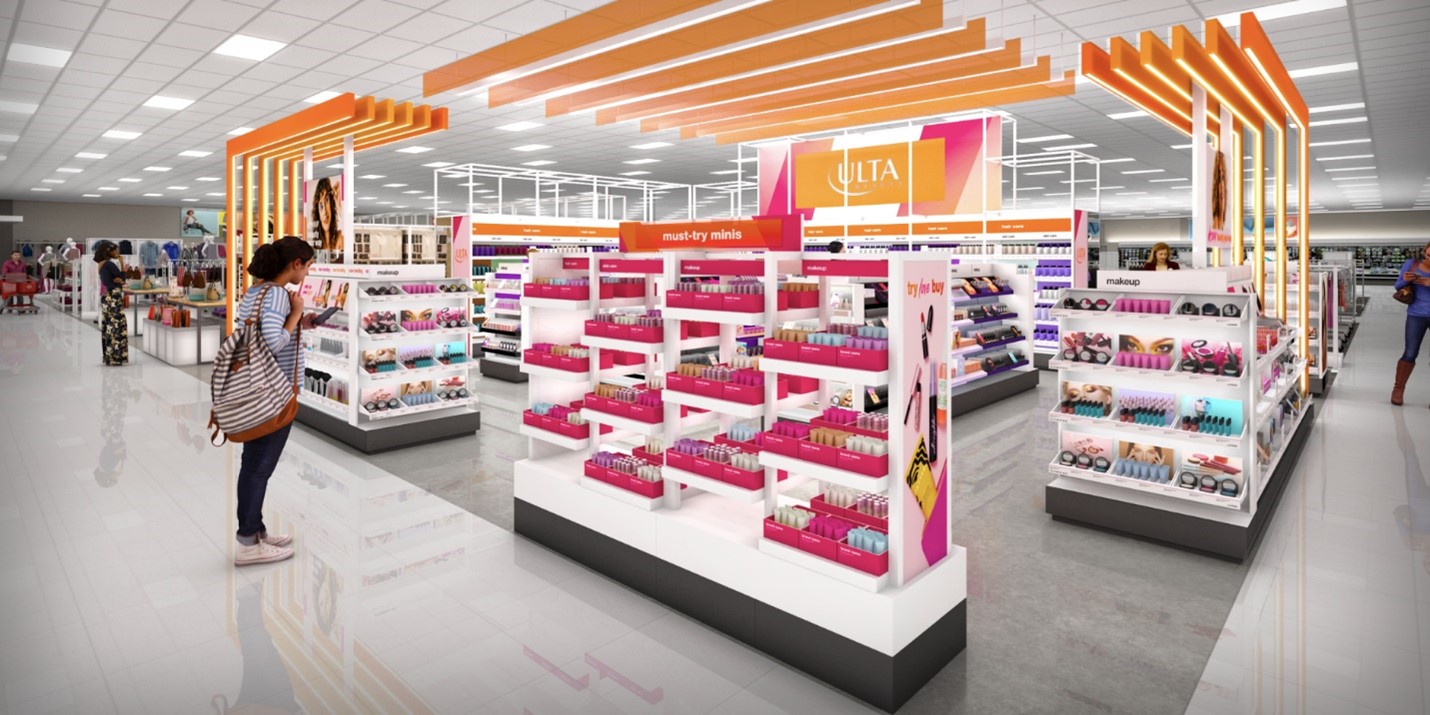 Photo: A Bullseye View/Target
Online Growth Slowing
Digital growth for Q2 slowed and prices were impacted by rising inflation.
Global e-commerce revenue grew 3% year-over-year in Q2 after posting four consecutive quarters of growth that were greater than 50%. Digital revenue in the U.S. fell by 2% year-over-year. Even though digital growth stayed flat this quarter, it shows that online habits driven by the pandemic are here to stay. This will affect Holiday 2021 – consumers may expect to see fewer discounts and increased prices as retailers continue to face supply chain issues and labor shortages.
Inflation is also a big challenge for retail; average selling prices in the second quarter have risen 11% year-over-year. Average order values during Q2 increased 17% year-over-year from $77.96 to $90.64, even though the number of units purchased by consumers decreased 1%. Average discount rates dropped to 17% year-over-year as low inventory and sustained demand limited markdowns. (View source)
Apple Pay Later
Apple is set to launch a buy-now-pay-later (BNPL) solution.
Apple's new BNPL flex payment solution, called Apple Pay Later, will debut as part of its Apple Pay payment service. The new solution will allow shoppers to break up the full price of a purchase into smaller payments. The payments are often without interest and can be used when purchasing with a credit or debit card. Consumers do not need to have an Apple Card to use this service.
Users will have the option to pay across four interest-free payments made every two weeks, or across several months with interest. To apply for this service, users will need to apply via the iPhone Wallet app. Apple's goal is to push adoption of Apple Pay and increase the number of payments made with iPhones. (View source)
Hosted Checkout Supercenter
Walmart is testing an all-self-checkout store in one of its biggest locations in Plano, TX.
Walmart's first all-self-checkout stores is calling their process a 'hosted checkout' because employees are standing by to help customers if they need it. The Plano store was chosen for testing because it is in a large suburban community and the store itself is stocked with over 120,000 items.
Hosted checkout has both pros and cons according to Walmart shoppers. Customers like the process because they've noticed that it's a faster way to checkout – there are no lines to wait in and shoppers can walk up to one of 32 self-checkout machines right away. With traditional stores, shoppers say that there may be 20 checkout lines, but only a few would be open at one time.
For the cons, most shoppers said they would not want to checkout themselves every time they shop, especially if they have a large order. Customers also worry that jobs are being eliminated because of the new process.
Walmart designed hosted checkout to make the checkout process as fast as possible. This new concept is valuable for retailers at a time when hiring retail workers has been difficult as many have moved to other industries as e-commerce gains market share. (View source)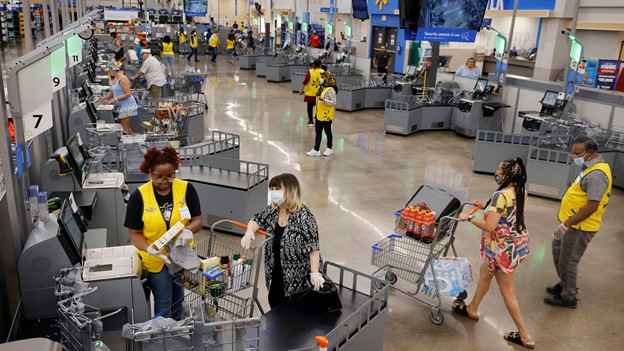 Photo: The Dallas Morning News/Walmart