Buzzworthy Insights – Retailer's Tech Focus
06.13.2022
Buzzworthy Insights
Retailer's Tech Focus
Retailers are focusing efforts on how technology can aid innovation within their business. According to a new study by Rackspace Technology, 54% of IT executives don't envision owning a corporate data center in five years, 35% plan to explore edge technologies, 29% intend to investigate public containers, and 24% will consider private containers. The biggest issue to implementing these is security and staffing, 46% of retailers who use cloud technology say security is the reason they use an external partner, followed by 37% not having enough internal skills to implement. When asked how the cloud has improved their business, 46% said it improved customer experience and ease of use, 43% indicated the cloud enables for faster testing and deployment of new products/services. (View source)
Walmart+ Weekend Results
Walmart knows it needs to try new things in order to continue their fight with Amazon. Last weekend, they hosted a Walmart+ exclusive event and the results are in. According to data from Numerator, the average order that weekend was $69.75, above the average Amazon Prime Day 2021 order and regular Walmart order, 47% of orders were placed for $100 or more. However, 59% of the spend was on groceries, followed by 7% on health & beauty products and 6% on household products – Electronics also saw a 6% spend, compared to 31% during Amazon Prime Day 2021. In addition, Walmart+ orders per household were only at 1.2, far below Amazon Prime Day 2021 at 2.9, and below the four-day weighted average for Walmart.com at (1.6). Shopper dynamics indicate that 74% of these shoppers are also Amazon Prime members, 42% live in rural communities, are 17% more likely to be Gen – X, and 16% more likely to be low income. (View source)
Is Hybrid Work the Way to Go?
Many are being called back into the office but is that really the way to go? According to a new survey from Citrix, in partnership with Man Bites Dog and Coleman Parkes Research, hybrid work seems to be most efficient all around. When implemented properly, hybrid work leads to a more connected, productive, and healthy workforce:
Technology is the most important aspect to working effectively – 68% of hybrid workers say that their work technology enables them to work effectively, in the way that they want, compared to 65% of remote, and 60% of in-office employees. That doesn't mean there isn't challenges, the typical employee needs to navigate four or more applications, on different platforms with multiple passwords, just to complete one business process. The average employee reports losing around 54 minutes a day due to these processes. (View source)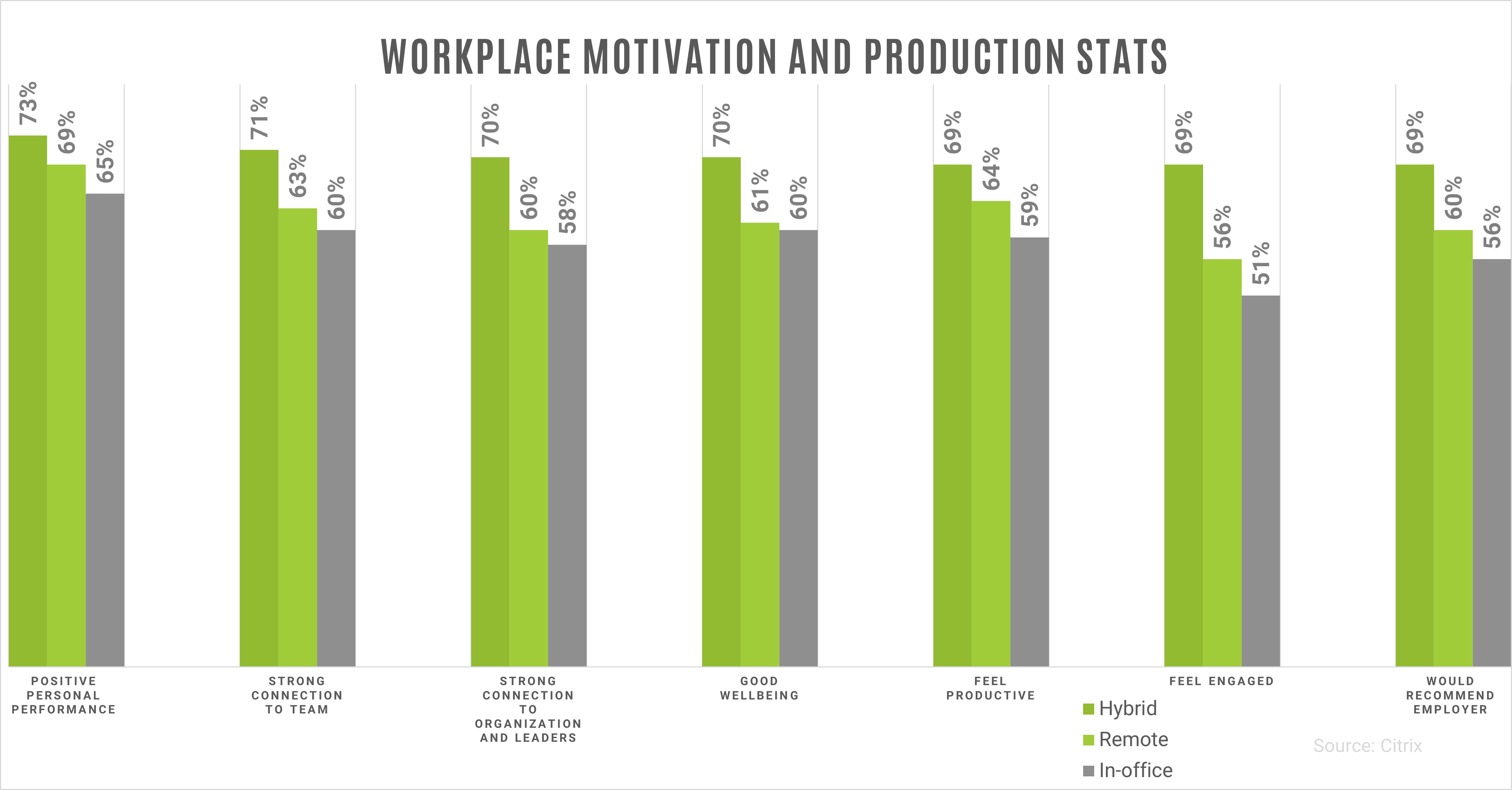 Father's Day Spending / Consumer Summer Spend
Consumers remain wary of rising inflation, but Father's Day will see nearly the same spending levels compared to last year, according to the NRF, average spend for 2022 will be $171.79 ($174.10 in 2021). 76% of US adults are expected to celebrate the day, highest spending noted is on dining out at $32.29 ($29.37 in 2021), clothing and gift cards are the top purchases for gifts. 40% of consumers plan to shop online, 34% plan to shop at department stores, and 22% at greeting card/gift stores, electronic stores, and discount stores.
Rising inflation is causing many to reevaluate how they plan to spend the summer, with cutbacks in many categories, 60% of consumers are hoping for a lot of deals and sales this summer. Due to the reduced spending, prioritizing travel and events is top of mind but over half of respondents' plan on spending no more than $500 on travel between Memorial Day and Labor Day (53%). (View source)
Retail's Best Reputation List
Axios-Harris Poll 100 has released, and grocers are leading the way. The yearly study, firstly released in 1999, ranks companies based on their visibility to the general population and performance in seven areas: trust, vision, growth, products & services, culture, ethics, and citizenship. The top ten companies:
Trader Joe's
H-E-B
Patagonia
The Hershey Company
Wegmans Food Markets
Samsung
Toyota Motor Corp.
Amazon
Honda Motor Company
Sony
Companies that ranked the poorest this year were ones with mistakes on social issues, at the bottom of the list: The Trump Organization, Wish.com, Twitter, Facebook, and Fox Corporation. (View source)
Thanks for reading!
Follow the latest industry trends with insights straight from our experts: BDS Marketing Blog.