Buzzworthy Insights – Store of the Future
09.07.2021
Buzzworthy Insights
Store of the Future
GAP Inc. purchasing Drapr, introducing 3D avatar creation to virtually try on clothes.
GAP Inc acquired The Drapr Platform, a platform that allows users to create an avatar and try on clothes virtually. The platform is available in GAP Inc. stores, starting with Old Navy as part of their new initiative called "Bodequality". The idea of the initiative is that all styles of women's clothing will be offered in all sizes, with no price difference between them. GAP Inc. will be looking to roll out similar initiatives in their other stores (Gap, Banana Republic, and Athleta) within the coming years. This comes as the COVID-19 pandemic has shifted consumer shopping heavily online and with one the biggest pain points of online shopping being how clothes fit. GAP Inc. and Drapr look towards accelerating digital transformation to curb these worries. (View source)
Everyday Essentials Becoming More Expensive to Buy Online
Retailers look to preserve margins by holding back discounts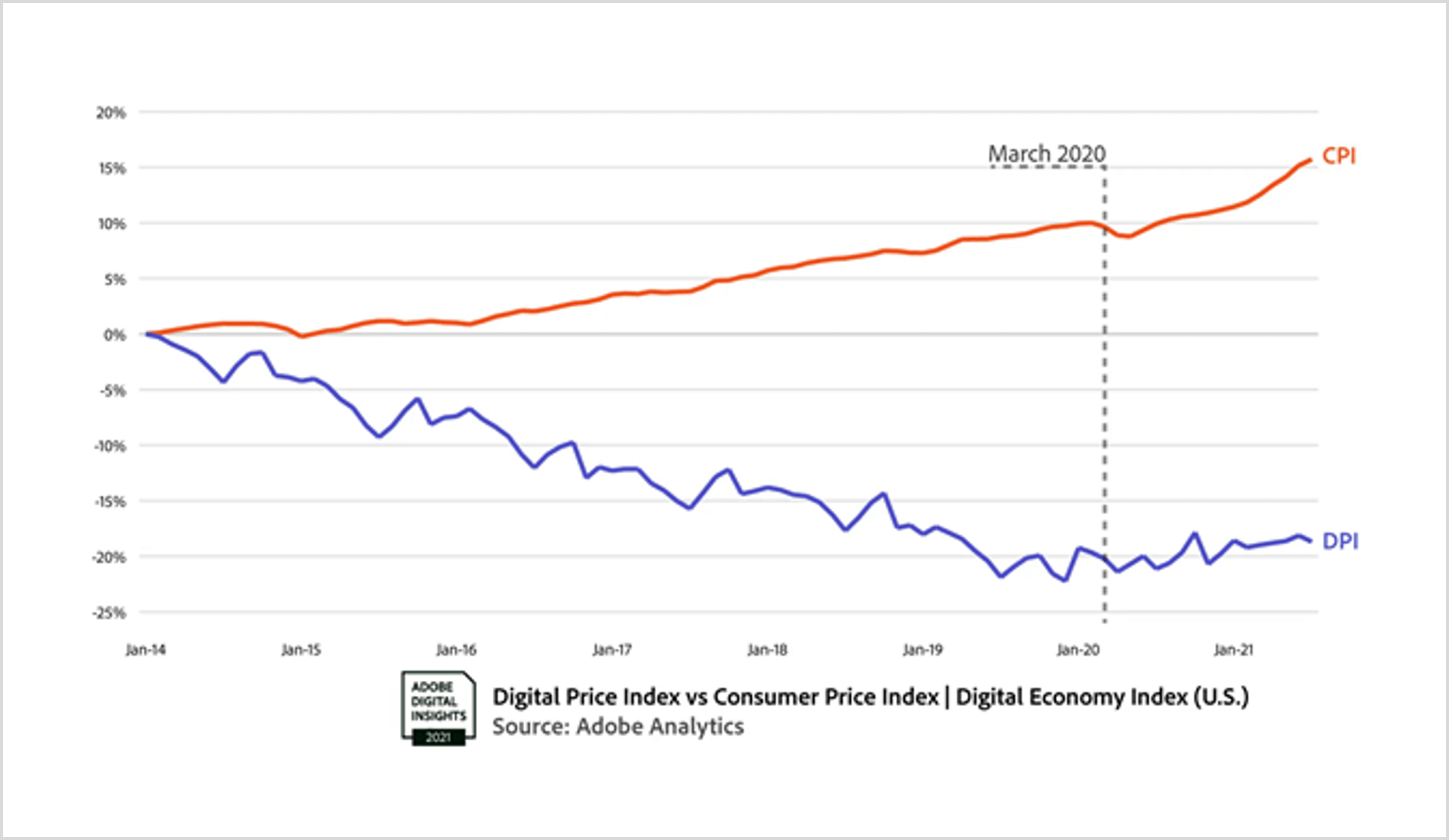 DPI: Digital Price Index – Measure of the average change in prices over time for a basket of goods and services online.
CPI: Consumer Price Index – Measure of the average change in prices over time for a basket of goods and services in-store.
As e-commerce takes up a greater share of overall retail, online inflation is rising and will continue to do so due to the pandemic and recently, the rise of the COVID-19 Delta variant. The Adobe Digital Economy Index (DEI) in July 2021 showed that online prices were up 3.1% YoY and down 0.7% MoM. Adobe expects the monthly dynamics to be more varying due to current volatility of prices being greater online than offline. Out of the 18 categories DEI measures (view table below), the only category that did not experience higher prices was office supplies. Due to the rising inflation online, consumers should expect less discounts as retailers will attempt to preserve higher margins. (View source)
IKEA Introducing Furniture Buyback Program in US
With many companies joining the booming US resale market, IKEA is the most recent to join with a plan to test out a resale program in their Conshohocken, PA store from August 30th to September 30th. Ikea already operates their resale program in many other countries and says it is a commitment to transform their business model to be 100% circular and climate positive by 2030. The program will be open to all members of the Ikea free loyalty program, allowing them to sell their used Ikea furniture for store credit with a few exceptions such as dressers. Consumers visiting this Ikea location will be able to purchase these goods in the "as-is" section at reduced prices. (View source)
Consumers Awaiting Return to Normalcy are Ready to Spend
As consumers anxiously await their return to where they saw themselves pre-pandemic; be it school, a boardroom, or the office, many are ready to spend the same or more on clothing in anticipation for these returns. According to results from a new Amex Trendex Pent Up Purchase Survey, roughly 3 in 4 of the surveyed adults are spending more or about the same on clothing/footwear and beauty products, with clothing/footwear having a slight advantage of 77% to 71% for beauty products. With this comes the excitement of going back out into the world: 36% of respondents say they are more excited to spend on new clothes for work/school before the pandemic, with a combined 62% saying they are seeing friends/family and shopping in-person more frequently than earlier this summer. (View source)
Consumers Returning to Shopping want In-Store Digital Capabilities
Shoppers want store associates digitally capable and mobile
The brick-and-mortar stores are experiencing a comeback despite the emergence of the COVID-19 Delta variant. According to a recent Newstore Survey, 42% of respondents indicate Delta will not change anything, 20% were neutral, and 38% with changing their willingness to shop in-store. In anticipation for the return, consumers are relying more on associates to be digitally capable with easily accessible user profile and purchase info. 54% of surveyed consumers wanted associates to have a mobile device, with over a third wanting to be able to checkout via their own mobile device while in-store (39%), associates having the capability to check them out anywhere in-store with a mobile device (33%), and having associates look up rewards/profile info with only their name (37%).  Additional findings of the survey can be seen below in the chart. (View source)
Thanks for reading!
If you'd like Buzzworthy Insights sent to your inbox weekly, please subscribe to our newsletter
Sign up here: http://eepurl.com/hukcCn