Buzzworthy Insights – The Next Step For Retail
12.27.2021
Blog
,
Buzzworthy Insights
Reinstatement of OSHA's Vaccine Mandate
After weeks of delay, OSHA's vaccine Emergency Temporary Standard (ETS) has been reinstated. The vaccine mandate will impact businesses with 100 or more employees, enforcing vaccination of employees or weekly negative COVID tests. Due to the shortage of testing kits, the Labor Department will be refraining from enforcement if the employer has shown "a good-faith effort to comply". Shortly after the mandate was reinstated, several associations sent appeals to the Supreme Court, including the NRF. The basis for the appeal, OSHA is exceeding their authority granted by Congress and it is infeasible for employers to implement this during a critical holiday season. OSHA has taken some of their thoughts into mind, noting they will not push full enforcement until February of next year. (View source) 
Reinventing The Mall Experience
Miami's largest outdoor shopping center is getting a revamp. In collaboration with The Cordish Companies, the space will open next winter and feature live music, sports watch parties, family events, food and beverage festivals, and more. The greatest addition will be the Sports & Social space that will feature state-of-the-art audio and video technology in a 15,000 sq. ft. space, similar to what is seen in sports betting areas of casinos. The Cordish Companies are developing further entertainment concepts for malls, shopping centers, and casinos, in hopes to bring about the new age of retail centers. (View source)
Victoria Secret's Transformation
Victoria Secret has been revamping their image for the past decade, now in Chicago, we see the unveiling of the first of three stores set to open. These stores will feature a beauty bar, enhanced technology, and gender-neutral apparel. The overarching changes have been rolling out in stores across the nation, featuring plus-size mannequins, new marketing techniques, softer lighting, updated fitting rooms, and smaller cosmetic touches all around the store from brass finishing to curved walls. The CEO of VS, Greg Unis, said that all the dark walls and skinny mannequins have been removed from all 933 company-owned stores, adding that the future of VS, "is a physical experience of what we're doing with the evolution of the brand. We wanted it to be light, airy, optimistic, authentic, and creating a sense of community." (View source)
Toys "R" Us is Back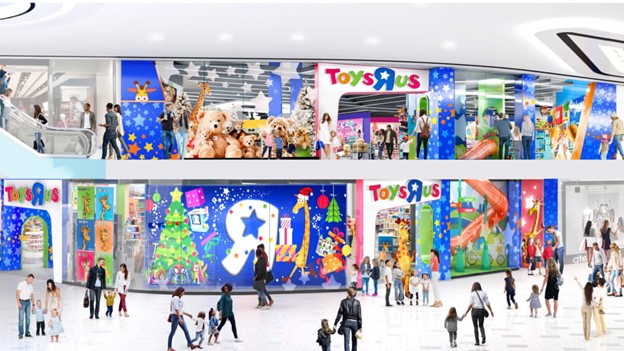 Our childhood toy store has made its comeback within the American Dream retail center located in East Rutherford, NJ. Opening on December 19th, the two-level 20,000 sq. ft. global flagship store will feature thousands of items, showcased by play pattern (dolls, arts, etc.) or brand, and many keystone elements of Toys "R" Us, including Geoffrey the Giraffe mascot. New elements opening in the new year will be the Geoffrey's Café, an ice cream parlor, and two-story slide. The store also features many stations where kids can play and have interactive experiences, including product demonstrations. Along with the new store, WHP Global (the new owner of Toys "R" Us), is planning to have around 400 in-store shops of Toys "R" Us within Macy's store in 2022. (View source)
AI Salad Bars
Albertsons is taking AI to the next level by introducing the technology to salad bars in six of their East Coast supermarkets. In collaboration with European food technology company, Picadeli, the two are trying to determine the US consumer reaction to the concept that has been highly successful in Europe, evident of the more than 2,200 salad bars Picadeli operates in grocery stores throughout the continent. Initial interest has been noted by co-owner of Picadeli's US business as, "The consumers that we most want to reach are responding really well by essentially voting with their sales and having repeat rates that are higher than we ever expected." The pitch of Picadeli is that with introduction of the new technology it enables retailers to provide affordable, high-quality prepared foods to customers more efficiently than they can with standard salad bars. This is done through the AI monitoring of how long products have been displayed, along with optimization of food assortment based on consumer patterns. (View source)
Thanks for reading!
If you'd like Buzzworthy Insights sent to your inbox weekly, subscribe to the newsletter.