Buzzworthy Insights – Toys "R" Us is Back!
08.30.2021
Buzzworthy Insights
Toys "R" Us Is Back!
Macy's Looks To Gain Recognition As Toy Provider, Taking On Target And Walmart
You heard it right, every child's dream toy store is coming back thanks to well known retailer, Macy's. Primarily partnering to sell toys on Macy's website, the new partnership is bringing Toys "R" Us into 400 of their department stores in 2022. This store-in-stores idea is nothing new and has seen growing popularity, with companies like Apple, Ulta, and Sephora joining this idea in Target and Nordstrom stores. With this new deal, Macy's is looking to become a reputable name in toys, competing with Target and Walmart. Macy's chief merchandising officer backed this idea, saying, ""Toys "R" Us is a globally recognized leader in children's toys and our partnership allows Macy's to significantly expand our footprint in that category, while creating more occasions for customers to shop with us across their lifestyles." (View source)
In-Store Experience Is Pivotal For Bringing Back Customers
During COVID-19, shopping preferences highly shifted towards online channels but with the end in sight, consumers are flocking to brick-and-mortar stores. The survey, "The New Face of Local", found that out of 1,000 US consumers surveyed, fewer than 18% of respondents prefer to research and buy products only online. Additionally, 66% of people are more likely to buy something online when they can return it to a local store.
Why is this? Chief strategy & executive VP NA of Uberall, Nick Hedges says, "This is a strong indicator that consumers want a real-life experience in their journey – whether to evaluate the physical product in a store and/or the convenience of being able to take it home the same day." And this is not planning to change, with 47% of US consumers planning to do a combination of in-store and online shopping for upcoming holidays. (View source)
Store Of The Future
Express Unveils New Store Concept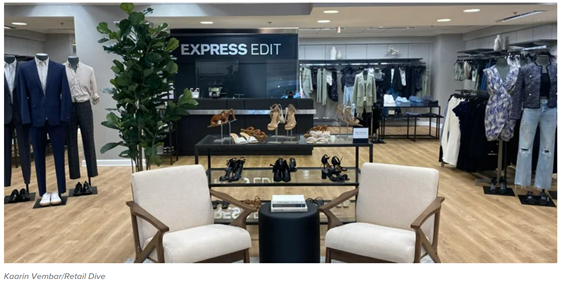 Express is looking to reinvent themselves with the new store concept, Express Edit. With this reduced store concept idea, Express is highlighting the concept of accessorizing outfits. With stores between 1,400 and 4,500 square feet and short-term leases, Express is looking for maximum flexibility while reinventing themselves. They are beginning this new idea in Washington, D.C. with two stores, simultaneously testing this new idea and the idea of multiple stores in a single market, hoping to expand to 10 Express Edit stores across the US by the end of 2021.
The CEO is hopeful, stating that the company has seen an increase in new and reactivated customers visiting these new stores. Each store will also be specially curated to local trends in the market or neighborhood. (View source)
Mobile Shopping Overtakes Laptop/Desktop Shopping Preference
For the first notable time, mobile shopping is now preferred over shopping via laptop or desktop. With Gen-Z/lower age Millennials and Gen-X groups growing up with sophisticated technology in their hands and COVID-19 Pandemic forcing everyone indoors, it is not surprising to see that shopping trends are now moving in that direction. While Men are lagging in the transition, 70% of women and almost 70% of those aged 18 to 60 (Gen-Z & Millennials) are making a majority of their purchases online.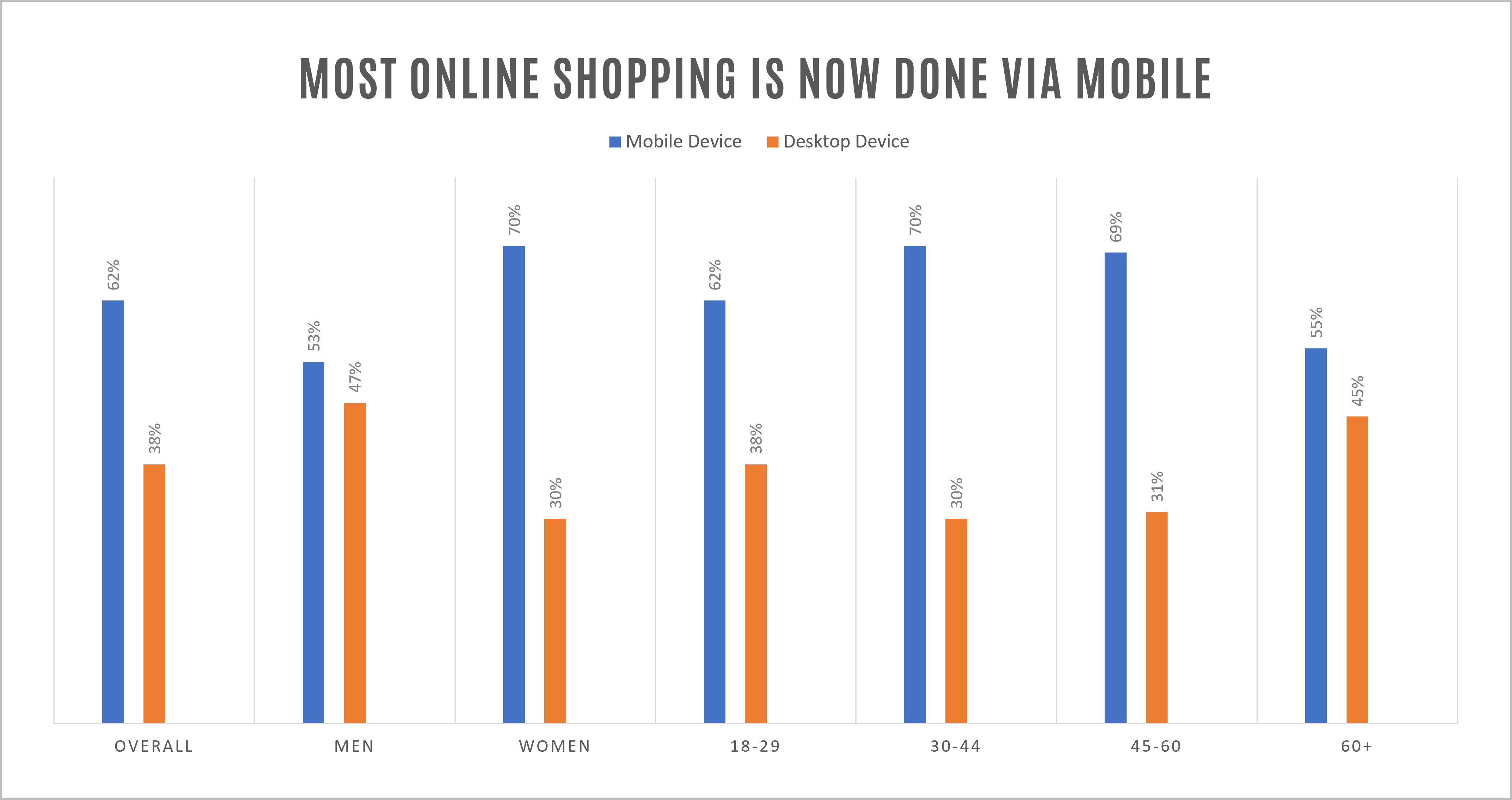 With more mobile viewing comes consumer feedback on pain points they are facing. With this new trend, retailers will want to take note and optimize accordingly. (View source)
Consumers Safely Return to Shopping In-Store
Rapid Emergence Of Delta Variant Worrying Customers But Not Stopping Them
According to a survey conducted by Shopkick, (61%) respondents are taking extra precautions when shopping in-store due to the rise of Delta. While this is not keeping them out of stores, precautions retailers took during the emergence of COVID-19 will likely be coming back. Most are again masking up while shopping (82%), using disinfectants on hands and carts (79%), shopping at less busy times (66%), using debit/credit cards to avoid exchanging cash (63%), and utilizing self-checkout (59%).
Consumers want to see retailers take these precautions taken and they should as GM of Shopkick stated, "Retailers need to prioritize making the experience as enjoyable as possible, while doubling down their focus on safety. Shoppers will expect nothing less than stocked shelves, a demonstrable commitment to safety in your store, and a trained staff setting the example." (View source)
Thanks for reading!
If you'd like Buzzworthy Insights sent to your inbox weekly, please subscribe to our newsletter
Sign up here: http://eepurl.com/hukcCn