Buzzworthy Insights – Amazon Prime Day News
06.28.2021
Buzzworthy Insights
What happened on Prime Day? Sales went up as the average order size went down.
During both days of Prime Day, U.S. total online spend surpassed $11 billion, making it the biggest shopping event ever in the United States as it outperformed Cyber Monday ($10.9 billion). This includes $5.6 billion on day one and $5.4 billion on day two and represents 6.1% growth when compared to Prime Day 2020's $10.4 billion in total revenue.
Despite the increase in sales, a trend emerged on both days – average order sizes were down. The average order was $44.75, down 18% from $54.64 on Prime Day 2020, and 24% less than $58.91 on Prime Day 2019.
A few more trends were recognized that helped to boost average household spend. 55% of households that participated in Prime Day placed two orders or more, with 11% placing five or more orders. 6 in 10 orders were $30 or less, with only 10% of orders exceeding $200. However, over half of households that shopped Prime Day spent over $100, bringing average household spend up to $106.41.
Prime Day created a strong halo effect that benefitted many other retailers. Large retailers with more than $1 billion in annual online revenue saw a 29% lift over an average day in June. Smaller retailers with less than $10 million in annual online revenue also did well and saw their online sales increase by 21%.
What were the top products purchased on Prime Day? The Fire TV Stick 4K with Alexa Voice Remote was the most popular item bought, with customers purchasing more streaming media players than any previous Prime Day. Best-selling categories worldwide included tools, beauty, nutrition, baby care, electronics, apparel, and household products.
Earlier this month, we reported that Prime Day would kick-off the back-to-school shopping season and it looks like we may have been correct. According to Amazon, Prime members purchased over 600,000 backpacks, 1 million laptops, 1 million headphones, 240,000 notebooks, 40,000 calculators, and 220,000 Crayola products. (View source)
'Clickable' Interactive Endcaps
Pet owners can learn about Purina products simply by touching an item.
Midwest discount chain Meijer is partnering with pet company Purina and retail marketing platform Perch to launch a product engagement platform at 200 stores. The Perch platform will be seamlessly incorporated into interactive Purina endcaps that feature a digital screen and 'lift-and-learn' technology. The display will automatically sense which products customers touch, and videos and digital information about those items will be displayed on the screen. No QR codes, touch screens, nor additional apps are required.
The Perch platform uses computer vision to detect product behavior at the shelf and anonymously detects when shoppers are present, which product they touch, and what content they engage with. Purina will be able to update digital content and will launch the interactive endcaps with the 'Purina One 28-Day Challenge' promotion. The promotion will show shoppers the difference that Purina One can make in just 28 days. (View source)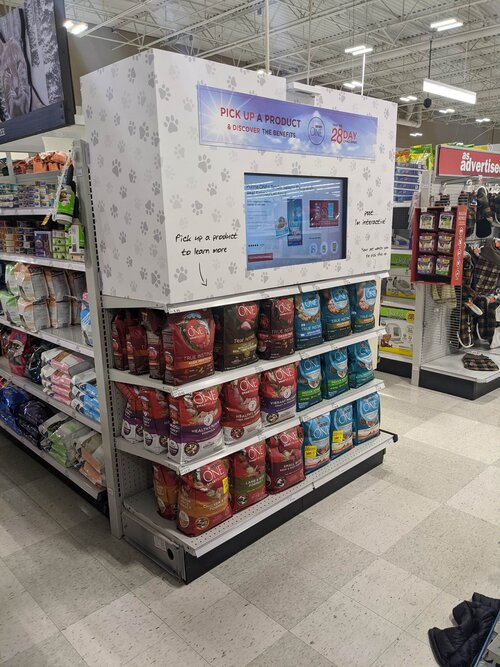 Photo: Supermarket News/Perch
LEGO 'Retailtainment' Store
The LEGO Group unveils a new store concept at its NYC flagship store.
LEGO opened the doors of its new experiential store in New York City, which features a new, innovative retail format that immerses shoppers by blending digital and physical experiences. The new format came about as the brand realized its customers wanted more opportunity to play with bricks, participate in activities, want personalized experiences, and have fun.
The retailtainment store features the following experiences:
The Brick Lab: An experience that immerses shoppers and their creations in a virtual world, offering an interactive build and play experience.
Tree of Discovery: An interactive tree made from 880,000 LEGOs and is the centerpiece of the store.
Storytelling Table: An interactive area for adult fans that shows early product designs and introduces LEGO designers.
Personalization Studio: A place where shoppers can reimagine themselves in LEGO form. (View source)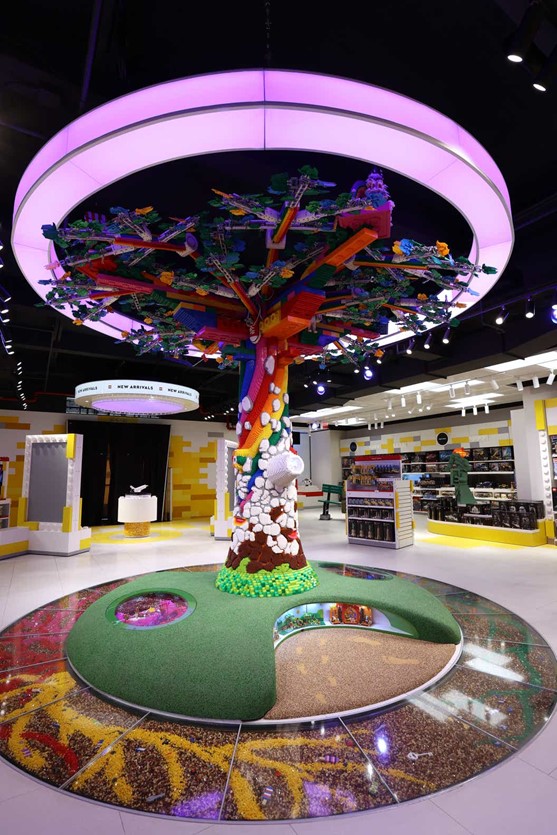 Photo: The LEGO Group
Resale Market Expected to Double
Second-hand retail sales will reach $77 billion by 2025.
Second-hand apparel, shoes, and accessories is currently a $36 billion market, projected to double in the next five years to $77 billion. Resale is expected to grow 11 times faster than first-hand retail clothing sales over the next five years and will be more than twice the twice the size of fast fashion by 2030.
The popularity of second-hand apparel surged during the pandemic due to consumers' uncertain views of their finances. In 2020, 33 million consumers bought second-hand apparel for the first time. 76% of those first-time buyers plan to increase their spend on second-hand in the next five years. The average resale consumer bought seven items second-hand in the past year that they would normally buy new, which potentially displaced over 542 million new items. (View source)
NFTs & Retail
Retailers are finding value in the digital world with non-fungible tokens.
NFTs are 'non-fungible tokens,' anything digital that can be downloaded and turned into an AI, with the most common being photos, videos, and audio files. 'Non-fungible' means that it is unique and can't be replaced with something else. NFTs are unique digital assets that are stored similarly to how cryptocurrency is stored, on a blockchain ledger, which certifies ownership. There is no way for an NFT to have more than one owner, and only the certified owner can sell it.
NFTs have experienced a dramatic surge in popularity in recent months, with many selling certified, one-of-a-kind digital images, videos, audio recordings, and other files. Increased consumer demand for NFTs will prompt more retailers, especially digitally-savvy ones, to start selling them.
These virtual products offer some benefits to retailers that put in the effort to enable NFT sales:
No physical overhead. Retailers can avoid costs such as warehousing, distribution, and other logistics.
Return on marketing investment. In retail's growing interest in NFTs, Domino's Pizza is selling one-of-a-kind NFT images based on 'Noid', a cartoon villain featured in its TV advertising campaigns from the 80s and 90s. The Noid NFTs are being sold over the course of a 14-day auction.
Since NFTs are verifiable and can't be counterfeited, packaging them with physical goods can serve as a digital authentication method. (View source)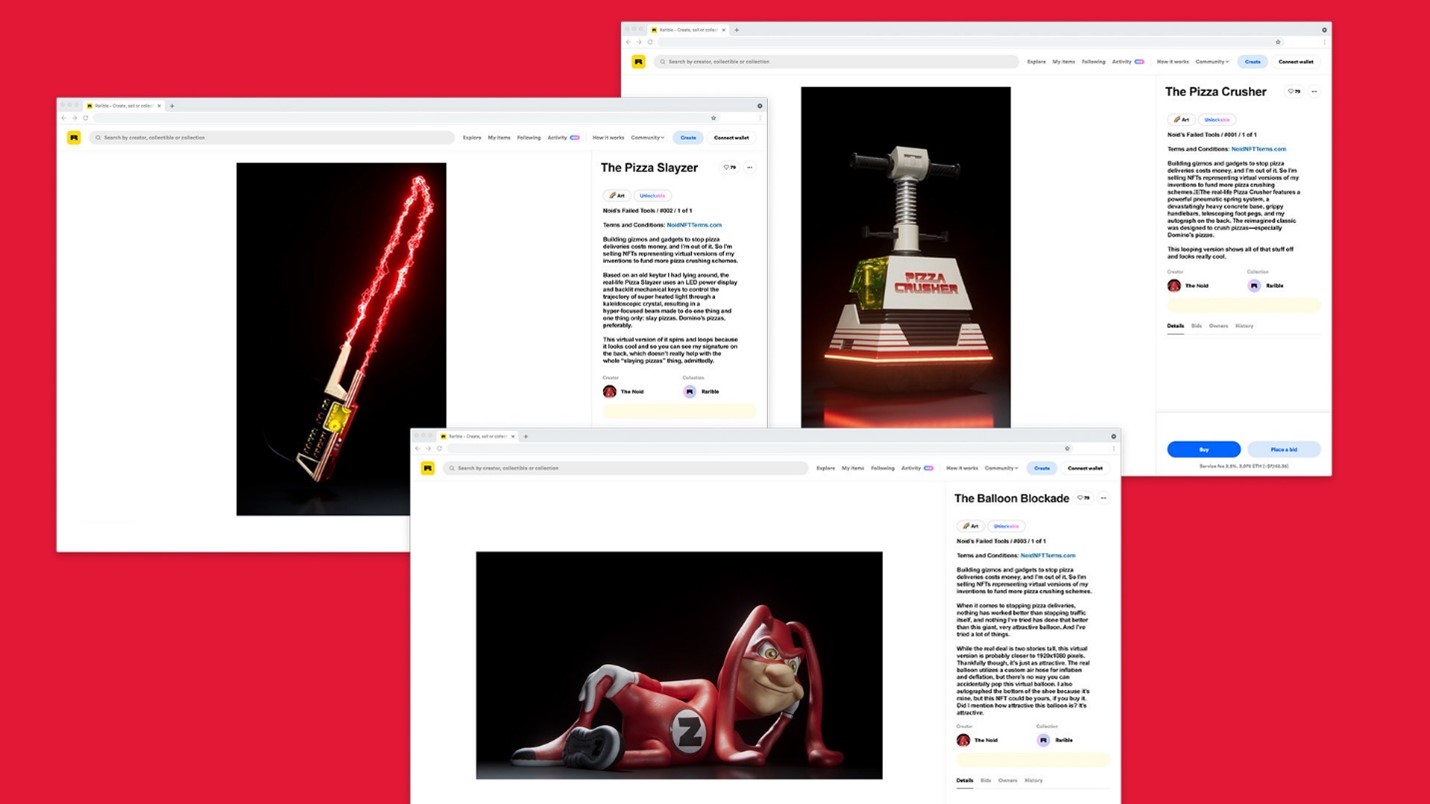 Photo: PR Newswire/Domino's Pizza
Thanks for reading!
If you'd like Buzzworthy Insights sent to your inbox weekly, please subscribe to our newsletter.
Sign up here: http://eepurl.com/hukcCn