Buzzworthy Insights – Consumers Are Becoming More 'Conscious' When It Comes To Their Consumption Of Goods And Services
05.03.2021
Buzzworthy Insights
The Pandemic intensifies interest in 'conscious consumption.'
Consumers are taking part in conscious consumption, the practice of seriously considering the environmental and societal impacts of purchase decisions, due to the COVID-19 pandemic. 69% of consumers believe brands should do more to make it easier to consume more consciously.
Half of consumers do not have a good understanding of which brands are sustainable/ethical, and which are not.  A third admitted that they do not have a good understanding on what items they can and can't recycle.
Values are becoming infused with shopping habits as consumers think more about balancing what they buy, and how they spend their time, with global issues of sustainability. This calls for retailers to be authentic and to pay attention to what each community they serve really cares about. (View source)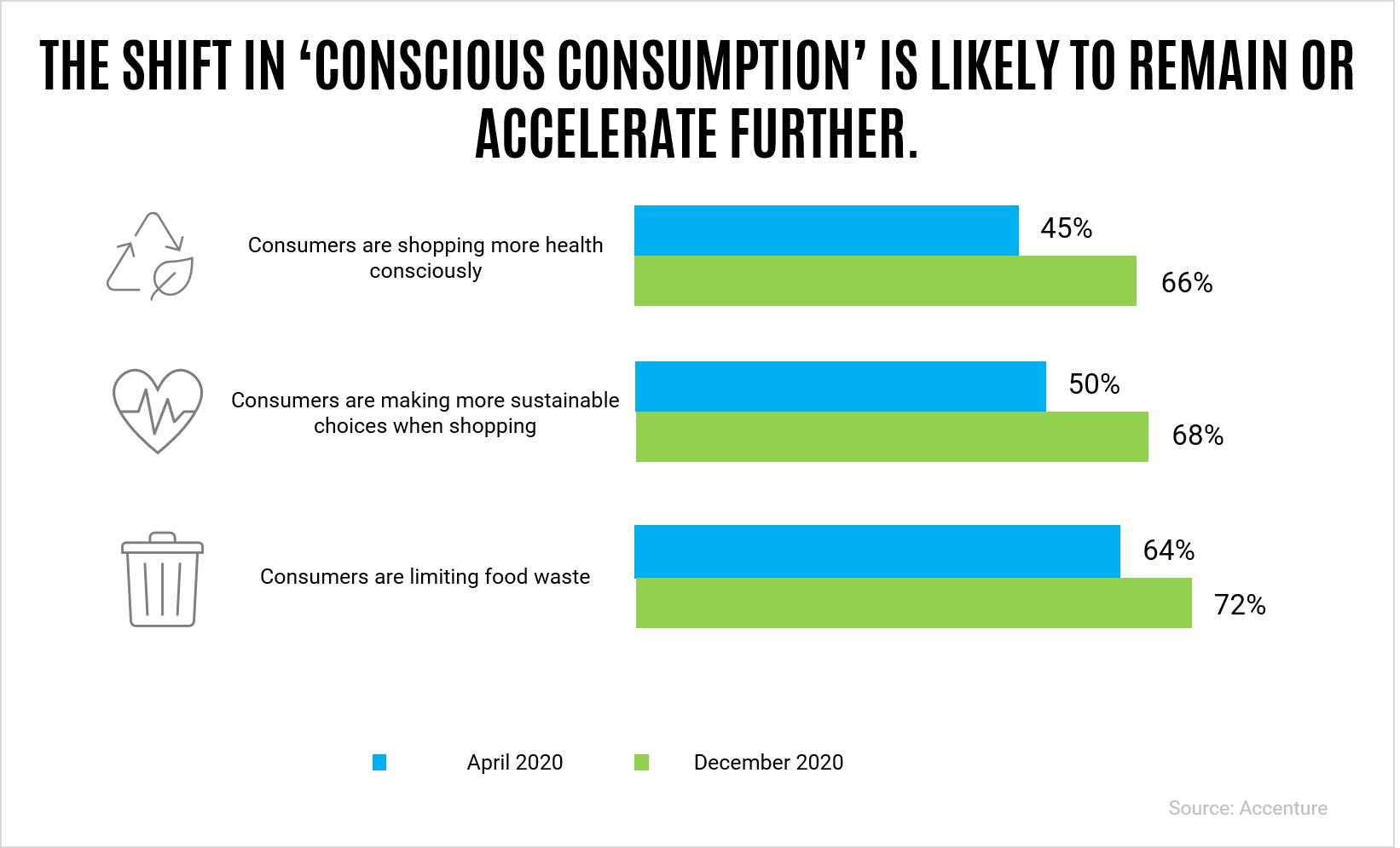 Amazon's Leaf Coalition
Amazon is helping drive a new global initiative, called the Leaf Coalition, to raise at least $1 billion to accelerate climate action by helping countries protect their tropical rainforests. The initiative is expected to be one of the largest ever public-private efforts to protect tropical forests and support sustainable development.
The coalition's participants also include the governments of Norway, the United Kingdom, the United States, along with leading companies Salesforce, Airbnb, Unilever, Bayer, Boston Consulting Group, McKinsey, GSK, and Nestlé.
Coalition participants will pay for high-quality emissions reductions from tropical and subtropical forest countries, supporting efforts to reduce and end deforestation. LEAF aims to include additional countries and companies in the months ahead. (View source)
Mother's Day Spend and News
Mother's Day spending to hit record high.
Mother's Day spending is expected to total a record $28.1 billion this year, up $1.4 billion from 2020, according to an annual survey by the National Retail Federation. Approximately 83% of U.S. adults are expected to celebrate the annual holiday.
Consumers plan to spend an average of $220.48 on Mother's Day items. This figure is $16 more than they planned to spend last year and the highest in the survey's history. Record spending on jewelry and electronics are the primary drivers of the increase. Jewelry accounts 59% of the $1.4 billion increase in spending while electronics accounts for 28%.
Consumers ages 25 to 34 are contributing to the increase in Mother's Day spending. These shoppers plan to spend $367.08 on average, or $99 more than last year. They also are the most likely to buy gifts of higher dollar items like jewelry or electronics. In addition to buying gifts for their own moms, these shoppers are more likely to be buying for spouses and other recipients like grandmothers or friends.
Ecommerce leads the pack when consumers decide on where to buy gifts. 34% plan to purchase their Mother's Day gifts online, down from 2020 when shoppers were dealing with mandated shutdowns, but still above pre-pandemic levels. Consumers also plan to shop at department stores (28%), specialty stores like florists or jewelers (26%), and small businesses (23%). (View source)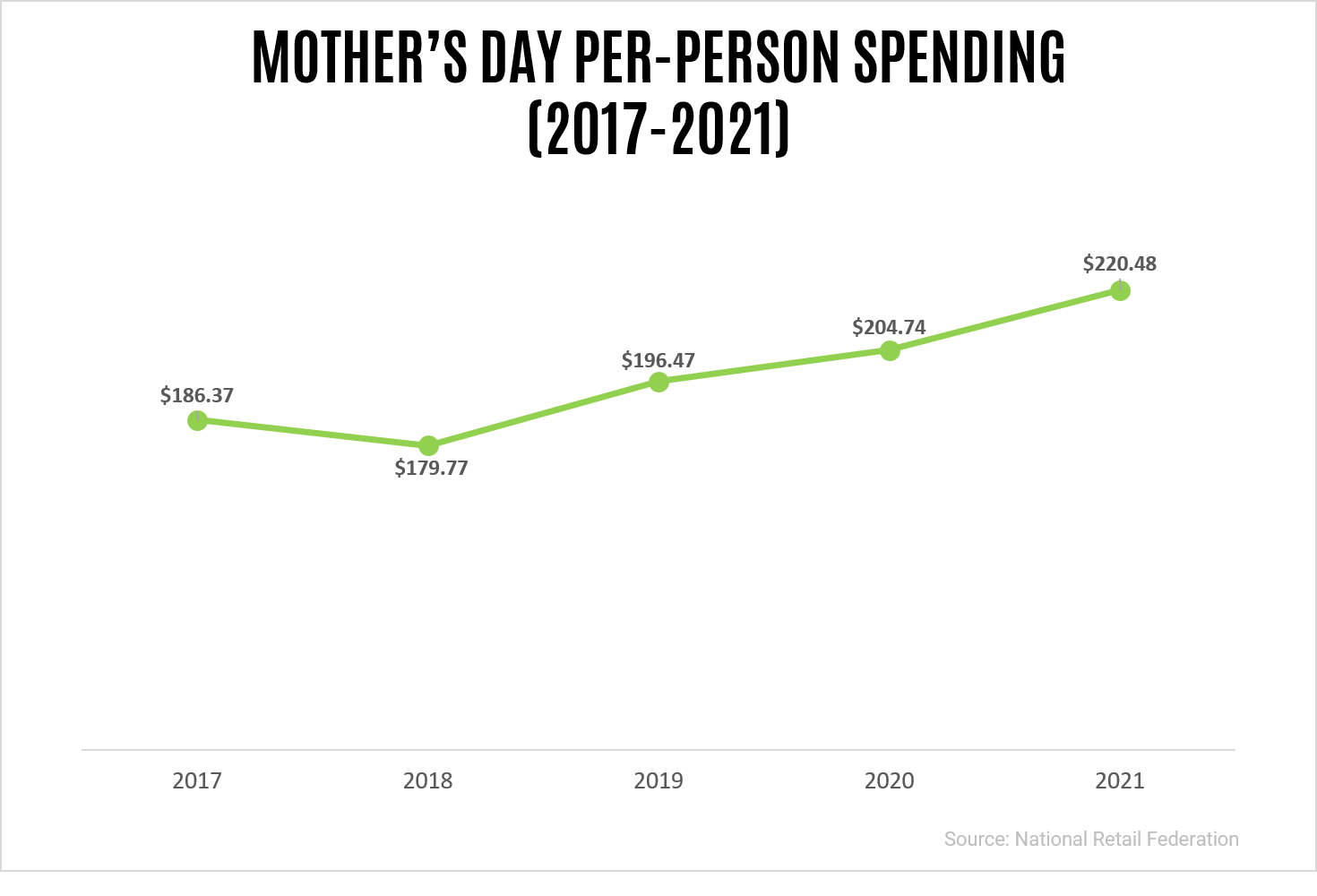 Newegg debuts online flower delivery service.
Tech-focused e-retailer Newegg is attempting to disrupt the online flower delivery category with a new online floral storefront, just in time for Mother's Day. The company is offering a large assortment of fresh flowers for under $50 and a number of products offering free delivery.
Newegg says it will apply its efficiency of scale and ability to leverage preferred shipping rates to provide floral customers maximum value. The e-retailer began testing online flower delivery earlier in 2021, which enabled it to validate market demand and fine-tune how it promotes floral products to customers.
The company is partnering directly with farms in the U.S. and South America, which it says allows it to source the freshest flowers and plants to ship directly to customers overnight, while keeping costs down for shoppers. (View source)
The Increasing Popularity of Suburbs And Rural Areas
Most Americans prefer smaller cities and suburbs to major metros.
Remote working has led millions of Americans to abandon major metros and move to smaller cities and suburbs. 61% of workers would leave major metros given the chance to work remote permanently. Notably higher percentages were registered by residents of top metros including New York (76%), Los Angeles (75%), San Francisco (71%), and Chicago (65%).
Retail chains should consider secondary and tertiary markets when wondering where to expand next. Two-thirds of workers agreed that suburbs are cooler than they were prior to the pandemic and that living in smaller cities or in the country was now trendier than living in major cities.
When it comes to working remotely, most Americans are on the same page. Nearly 9 out of 10 workers said they should be paid the same salary no matter where they moved and that never meeting any of their co-workers wouldn't bother them. (View source)
My Eyelab uses AI to open rural locations.
Optical retailer My Eyelab is introducing a remotely operated phoropter, the machine optometrists use to determine lens prescriptions, that will allow the chain to open more locations in rural areas and smaller markets.
A trained staffer will set up the phoropter and position the patient in it correctly, then let the optometrist who appears on a TV in the room conduct the examination remotely. My Eyelab will be able to open franchises in smaller markets or un-serviced urban markets in smaller stores with this technology.
My Eyelab plans to open 87 new stores by the end of 2021, bringing the total store count to 205. (View source)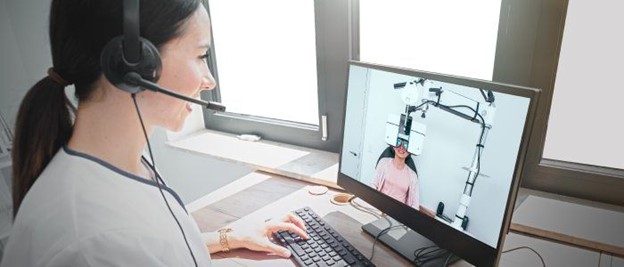 Photo: My Eyelab. (View source)
Department Stores Are Not Dead For This Category
Department Stores are still Americans' favorite place to buy shoes vs. online.
Consumers were asked in a new AlixPartners survey where they've been buying shoes during the pandemic, and the answer was overwhelmingly department stores.
37% of people said they've bought shoes on a department store retailer's website since the start of the health crisis, while 33% said they've made a footwear purchase recently in a brick-and-mortar department store.
When asked where consumers have specifically shopped for nonathletic footwear, Macy's was the top answer at 29%, followed by Walmart, Kohl's, Target, DSW, and Nordstrom Rack.
Since March of last year, 51% of consumers said they've primarily been buying shoes on the internet. But post-pandemic, 59% say they'll be returning to shopping mostly in stores.
Consumers will be shopping in-store because they want to try on shoes before buying, and that's even more important when it comes to their kids. People are likely drawn to department stores for their expansive assortments of shoes, including a mix of high- and low-end brands and styles, as well as for the customer service. (View source)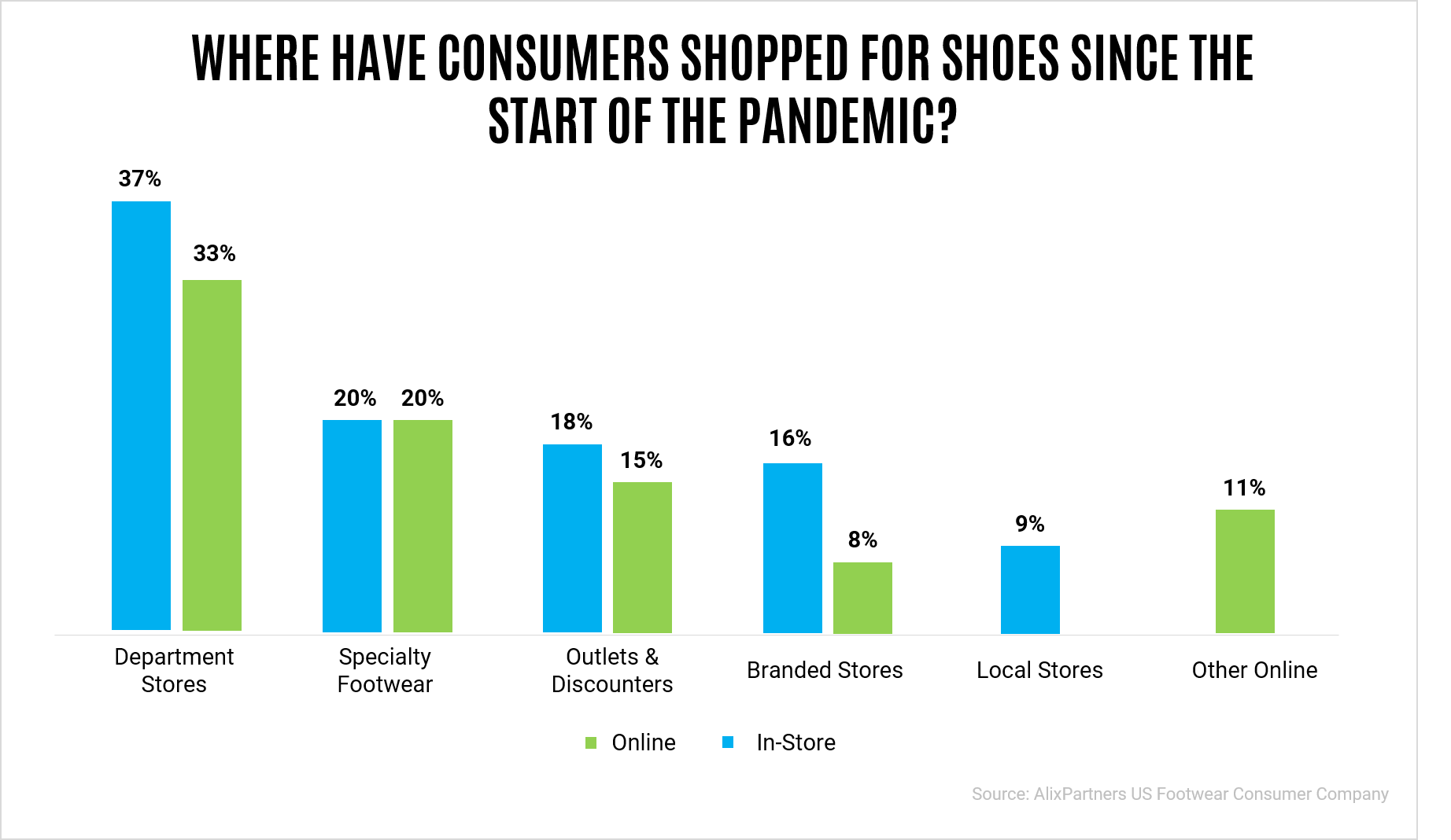 Other Newsworthy Headlines
Camping World integrates more digital services.
Camping World Holdings Inc. is partnering with BitPay to accept bitcoin (BTC), Ethereum (ETH), and other select cryptocurrencies through digital wallets as payment for RV purchases. This service will initially launch at stores in Chicago and Kenosha and will roll out to all locations that sell RVs and to its ecommerce platforms this summer.
Camping World's relationship with BitPay will allow it to maximize convenience for customers and attract new shoppers by adapting and elevating the customer experience. "Accepting cryptocurrency is simply another part of our vision to make RVing easy in an increasingly digital world," said CEO and chairman Marcus Lemonis.
Additionally, Camping World is launching a peer-to-peer digital rental marketplace in May 2021 that will seamlessly connect owners and renters of RVs, similar to AirBnB. According to Camping World, its goal is to maximize the owner's ROI while allowing the renter to pay less money to have access to an RV. The platform will include both towable and motorized RVs. (View source 1, source 2)
Dyson opens fifth "demo" store location.
Dyson has opened another "demo" store concept in Santa Clara, CA. The format is engineered to encourage visitors to pick up, test, and experience Dyson products hands-on. Each space is focused on education and experience, with Dyson experts available to demonstrate and explain each item in-person or via live video chat.
The new location includes a dedicated space offering professional hair styling appointments, including blow-outs, using Dyson products. Visitors can test out the latest cord-free vacuums with different types of debris spread across different floor types. Customers can also learn about local air quality and how to manage the pollution within their homes.
Additionally, Dyson has recreated the store experience online. Customers can learn about Dyson technologies through a fully interactive, virtual tour of the company's "demo" stores. Augmented reality filters are available to simulate the at-home experience of a Dyson product and experts are available for live video demonstrations of any Dyson machine or styling tool. (View source)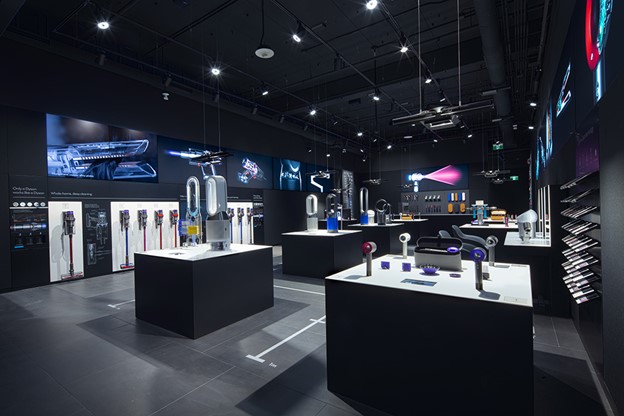 Photo: Dyson. (View source)
EBay's new protective payment option.
EBay is providing an extra layer of protection for buyers and sellers of luxury watches worth over $10,000 with a new payment option. Shoppers can purchase through Escrow.com, which will hold funds securely until the transaction is complete.
If a shopper decides to use this payment option at checkout, they are directed to the Escrow.com website to create an account and make the purchase. After the purchase is complete, funds are released by the third party to the seller once the item is received by the buyer in the condition described in the listing.
After receiving the watch, the buyer has 7 days to inspect it before accepting the item. Once the watch is accepted or if the 7-day window has passed, returns won't be available. If a return occurs, the watch is shipped back to the third party for verification and funds are released back to the customer. (View source)
Petco uses AI to find lost pets.
National animal welfare non-profit Petco Love is working with over 1,000 shelters and rescues across the U.S. to adopt the "Petco Love Lost" platform, a searchable database that uses facial recognition technology, to help reunite owners with their lost pets.
Uploaded photos of a missing pet can be immediately scanned to determine whether there is a match at a participating shelter or rescue in the community. The user-friendly tool can provide initial results in less than a minute to pet owners.
Early adopters of Petco Love Lost are Petco, the American Pet Products Association, the North American Veterinarian Community, BOBS from Skechers, Blue Buffalo, ASPCA, Nationwide, and State Farm. (View source)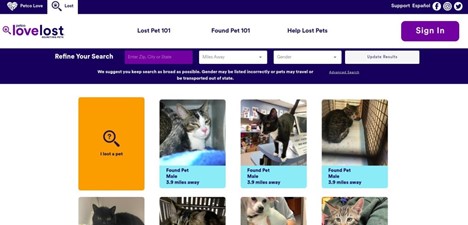 Photo: Daily News. (View source)
Walmart moves away from automation.
Walmart is continuing to move away from in-store automated technology by getting rid of the large pickup towers for online orders in more than 1,500 stores. The pickup towers were typically located at the front of the store and were offered as a convenient option for customers to pick up their online orders.
This move comes as the pandemic has put a growing emphasis on curbside pickup services at Walmart and other retailers. Additionally, surveyed customers overwhelmingly want one pickup spot, and they want it to be outside.
In November, Walmart also moved away from in-store technology by ending its push to use robots in store aisles to keep track of inventory. (View source)