Buzzworthy Insights – Retail Sales Will Exceed $4 Trillion
06.14.2021
Buzzworthy Insights
The NRF revises its total U.S. retail sales forecast for 2021.
The National Retail Federation revised its 2021 retail sales forecast on Wednesday to total $4.44 trillion, up from the $4.01 trillion that it forecasted previously in 2020. (This number excludes automobile dealers, gasoline stations, and restaurants). The NRF cites great uncertainties around consumer spending, vaccination distribution, infection rates, and stimulus payments when the forecast was originally made.
Additional changes to the forecast include the GDP growth rate to approach 7%, compared to the 4.4%-5% of the earlier forecast. Non-store and online sales are now expected to grow between 18%-23% this year, ranging from $1.09 trillion to $1.13 trillion due to demand for e-commerce.
The 2021 retail sales revision is an indicator of a strong economy and suggests that it will continue to rapidly expand. This may be the fastest growth the U.S. has experienced since 1984. (View source)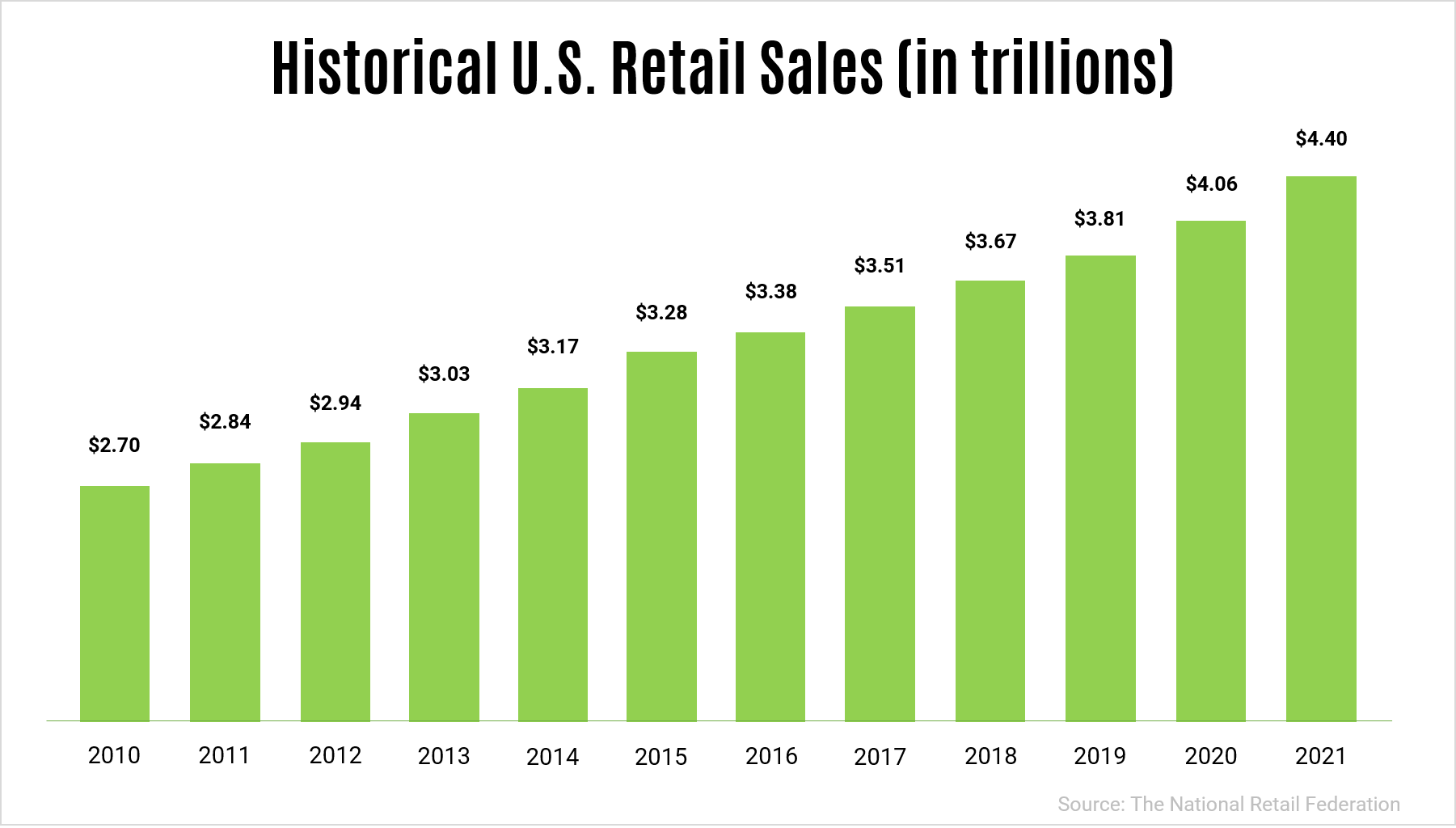 Two Weeks Until Prime Day
The 5W's of Prime Day.
Now that Prime Day has been confirmed for June 21 & 22, brands and retailers are wondering how the shopping event will fair this year.
Who: 50% of global consumers plan to shop Amazon during Prime Day 2021. 20% are expected to shop the event for the first time. Consumers 35-44 (34%) are the age demographic most likely to shop Prime Day.
What: Electronics leads all categories with 60% of consumers planning to make Prime Day purchases, followed by home goods (51%), apparel (37%), tools & home improvement (30%), and toys & games (30%).
When: Prime Day will take place on June 21 & 22. Prime members can begin shopping early deals on Amazon devices on Friday, June 18.
Where: Amazon.com and Amazon's brick-and-mortar banners.
Why: Over one million deals will be offered around the global across all categories during Prime. Deals will also be available in all of Amazon's physical store banners.
Last year, Prime Day kicked off the holiday 2020 shopping season. This year, it's kicking off more extravaganzas – summer sales and back-to-school. Will Prime Day evolve into a biannual event? After experiencing the pandemic for over a year, anything is possible. (View source)
Walmart Gives Employees Personal Assistants
Walmart will arm its employees with new tools to be successful in stores.
Walmart will give 740,00 employees new Samsung Galaxy XCover Pro smartphones by the end of the year (free of charge), allowing them to use the new company app that helps simplify daily tasks and enhances customer service. The smartphones can be used as personal devices; however, the app is only available while employees are on the clock. Walmart will not have access to any personal data.
The 'Me@Walmart' app features a voice-activated personal assistant, called 'Ask Sam,' to help locate merchandise and get answers quickly for customers. It acts as a schedule manager and also helps with stocking and scanning items. Instead of searching packaging for bar codes, employees can simply scan the entire box. Walmart found that this process takes one-third less time than the manual process of finding barcodes. And that time saved can be spent helping customers! (View source)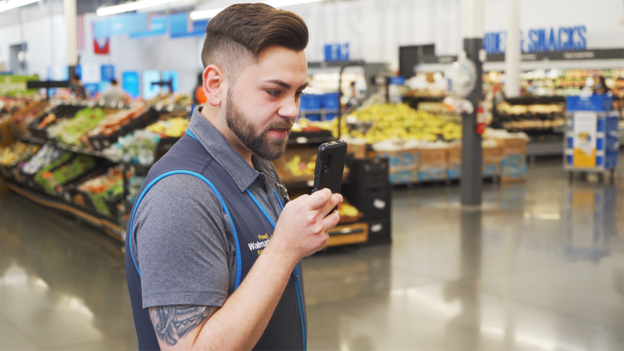 Photo: Walmart.com Newsroom
Supply Chains Still Struggling
Supply chain disruption, port congestion, and rising shipping costs could last through the year.
Due to shortages of labor, equipment, and shipping capacity, retail supply chains are working overtime to meet consumer demand. Numerous vessels were taken out of service when volumes were low last year, while others are delayed in ports due to employees contracting COVID-19 and hesitant to return to work.
Despite the shortages, Global Port Tracker reported that U.S. ports handled 2.15 million TEU (a TEU is one 20-foot container) in April, an increase of 33.4% from last year, making it the busiest April on record. March also set a record for the most containers imported during a single month with 2.27 million TEU. May numbers are not in yet, but they are projected to be 2.32 million TEU, a 51.1% increase from last May, which would beat March's record-setting total.
The forecasts for the upcoming months are as follows:
June is forecast at 2.13 million TEU, up 32.8% year-over-year.
July is forecast at 2.19 million TEU, up 14.2%.
August is forecast at 2.26 million TEU, up 7.5%.
September is forecast at 2.14 million TEU, up 1.7%.
October is forecast at 2.07 million TEU, down 6.5% for the first year-over-year decline since July 2020.
The year-over-year comparisons are skewed for spring months because of the decline of imports brought on by the pandemic. However, 2021 is on track to outperform last year – the first half of 2021 is forecast at 12.8 million TEU, up 35.3%, compared to 2020's entire total of 22 million TEU. (View source)
Americans Aren't Afraid of Debt
Consumers don't mind taking on debt for post-pandemic spending.
As COVID-19 restriction continue to relax across the country, 44% of American adults say they will take on debt to treat themselves. The top segments that consumers are willing to accrue debt for are automotive (15%), home renovations (14%), and travel (12%).
Additionally, Americans plan to spend more in at least one discretionary category during the second half of the year, with top segments being travel (35%), out-of-home entertainment (26%), bars and restaurants (26%), home renovations (25%), and clothing and accessories (21%).
Two-thirds of those willing to bring on debt say they plan to treat themselves with purchases to celebrate the pandemic's decline, even if they don't know how they'll pay for it. Although Americans are entitled to celebrate the return to normalcy, they should proceed with caution as interest rates usually range from 16%-24%. (View source)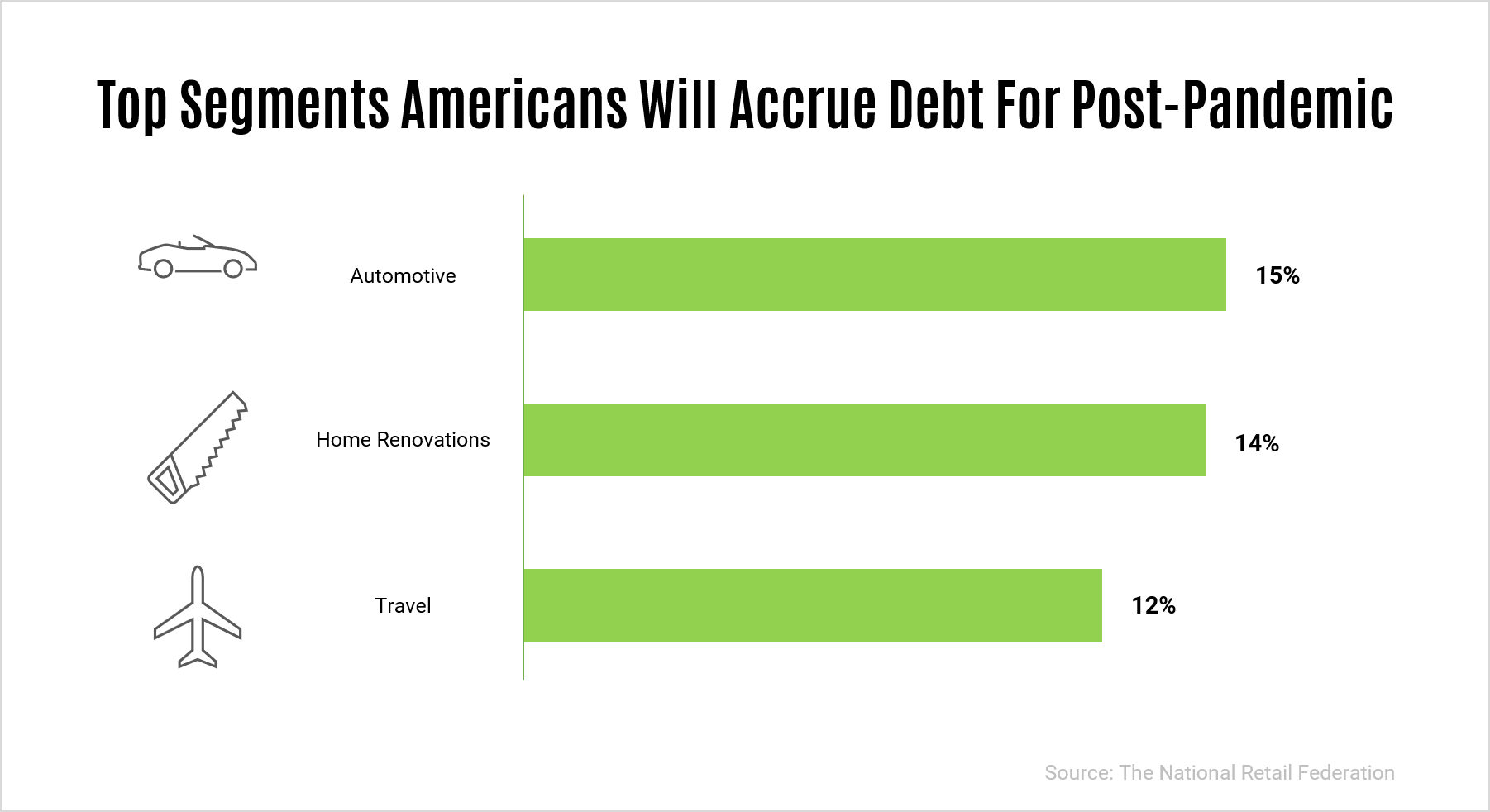 Closed on Thanksgiving
Big retailers are canceling Thanksgiving Day shopping – again.
Retailers are already gearing up for Holiday 2021, and that includes the trend of closing on Thanksgiving Day for the second year in a row. Walmart, Target, and Best Buy have all announced that they will close stores on the national holiday, demonstrating how the pandemic has permanently changed the retail industry. We can assume that any Thanksgiving Day shopping will take place online with various promotions and deals in place in an effort to reduce in-store capacity. And similar to last year, Walmart, Target, and Best Buy did not reveal store hours or plans for Black Friday along with this announcement. (View source)
Thanks for reading!
If you'd like Buzzworthy Insights sent to your inbox weekly, please subscribe to the newsletter.
Link: http://eepurl.com/hukcCn