Buzzworthy Insights – Holiday Alert
04.26.2021
Buzzworthy Insights
Consumers plan to shop in-store for Mother's Day.
Mother's Day may bring some good news to store retailers, especially brick-and-mortar. 79% of consumers said they plan to purchase their gifts for Mother's Day in-store this year, compared to only 38% who did so last year.
The most popular purchases include flowers (59%), gift cards (49%), clothing or accessories (30%), food items (29%), beauty and wellness products (19%), and fragrance or perfume (18%). When making a purchasing decision, cost remains the most important factor (49%), following style (19%), convenience (17%), and whether the brand aligns with personal values (16%).
15% of gift-givers plan to spend more than last year. Of those, 37% said it is because they want to make up for not being able to fully celebrate last year. Across age groups, more Gen Zers (27%) plan to have bigger budgets for Mother's Day gifts this year, compared to millennials (18%), Gen Xers (14%), and boomers (12%). (View source)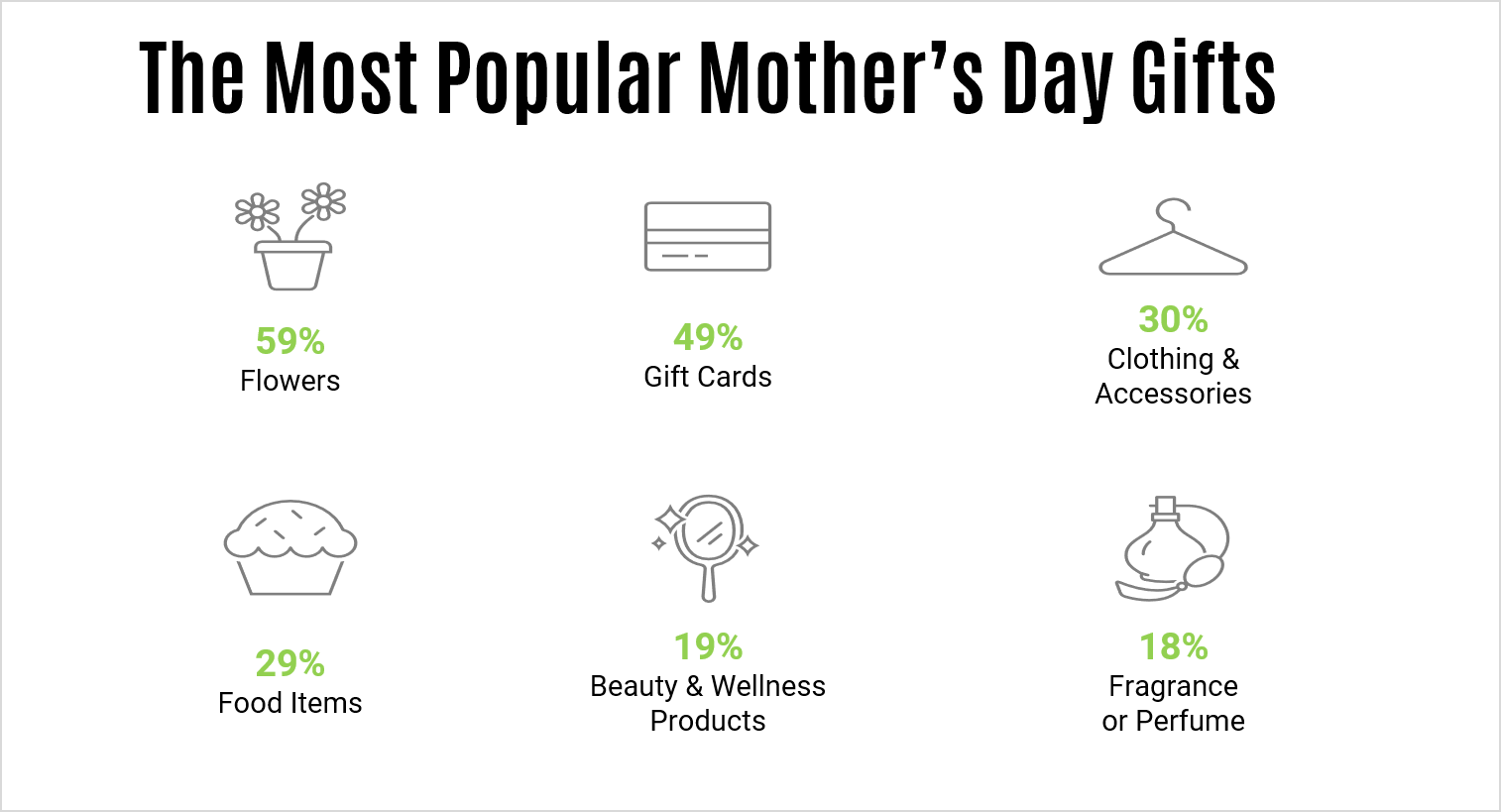 Brand Loyalty & Digital Integration
Brand loyalty is at an all-time high, but online is key.
Americans are more loyal to their favorite brands more than ever. 97% indicate that they hold loyalty to at least one brand in 2021, up from nearly 90% in 2019. Despite this high level, 31% of Americans have stopped shopping at one of their favorite stores over the past year because the store doesn't have an online storefront. And 27% have stopped because the store's online user experience was poor.
Americans feel most connected to food and beverage brands: 62% pledged their allegiance to a specific one. 57% favorited a specific fashion or apparel brand as well. Americans are less strict when it came to home & garden and home improvement brands – fewer than 30% reported loyalty to certain ones. (View source)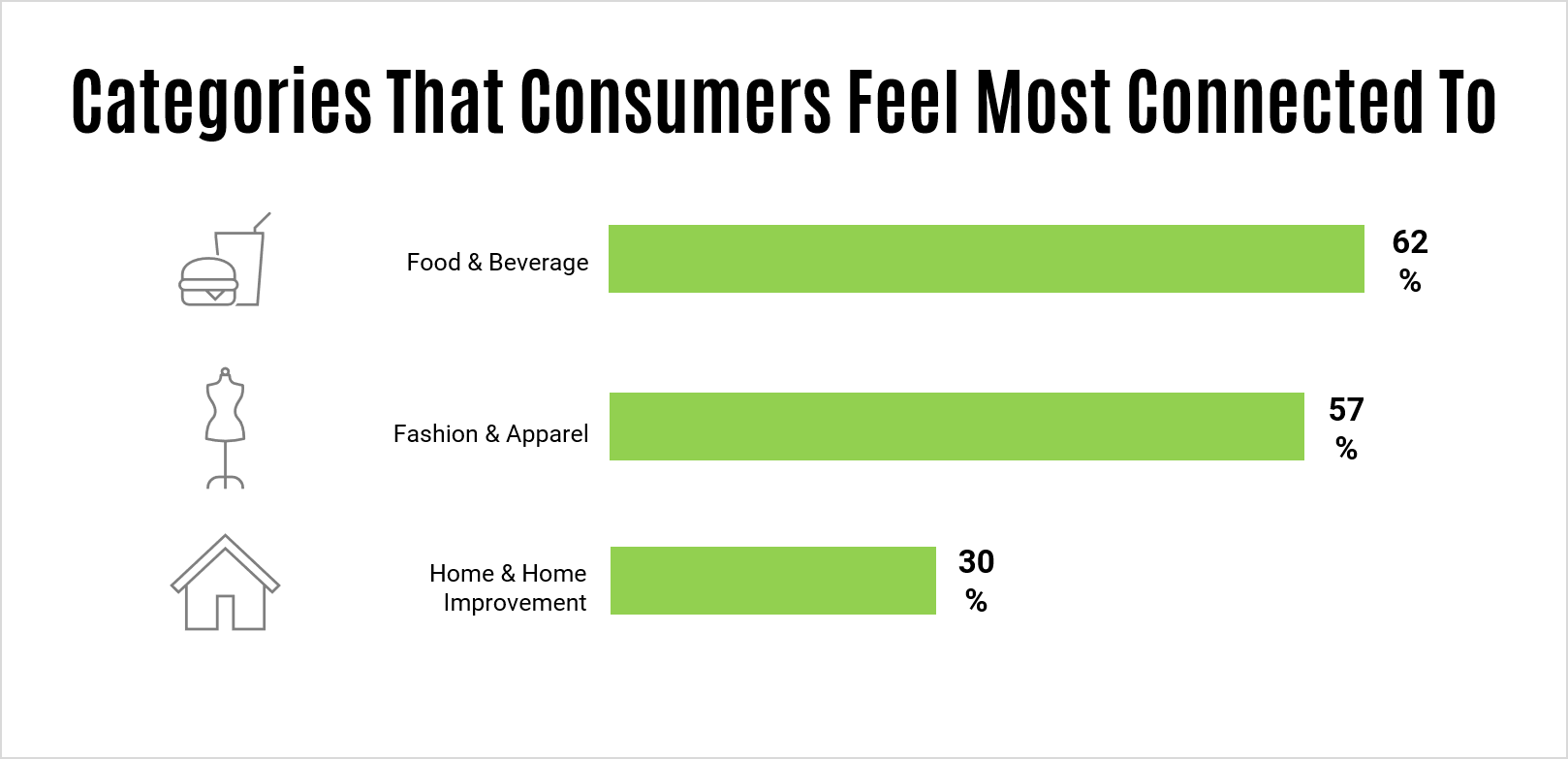 Consumers want digitally integrated stores.
Consumers value shopping in physical stores but have some expectations when it comes to the in-store experience. 85% of consumers feel there needs to be a real store experience. However, 83% want a better seamless online to store experience when making purchases. Changing the format of stores is one way to provide a better experience for pickup.
Still, a substantial majority (86%) are satisfied with how most stores have integrated their online presence with the in-store experience, with over one-third (37%) very satisfied and almost half (48%) somewhat satisfied.
Close to 9 in 10 are satisfied with the options they have for in-store pickup and delivery from stores and/or chain restaurants, with 41% very satisfied, and less than half (46%) somewhat satisfied. In addition, 84% of consumers are satisfied with how stores have made it easier and/or faster for them to pick up online orders, with 41% very satisfied and 43% somewhat satisfied. Three-quarters (76%) agree that having the ability to buy online and pickup in store (BOPIS) has been one "positive" of COVID-19. (View source)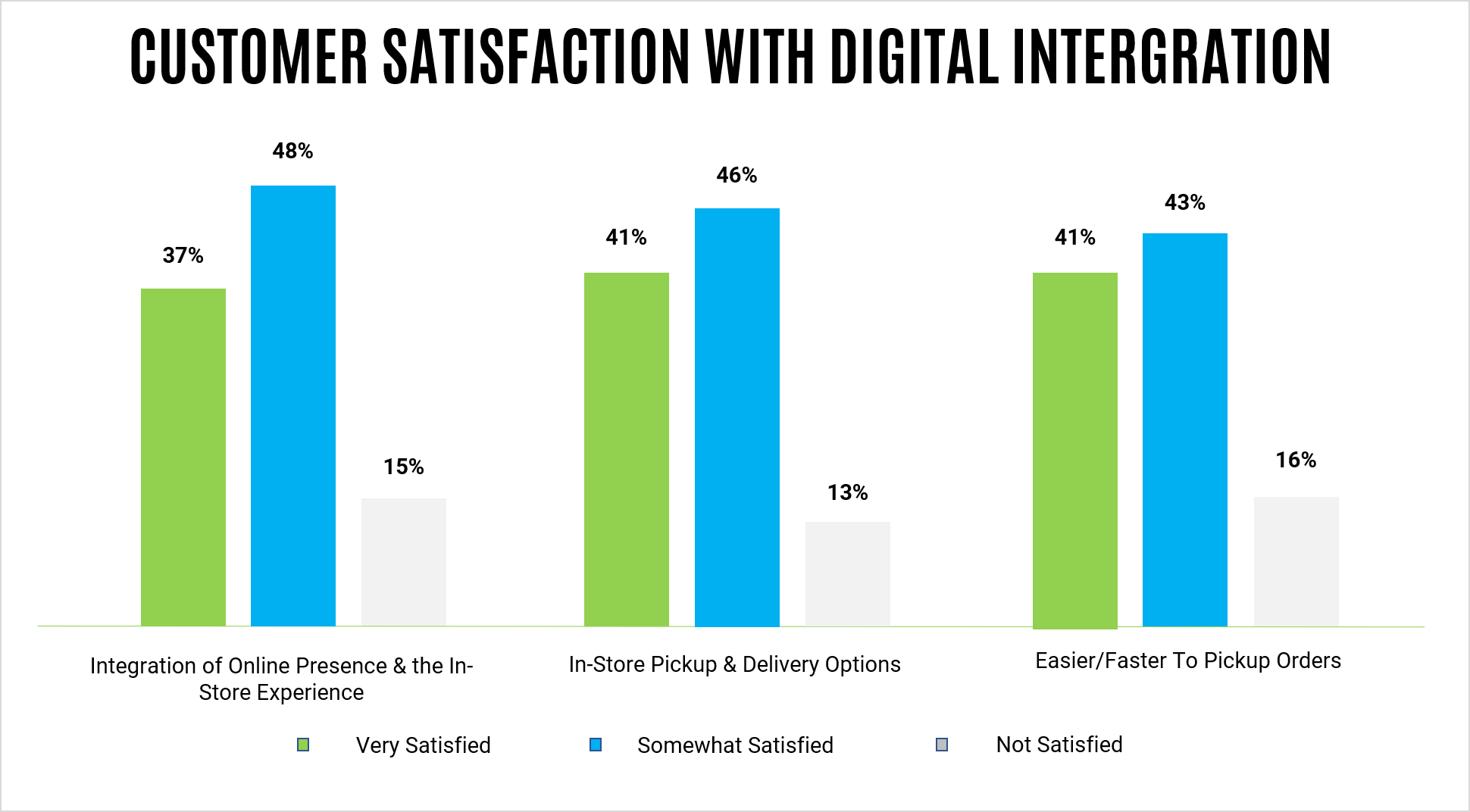 Brand Spotlights
Amazon Salon
Amazon is entering another brick-and-mortar segment and will open its first-ever hair salon in London. It will trial new technology that offers augmented reality hair consultations, allowing customers to see themselves with different hair colors and styles before the service is performed.
The salon will also offer "point-and-learn" technology – customers point at a product on display and the information will be shown on a display screen. To purchase the item, customers scan a QR code on the shelf which will take them to a product page for purchase, with direct delivery to their home. The salon will only be opened to Amazon employees in the trial phase. (View source)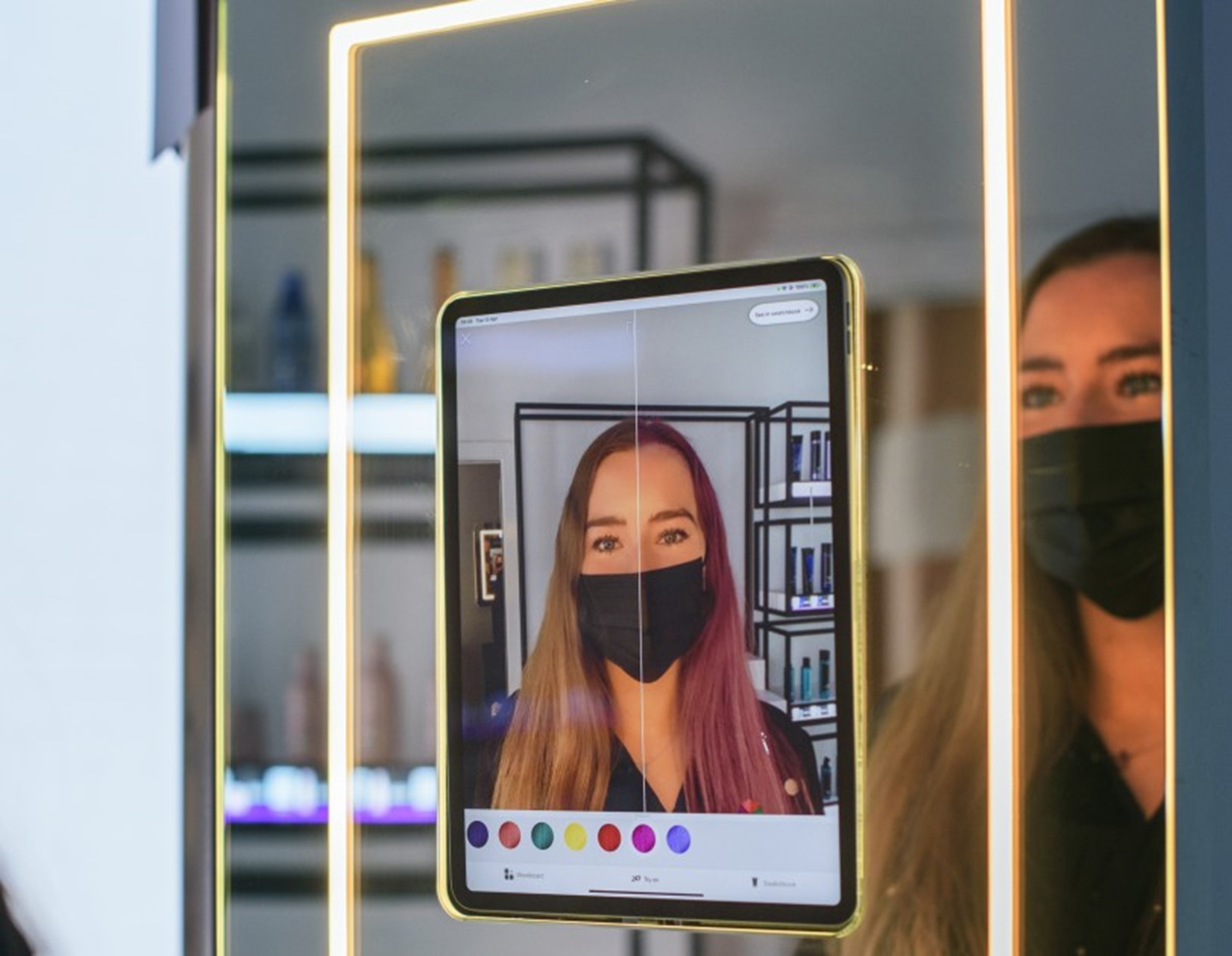 Photo: Amazon.co.uk
Bed, Bath & Beyond
Bed, Bath & Beyond is launching one of its largest campaigns, called "Home, Happier", part of its strategy to reinvent its business around the customer. "Home, Happier" will be launched for both the retailer's in-store and online customer experiences and through a marketing campaign aimed at encouraging customers to celebrate the home.
Bed, Bath & Beyond said "Home, Happier" is focused on its belief that a home is "a feeling that is created by every moment, in every room." The campaign was inspired by one of its recent surveys in which 69% of Americans say that their home impacts their overall happiness and 55% say that when they dislike the home of their home, it negatively impacts their overall happiness. (View source)
Check out the "Home, Happier" Commercial.
Choice Market
Natural grocer Choice Market opened its largest camera-only, contact-free location in Denver, CO. The contactless experience uses mobile check-in and cashier-less checkout technology powered by AiFi. Shoppers scan the app when they enter the store, pick out their grocery items, and leave without a traditional checkout. The frictionless technology uses hundreds of ceiling cameras to track customer's purchases and a receipt is sent directly to the customer's mobile device after they exit the store. (View source)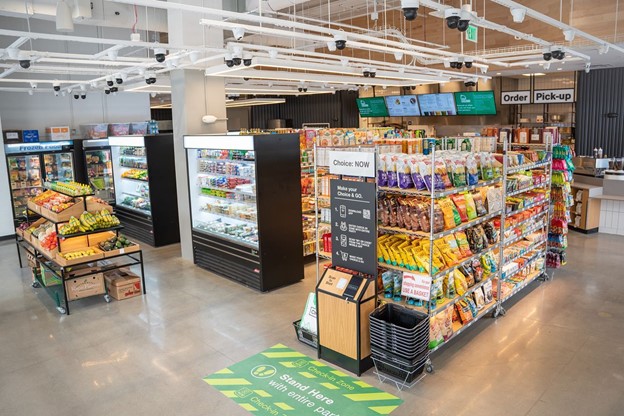 Photo: Choice Market
Lululemon
Lululemon is entering the resale market with "Like New", a trade-in and resale program that directly reinvests profits to support sustainability initiatives. The trade-in program will launch as a pilot in California and Texas in May, then expand into a resale program in June.
During the pilot, customers can being to trade in used Lululemon clothing in "like new" condition to participating stores or by mail in exchange for an e-gift card. When the resale program begins in June, 100% of profits will be reinvested into sustainability initiatives, including circular product design, renew and recycle programs, and store environmental programs. (View source)
Warner Bros.
Warner Bros. is opening a Harry Potter New York flagship store on June 3rd – the flagship will feature the largest collection of Harry Potter and Fantastic Beasts merchandise under one roof.
The store will feature 15 themed areas, 1000 props (with some authentic items used in movies), and photo opportunities. Digital technologies will be integrated throughout the store, including with the Harry Potter fan club app. Users can find several "enchanted keys" that unlock behind-the-scenes facts and videos that help bring the store to life.
The store also features two multiplayer virtual reality experiences: "Wizards Take Flight," where visitors can fly on brooms in a magical battle against Death Eaters, and "Chaos at Hogwarts", which allows players to step into a magical journey to Hogwarts Castle.
Harry Potter New York will open with a virtual queueing system. When customers visit the store, they will scan a QR code to join a virtual queue and return when notified to enter the store. (View source)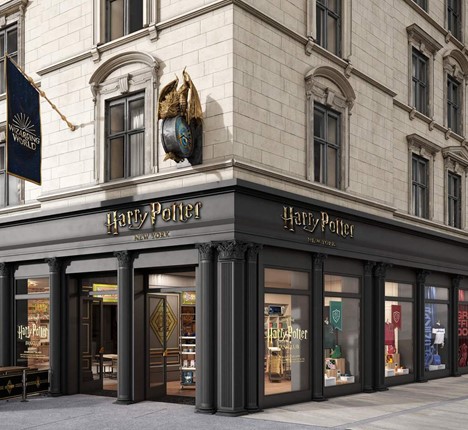 Photo: harrypottershop.com
Other Newsworthy Headlines
Amazon
Amazon is piloting a new premium offering that would have its delivery drivers assemble and install large items, such as furniture and appliances. The service is planned to be introduced in Virginia and two other markets.
This program would allow Amazon to be more competitive in its delivery of large items without having to rely on an outside partner while some of its competitors like Wayfair, Lowe's, and Walmart do. (View source)
Chipotle
Chipotle will open 200 new restaurants in 2021 – 40 new sites have already opened in the first quarter, bringing the total store count to 2,803. It is the only restaurant company of its size that owns and operates all restaurants. (View source)
Gap, Inc.
Gap's popular women's athletic apparel brand, Athleta, is planning to open between 20 and 30 stores annually across North America in line with its goal of doubling the business by 2023. As part of the expansion, Athleta will be in direct competition with rival Lululemon. (View source)
Lids
Lids will open in-store shops in 45 DSW Designer Shoe Warehouse and The Shoe Company locations in Canada starting mid-May. The new "shop-in-shop" format will range from headwear displays to mini shops that include licensed jerseys with an emphasis on popular Canadian sports teams. (View source)
Macy's Backstage
Macy's is expanding its off-price format, with plans to open 45 in-store Backstage departments this year on the way to its goal of 270 nationwide. Macy's Backstage offers deals from 20%-80% off without the need for coupons. Macy's launched the off-price banner in 2015, as retailers in the segment consistently took market share from department stores. (View source)
Raley's
Supermarket retailer Raley's is converting all its 124 stores under 6 different banners into its O-N-E Market format. O-N-E Market is focused on organics, nutrition, and education and bans products from its stores that contain ingredients such as high fructose corn syrup, artificial preservatives, artificial flavors and sweeteners, and hydrogenated fats and oils. (View source)
The Save Mart Companies
Regional Grocer, The Save Mart Companies, is deploying Simbe Tally inventory robots to autonomously audit shelves to ensure products are in stock and correctly placed on the sales floor. Tally robots can scan up to 30,000 products per day in Save Mart and help reduce out-of-stocks by up to 30% while giving stores associates more time to focus on serving customers. Save Mart may use Tally to also gain deeper insights into inventory, improve in-stock conditions, and increase in-store and online sales. (View source)
Small stores and restaurants were the majority of closures in 2020.
More than 2.4 million merchants worldwide closed their doors permanently in 2020 due to the economic repercussions of COVID-19 lockdowns. Of the shuttered locations, more than 97% of the closings came from retailers, restaurants, and hospitality companies with fewer than 5 locations. (View source)
Consumers are willing to pay a bit more for a safer environment.
With restrictions lifting in many areas of the US, 73% of consumers expressed a willingness to pay 5% more if the additional charge covered enhanced cleaning or safety protocols. (View source)