Buzzworthy Insights – Where is The Next Retail Hotspot?
12.13.2021
Buzzworthy Insights
Where is The Next Retail Hotspot?
Africa will become the forefront of retail by 2050.
Growth in Asia is beginning to slow down, bringing in a new frontier for retail, Africa. Even despite the troubles associated with nation-state economies, many young, urban, and affluent members are investing in the emerging retail market as the aggregate potential far exceeds these worries. Africa is expected to see a massive increase in population, by 2050 the global population will increase by 2 billion, Africa being the home to a majority of these new people. Sub-Saharan Africa (SSA) will see the greatest growth, expecting to double in population by 2050 and have the highest growth rate of disposable income in the world at ~9%, with Nigeria becoming the third-largest country in the world by that time. The United Nations Urban Agglomerations data showed that Africa will house 17 of 20 fastest growing cities in the world, four within Nigeria.
Due to the increased competition within Africa's retail market, brands are now focusing heavily on ROI – adopting new business models, rationalizing store footprints, and adopting franchising into their strategies. One major player in the Africa market, Carrefour, has announced to double down on their Africa stores, focusing on building customer loyalty, price, and private label products.
E-commerce processes are becoming even more prolific as mobile adaptation sweeps the continent. There are many businesses throughout Africa already utilizing these processes: Uganda's Sofaboda, is a bike hailing platform that delivers food, beverage, and other convenience items. Ghana's Big Samps Market utilizes Whatsapp to take orders and source/deliver groceries. Nigerian start-ups Omnibiz and Alerzo, are digitalizing supply chain operations, along with accepting a new form of mobile payment, Nigeria's Opay. Mobile money payments are becoming very popular in Africa as they now account for 50% of all these global transactions.
It will still take some time to dethrone China as it still remains on top of this list through transformation of their retail experiences. They will remain at the forefront for a few more years, converting of distribution hubs into experiential centers, shopping centers becoming a spot for social activities like music festivals and talk shows, and Nike's House of Innovation is only a glimpse of what has been developed.  Even so, as Asia's growth starts to slow, their five-year plan focused on innovation ending in 2025, and native firms Alibaba and Tencent pushing out many new entrants, many African countries will become the new forefront of retail by the year 2050. (View source)
Holiday Sales Update
As Black Friday and Cyber Monday experienced less then typical results, due to supply chain issues causing fewer deals, overall U.S. sales this holiday season have increased. NPD reports that Thanksgiving week saw a 14% increase over last year, but it is still fell 5% short of pre-pandemic levels, due to the lackluster of doorbuster sales. Sales will normally drop following the week after Thanksgiving, thanks to readily available supply and great deals during Black Friday and Cyber Monday, but the pandemic has changed that. Sales in 2020 following Thanksgiving did not see this trend, experts this year say we may see this dip in sales again as many shopped earlier than ever before this season. (View source)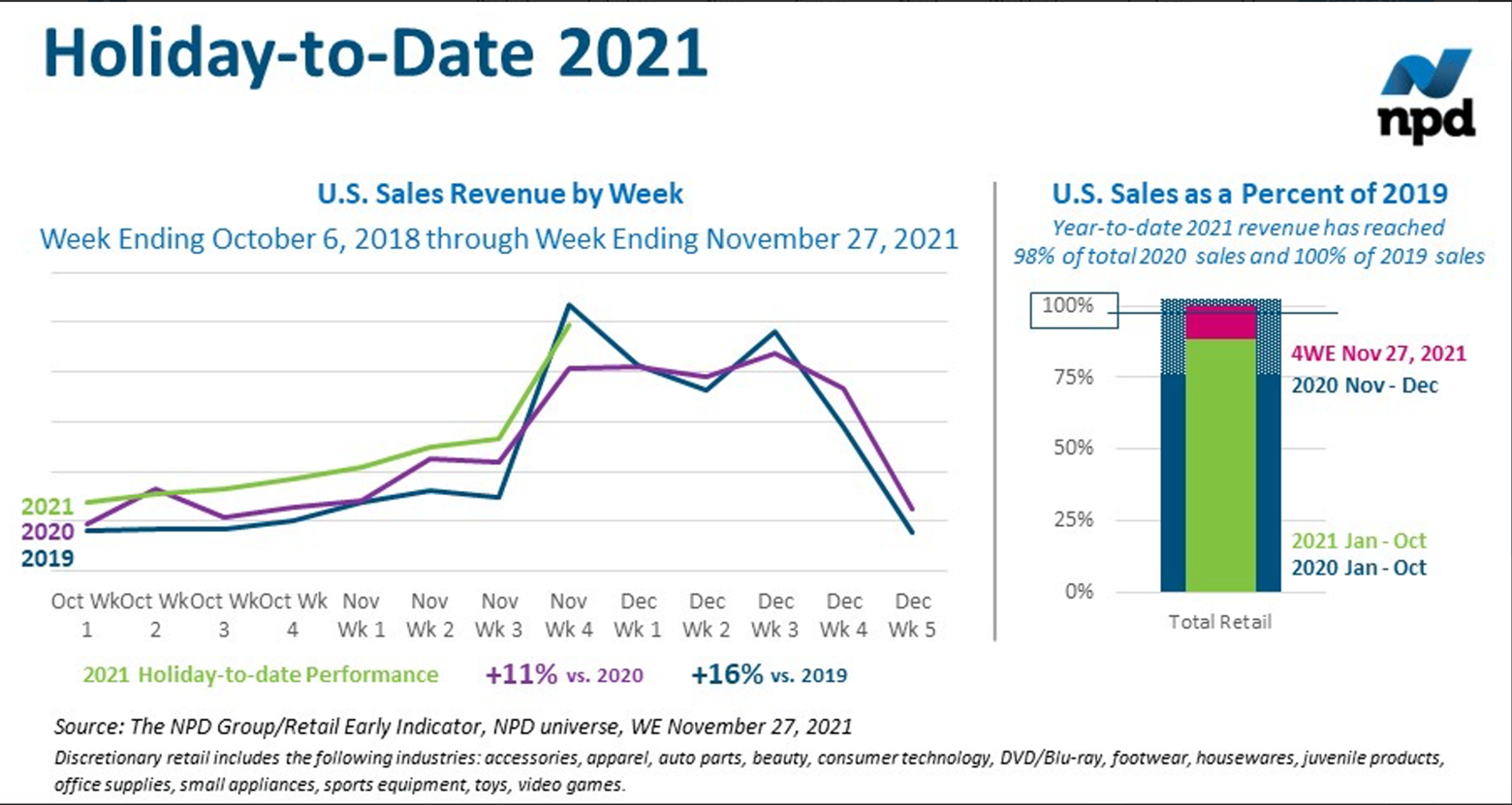 The Rise of Gift Cards
We all have received one at some point, this year, we may all be getting many more than expected. Inevitably due to supply chain constraints, gift card purchases have increased 43% this year, while physical gift card purchases are up 46%, e-gift purchases have increased 29%, according to a new Square holiday report. Square also notes that when a gift card is used, 17% of these transactions result in overspending. While other reports have shown consumers to be completing shopping early, Square's research has shown, "no considerable spike in consumer purchasing so far". In addition, they found that discounts were largely the same and some brands even offered better deals. (View source)
Reputation Experience Among Businesses
Bath & Body Works comes out on top for best customer experiences.
Customer service is regaining its claim as a top feature for every brand, as 77% of consumers consider a customer experience to be as important as their product or service, according to smallbiztrends. The 2021 Retail Reputation Report, conducted by management company Reputation, highlights which US brands have been delivering the greatest experiences, derived from the reviews of 3.7 million shopper reviews across the US and UK. The score is based on measuring overall review sentiment in review sites, business listing accuracy, and other reflections of consumers' experiences and opinions – on-site and online.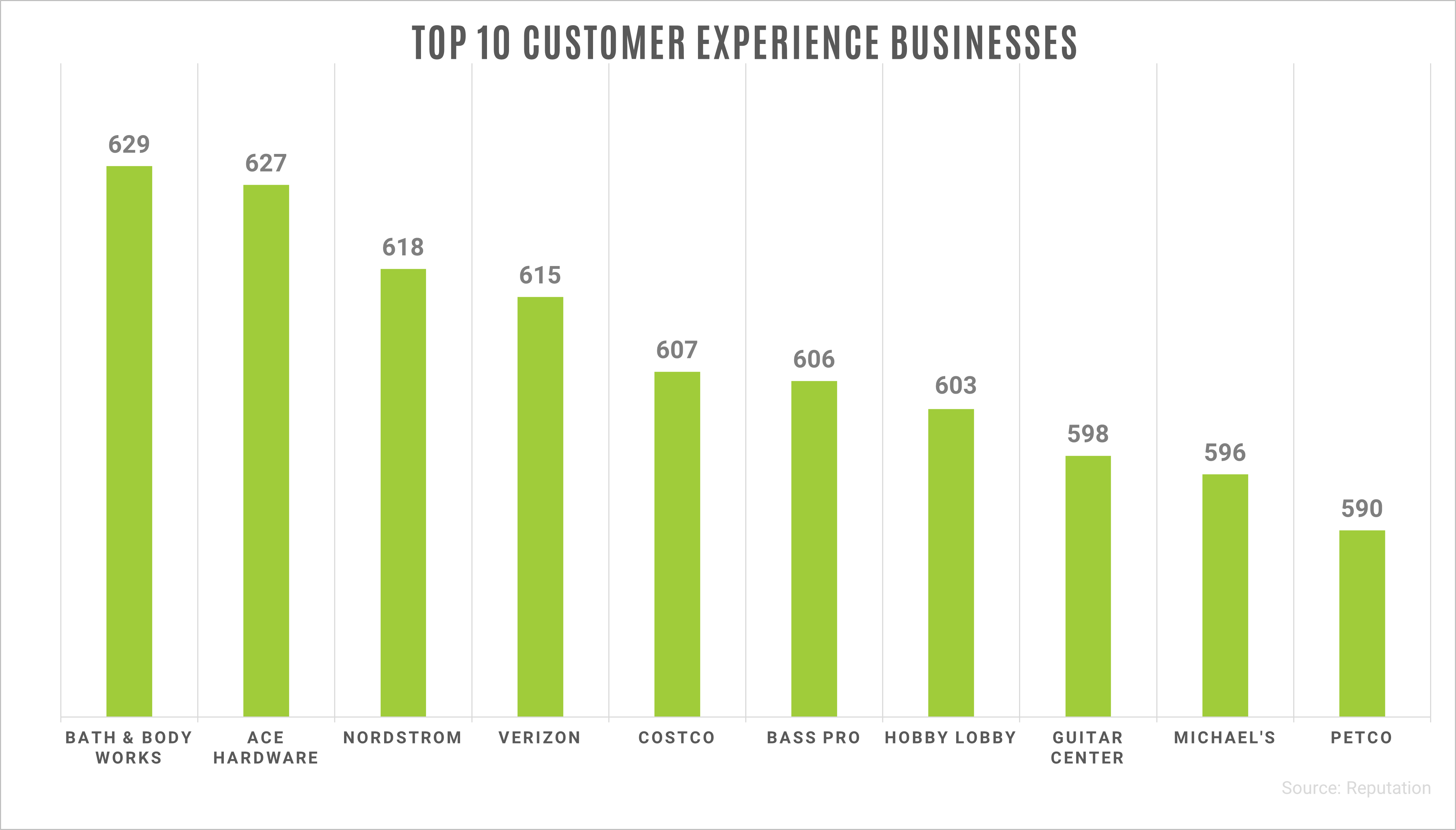 Other key findings of the report point towards reviews in general, indicating the most important aspect being that 90% of consumers read reviews before making a purchase, 72% read multiple reviews, and overall review volume is up 12% from 2020. (View source 1, source 2)
Extended Warranties
Brands should look towards offering extended warranties to build customer relationships.
Brands are looking for any new way that may increase customer retention, one unlikely attribute has gained much praise for doing so, extended warranties. Not only does it keep a customer interacting with your brand, but there is also continuing chances to improve their likelihood that they will purchase from you again. To accompany this likelihood, empowering the customer service agent and providing seamless interactions will be pivotal. According to recent PYMNTS research, durable good purchases of $500 or more in the past 12 months have seen 47% of consumers adding a protection plan, compared to 30% who opted out. The top three product categories that are most commonly purchased with a protection plan are mattresses, luggage, and consumer electronics. As for what to call this addition, it varies by generation, as 50% of Gen – Z (the most likely) consumers would be very or extremely interested in purchasing an "extended warranty", with only 37% saying the same for a "product protection plan". Baby Boomers are the least likely, only 8.6% are interested in purchasing an "extended warranty", and 13% interested in purchasing a "product protection plan". (View source)
Thanks for reading!
If you'd like Buzzworthy Insights sent to your inbox weekly, subscribe to the newsletter.