Four Things To Look For In A Brand Shop Staffing Partner
⏱ 5-minute read
Your brand advocates are on the frontlines with customers every day. They are some of your most important resources for building love for your brand. When a customer leaves a store after a positive face-to-face interaction with a brand rep, the advocacy effects kick in. That happy customer is much more likely to recommend that brand to their circle of influence both online and through personal referrals.
For example, did you ever have the experience of leaving a store once so thrilled with the experience that you posted about it on social media? Then, did you rave about it to your friends and family in person? And do you still find that when you're in a conversation about where to shop for that new home theater, you find yourself recommending talking to Reggie at Best Buy because he made you feel comfortable, informed, and confident that you got the best tech for your home cinema? That's brand advocacy working right there, and it all stemmed from that one great experience with a store associate.
You're probably here because you need to create that same experience for consumers who enter your brand shop. Whether you're activating a pop-up shop, in-line store, store-within-a-store, branded kiosk, or your very own brand store, we've put together four things you should be asking when looking for a staffing partner to recruit, hire, and train your brand-loving ambassadors. Spoiler alert: we have all four. 😉
1. Training for Hard & Soft Skills
When we're recruiting for your brand shop, we think of all the things that happen in those important one-on-one moments with customers. Every person we select to represent your brand is going to be enthusiastic, on-brand, and highly trained.
We're here to put people on the floor who look and feel the part, but who also know the product ecosystem and have the emotional intelligence and critical thinking abilities to be genuinely helpful and educational.
Hard Skills
Product demonstrations, point-of-sale operations, display maintenance, troubleshooting – no amount of charisma will make up for someone who doesn't know how to use the products they're selling. That's why we train extensively to make sure your friendly brand advocates are just as knowledgeable and comfortable with the products as the people who designed them.
Soft Skills
Emotional intelligence, empathy, humor, de-escalation – these are the nuanced skills that create memorable impressions with new and returning customers. If a shopper can have all their questions answered, get their hands on a product, and also share a few laughs while shopping, then that's time well spent.
Lots of people can show a customer how to use something, and just as many can be friendly, but the real secret sauce is finding the right people who can do them both while being genuine fans of the brand they're working for.
Consider the fact that consumers who are able to talk face-to-face with a trained and knowledgeable associate at a custom brand shop were 90% more likely to be satisfied with their experience. Now, that's the kind of influence worth fighting for.
2. Better Results Through Research
Now that you have your brand advocates ready to start helping customers and selling products, you need to know where to place them. Our dimensional deployment team uses advanced data to give you the best insights into where your brand advocates will have the greatest impact. We'll walk you through which markets and store locations are best for you to maximize the return on your investment.
3. Increased Value Through Logistics Training
We're here to guide you through every step of the brand shop lifecycle. That means preparing your teams for the behind the scenes work that keeps the retail machine roaring along.
Point of Sale Systems
Nothing incites panic in a retail associate like a bad POS experience. And, a lovely in-store experience can be blown at the finish line if the checkout process becomes inconvenient. We make sure everyone on the team is fluent in using the point of sale system and that it's equally convenient for customers to pay and be on their way, singing your praises all the way home.
Shift Scheduling
Waiting is dreadful. We train for how to plan for the ebb and flow of store traffic so customers are helped quickly and brands don't waste resources being overstaffed.
Inventory Management
Your customer is having a great time, they demoed the product on the floor, shared some laughs with the brand advocate helping them, and now they're ready to check out. Don't get to this point only to be out of stock and offer to ship it to their house – it's a bummer. The thrill of the in-store experience is being able to take the product home that day. We'll coach your staff on how to maintain inventory so you never have to tell a happy customer the thing they're excited to buy is sold out.
Property Management
Your brand shop is like a home where you welcome and entertain guests. Make sure your home is in tip-top shape so your guests feel comfortable and stay a while. The appearance and cleanliness of your store play a huge role in the perception of your brand and products. We train your brand shop staff on how to keep the shop looking its best even during peak traffic.
These things may all seem like common sense, but we all still experience issues with them as shoppers. That's why we're relentless in training your brand ambassadors to run the back-end operations so there's never an interruption to the amazing experiences being created on the sales floor.
4. Focused On ROI
We partner with brands to drive sales. It starts by creating a best-in-class brand shop program with influential advocates as the foundation.
With each in-person impression, your brand advocates are making one-on-one connections through helpfulness, education, and charisma. This combination of personalized service and experience has been proven to move people to choose brands time and time again.
Brand Shop Influence By The Numbers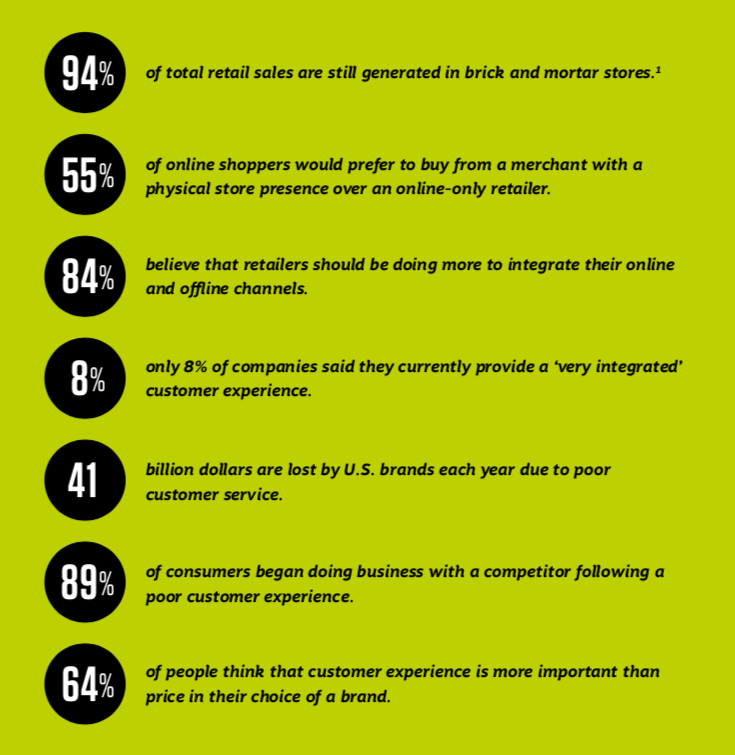 What Types Of Brand Shops Do We Staff?
Retail is a choppy sea and it takes an experienced and agile partner to navigate where you want to go. We love a new challenge and no matter what your brand is faced with, we'll provide the research to identify the roadblocks and the creativity to break through them.
Part of the way we do that is through a variety of brand shops that each have the unique ability to reach consumers in different areas.
Store-Within-A-Store (SWAS): A retail space within a large retailer that is dedicated to your brand, staffed by knowledgeable sales professionals and a place where customers can learn, demo, and buy products on the spot.
Pop-Up Stores: Boutique stores that are designed to be short-term or seasonal, taking advantage of available real estate that is not yet leased.
Branded Small In-Line Stores: A longer-term option, these shops are designed for spaces 2,500 sq. ft. and under.
Retail Mobile Units: These mobile stores on wheels are able to address the needs of consumers on the go at malls, airports, transit centers, and outdoor shopping plazas.
Retail Booths: Designed for small spaces and stores within a store, these shops are typically 10′ x 12′ units that are branded and fixed to the floor.
Let's Do This!
We're not just retail marketing observers and commentators. We've been building and staffing brand shops since 2000 and have serious skin in the game. You can be confident that you're partnering with a team that will fight tooth and nail to deliver and execute a winning brand shop strategy. See the case studies.
All of this is just scratching the surface. When it comes to staffing your next brand shop, let us show you what we're fully capable of. We live and breathe retail, so let's start the conversation today.