BDSmktg & Creative Channel Integrate To Form One Connected Commerce Powerhouse: BDS Connected Solutions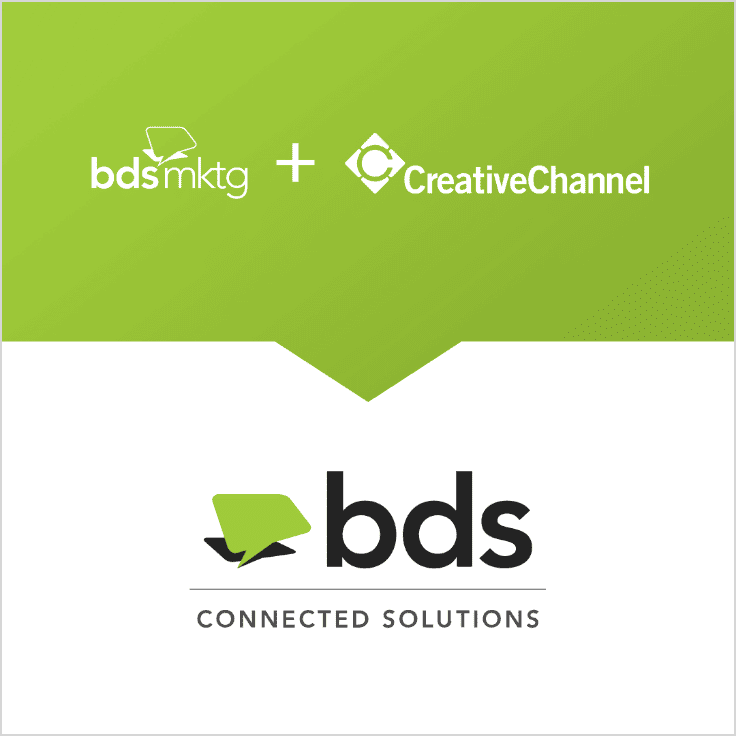 (Irvine, CA – June 15, 2021) BDS Marketing, LLC. (BDS) and Creative Channel Services, LLC. (CCS) have announced that they recently joined to form the industry's most progressive, sales-powered channel solutions provider: BDS Connected Solutions, LLC. As today's digital transformation shapes a new generation of products and services for consumers and businesses, the combined company will deliver connected commerce experiences across all consumer touchpoints, allowing brands to connect with buyers anywhere, anytime, and on any device – in-store and online.
BDS creates fully integrated, multichannel shopping experiences with people-first solutions that spread brand enthusiasm, simplify the sale, and influence every step in the buyer's journey. CCS is an industry leader in developing strategic sales and marketing solutions, with a heritage in first-to-market innovations that successfully connect brands with shoppers. By leveraging that collective experience, BDS Connected Solutions will immediately provide a more innovative, adaptable, and powerful suite of solutions.
BDS and CCS have enjoyed a collaborative relationship for two decades, partnering on client strategies and program executions across their diverse portfolios. Their combined workforce of 7,000+ talented team members services thousands of top-tier retailers and leading global brands. As one unified organization, BDS Connected Solutions will significantly expand its scale of operations while maintaining a strong commitment to superior client service, high-quality solutions, and industry-leading results.
"Both of our established organizations have been on a mission to diversify and expand our capabilities to even better deliver on the needs of our clients," said Ken Kress. "Our partners have already shared their enthusiastic support for the mutual BDS and CCS vision to create even greater results by delivering strategic solutions now and into the future."
"The experienced senior team at BDS Connected Solutions reflects our combined strengths and shared mission: to inspire buyers through experiences and influence every step in the rapidly evolving digital purchase journey," said Andy Restivo. "We view this transformative partnership as a unique coming together of two culturally aligned, diverse, highly successful, and respected companies to create a first-of-its-kind market leader that will accelerate our partners' brand performance and create growth opportunities for our team members."
"On their own, BDS and CCS were already two powerhouse brands in the retail marketing and sales solutions industry," said Mike Sunderland, CEO of BDS Solutions Group, LLC., the parent company of BDS Connected Solutions and Apollo Retail Specialists. "Together as one, BDS Connected Solutions is on a fast-track to becoming the industry's foremost people-first, digital-led, customer-obsessed organization."
+++
About BDS Marketing, LLC.
BDS offers a complete suite of Connected Commerce solutions that blend Advocacy, Training, Retail, Virtual, Experiential, and Digital environments to influence the modern buyer, regardless of where they are on their shopping journey. Since 1985, BDS has been inspired by innovation; as we continue to evolve as a trendsetter in today's disruptive market, we enable our clients to do the same. Our industry-leading experts never stop working to discover, design, and deploy custom buying solutions that empower brands to achieve and exceed their unique sales goals. BDS is headquartered in Irvine, California with regional offices in Chicago, Illinois; New York City, New York; and Columbus, Ohio.
About Creative Channel Services, LLC.
Creative Channel is a strategic retail marketing company dedicated to creating exceptional shopping experiences that inspire "purchase passion" every time a shopper connects with a brand. With our consultative, data-led, insights-driven approach, Creative Channel is uniquely positioned to provide a full suite of "retail as experience" solutions for many of the world's largest brands who sell across multiple categories of retailers, including: Best Buy, Walmart, Costco, Bed Bath & Beyond, Home Depot, Lowe's, AT&T, Verizon, and T-Mobile. Established in 1995 and headquartered in Los Angeles.
###