BDS Marketing, Inc. Launches New Website with Simplified Brand Platform
03.22.2016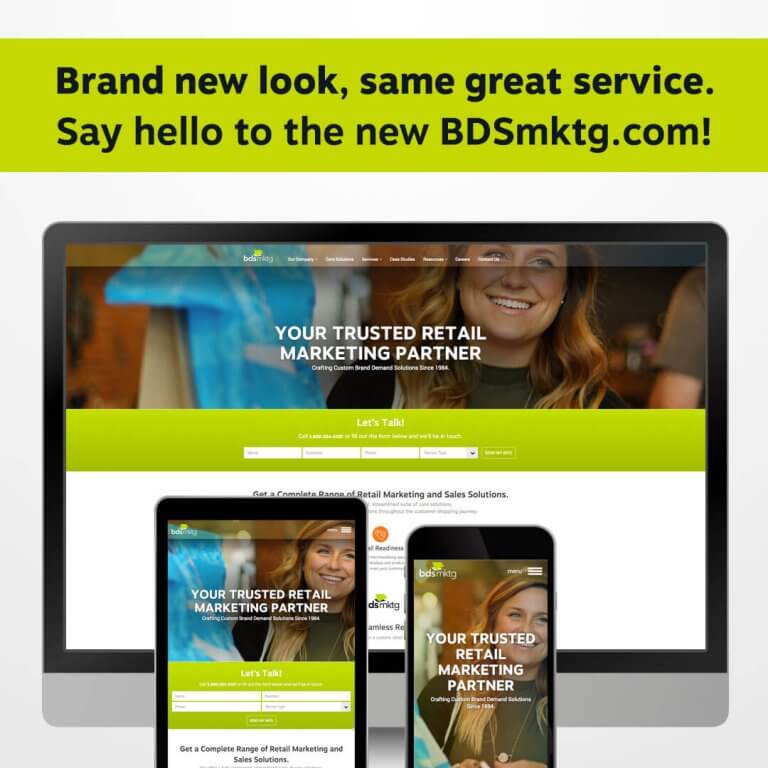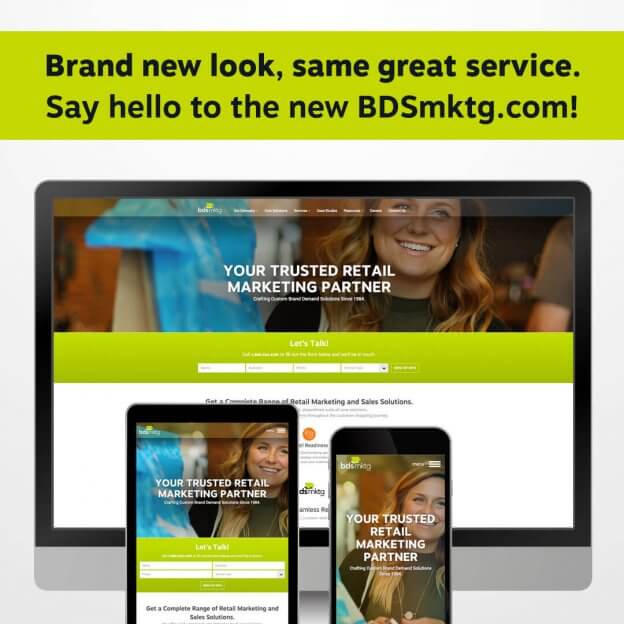 Irvine, Calif. – March 22, 2016 – BDSmktg, the agency that delivers sales through innovative retail marketing services, launched a brand new website supporting their recently simplified brand platform. The new website, http://www.BDSmktg.com, showcases a fully integrated, streamlined suite of core solutions that are designed to influence purchase decisions throughout the customer shopping journey. These solutions, Brand Advocacy, Retail Readiness and Retail Environments, each align with a unique set of services and feature specialized execution teams to meet clients' goals. Not only does the new site support BDSmktg's expanding service portfolio, it also reinforces the agency's industry expertise.
In an effort to better explain the core solution story to their online visitors, BDSmktg partnered with digital marketing agency, wowbrands, to develop a completely redesigned website. The new site will allow users to explore the three core solutions in an organized, yet customizable, experience. From the case studies, to the interactive retail activation plan, to the blog, the site provides visitors an enjoyable and memorable digital interaction with the BDSmktg brand.
"Our website visitors will now experience a more unified view of BDS," says Ken Kress, President of BDSmktg. "The redesign of the BDS site creates a streamlined story, making virtual visits more exciting and informative than ever before."
Melissa Burke, Director of Marketing Services at BDSmktg, saw an opportunity to create a better user experience for their online audience, while also telling a more engaging BDSmktg story. "The previous website featured three separate brands, which had initially been an effective platform for communicating the agency's three specialized teams. Now that we have transitioned our agency under one brand, we knew we needed to position ourselves more clearly online to attract and engage the people who are actually looking for us," said Burke.
BDSmktg is confident that their new brand positioning and website will encourage visitors to engage with the brand in a new way and begin the conversation with BDSmktg experts on how to maximize sales and create a memorable customer shopping journey.
About BDSmktg
BDSmktg is your trusted retail marketing partner. With over 30 years of experience guiding customers through the buying journey, we are experts at powering sales for the world's top brands. BDSmktg offers our clients three fully integrated core solutions that drive brand demand and sell-through: Brand Advocacy, Retail Readiness, and Retail Environments. We craft custom solutions from our suite of 18 services, and our specialized teams ensure your brand is ready for each new selling season. Founded in 1984, BDS Marketing, Inc. is headquartered in Irvine, Calif. with a regional office in Heath, Ohio. For more information, visit http://www.BDSmktg.com.
About wowbrands
wowbrands is branding and technology solutions firm based in Columbus, Ohio, offering clients unlimited project scope and resources for developing custom solutions to business problems. The services available are entirely dependent on the client's unique needs and objectives. From custom CRM systems to entire digital product catalog builds, wowbrands supplies the branding and technology solutions that move brands to their next stage of growth.