BDS Marketing, LLC Publishes Consumer Research White Paper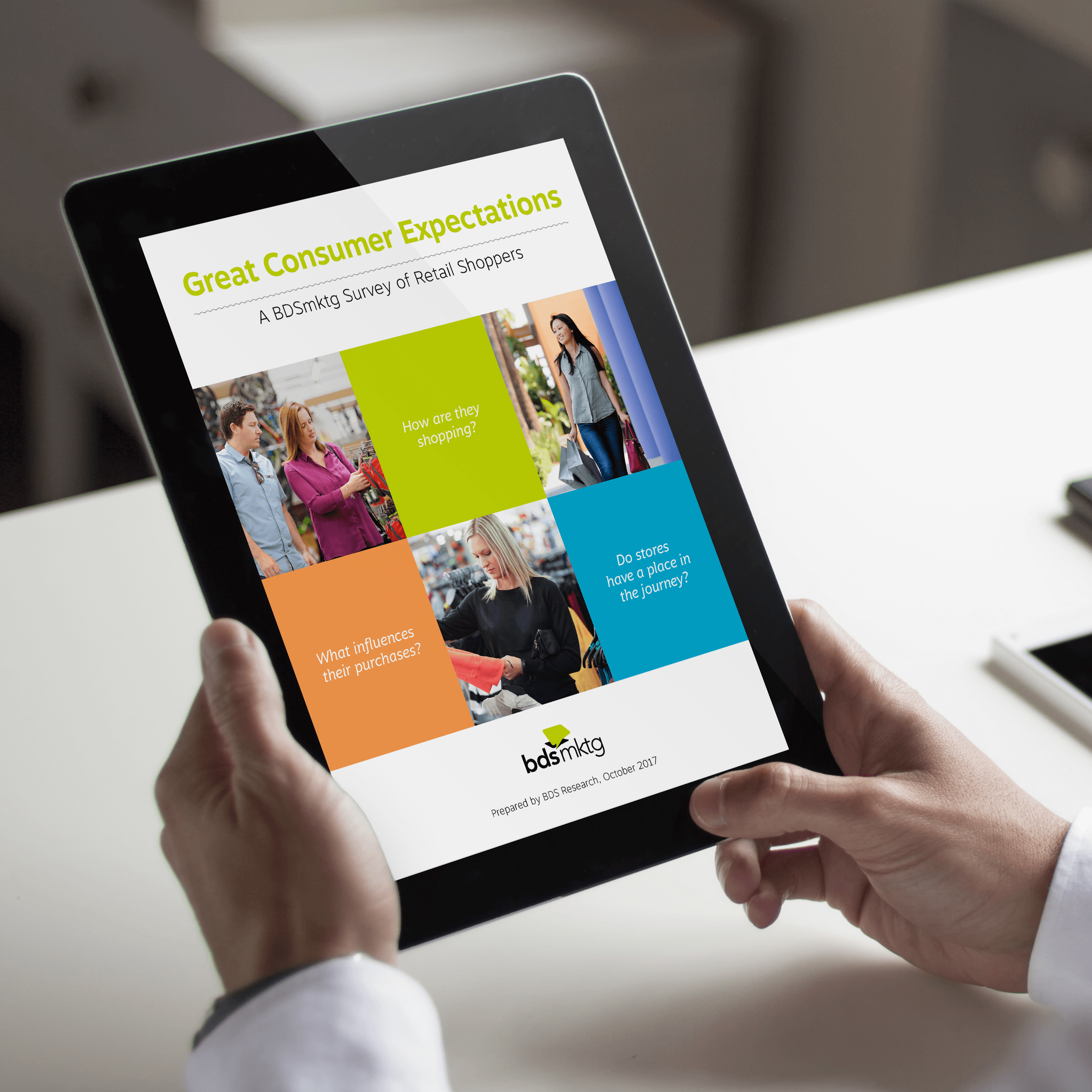 Great Consumer Expectations, a proprietary BDS Research study, surveyed consumers to find out what is working and what is not with retail today.
IRVINE, CA, NOVEMBER 6, 2017
BDS Marketing, LLC has published a proprietary research study white paper titled Great Consumer Expectations. This study offers guidance for brands and retailers as they plan their 2018 retail marketing strategies. Over 1,000 shoppers were surveyed with questions that focused on what they expect from retailers today and in the future.
"Trying to pinpoint what will generate excitement and interaction from today's consumer can feel like an overwhelming task for many brands and retailers," says Randy Schrock, SVP of Strategic Services at BDSmktg. "Our team of research experts and retail enthusiasts have published the proprietary insights found in this white paper to provide guidance for better understanding of what consumers expect and what will keep them coming back to retail."
The good news is that the retail experience is still thriving. 28% of those surveyed said they enjoy shopping brick-and-mortar because they like getting out of the house and they enjoy the physical interaction that occurs in a store. The Great Consumer Expectations white paper offers additional action plan insights that includes "back to basics" operations management, value proposition pricing strategies, and memorable retail experiences.
Download the Great Consumer Expectations white paper for free here. BDS Research is a team dedicated to providing services such as Market Opportunity Assessment, Sales Impact Analysis, and Retail Performance Tracker to name a few. For more information on BDS Research services, visit us at http://www.BDSmktg.com/research.
About BDSmktg:
BDSmktg is an award-winning retail marketing and sales partner. With over 30 years of experience guiding customers through the buying journey, we are experts at powering sales for the world's top brands. BDSmktg offers our clients fully integrated solutions that drive brand demand and sell-through: Brand Advocacy, Retail Readiness, Retail Environments, Research, Commercial, and Digital Marketing. We craft custom solutions from our suite of services, and our specialized teams ensure your brand is ready for each new selling season. Founded in 1984, BDS Marketing, LLC. is headquartered in Irvine, California with regional offices in Columbus, Ohio and Chicago, Illinois.