BDSmktg Honored as Dual Silver Stevie® Award Winner in 2016 American Business Awards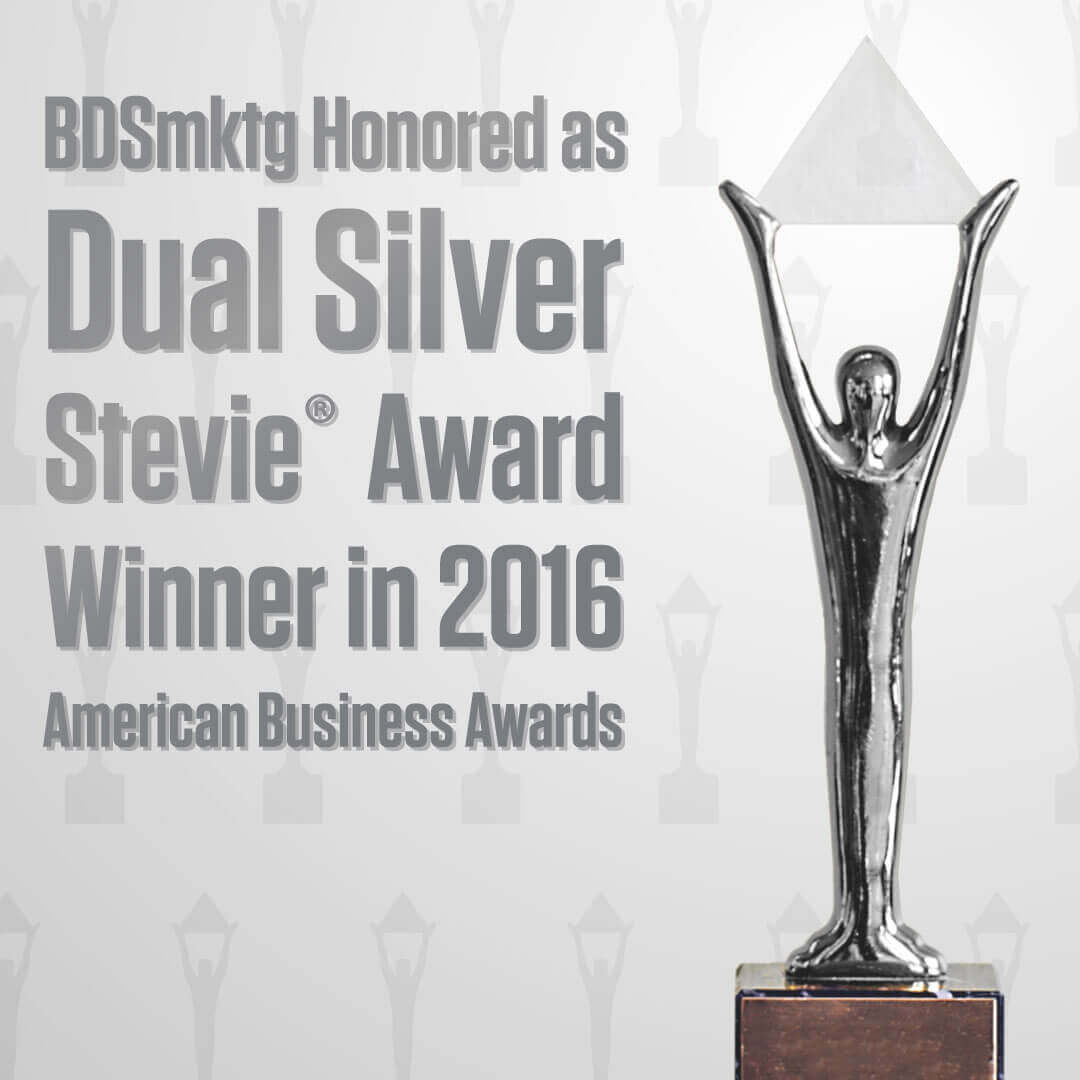 Irvine, Calif. – May 16, 2016 – BDSmktg, a retail marketing agency that crafts custom brand demand solutions, was named the winner of two Silver Stevie® Awards, one for Fastest Growing Company of the Year (2,500 or More Employees) and one for their co-submission with Cigna for Brand Experience of the Year (Consumer), in the 14th Annual American Business Awards.
The American Business Awards are the nation's premier business awards program. All organizations operating in the U.S.A. are eligible to submit nominations – public and private, for-profit and non-profit, large and small. More than 3,400 nominations from organizations of all sizes and in virtually every industry were submitted this year for consideration in a wide range of categories. BDS' submissions highlighted two major achievements during 2015 – the agency's exponential financial growth, and their partnership with Cigna to create a groundbreaking customer experience through their Brand Shop service offering. The awards will be presented to winners at a gala ceremony at the Marriott Marquis Hotel in New York on Monday, June 20.
"We are so honored to be named a Silver Stevie® Award winner twice this year." said Mark Dean, Founder and CEO of BDSmktg. "Last year, we really pushed our leadership team and the entire agency to be focused on several key initiatives, including agency growth, and it's very exciting to see everyone's hard work and dedication being recognized with these awards. By focusing on deeper penetration within the market, and working with outstanding world-class clients, such as Cigna, we were able to grow our business more than we ever have in the past. Whether in the corporate office or out in the field, every BDS employee did their part to make 2015 a success."
"Our substantial growth over the last year is largely due to proactive planning, innovative service development, and strong teamwork," said Ken Kress, President of BDSmktg. "Our leadership team really rallied last year, working together on our key initiatives and helping each other stay focused on those key areas to support our significant growth."
More than 250 professionals worldwide participated in the judging process to select this year's Stevie® Award winners.
Details about The American Business Awards and the list of 2016 Stevie® winners are available
at www.StevieAwards.com/ABA.
About BDSmktg
BDSmktg is your trusted retail marketing partner. With over 30 years of experience guiding
customers through the buying journey, we are experts at powering sales for the world's top
brands. BDSmktg offers our clients three fully integrated core solutions that drive brand demand
and sell-through: Brand Advocacy, Retail Readiness, and Retail Environments. We craft custom
solutions from our suite of 18 services, and our specialized teams ensure your brand is ready
for each new selling season. Founded in 1984, BDS Marketing, Inc. is headquartered in Irvine,
Calif. with a regional office in Heath, Ohio. For more information, visit https://www.BDSmktg.com.
About the Stevie Awards
Stevie Awards are conferred in seven programs: the Asia-Pacific Stevie Awards, the German
Stevie Awards, The American Business Awards, The International Business Awards, the Stevie
Awards for Women in Business, the Stevie Awards for Great Employers, and the Stevie Awards
for Sales & Customer Service. Stevie Awards competitions receive more than 10,000 entries
each year from organizations in more than 60 nations. Honoring organizations of all types and
sizes and the people behind them, the Stevies recognize outstanding performances in the
workplace worldwide. Learn more about the Stevie Awards at https://www.StevieAwards.com.