BDSmktg Honored as Silver Stevie® Awards Winner in 2017 American Business Awards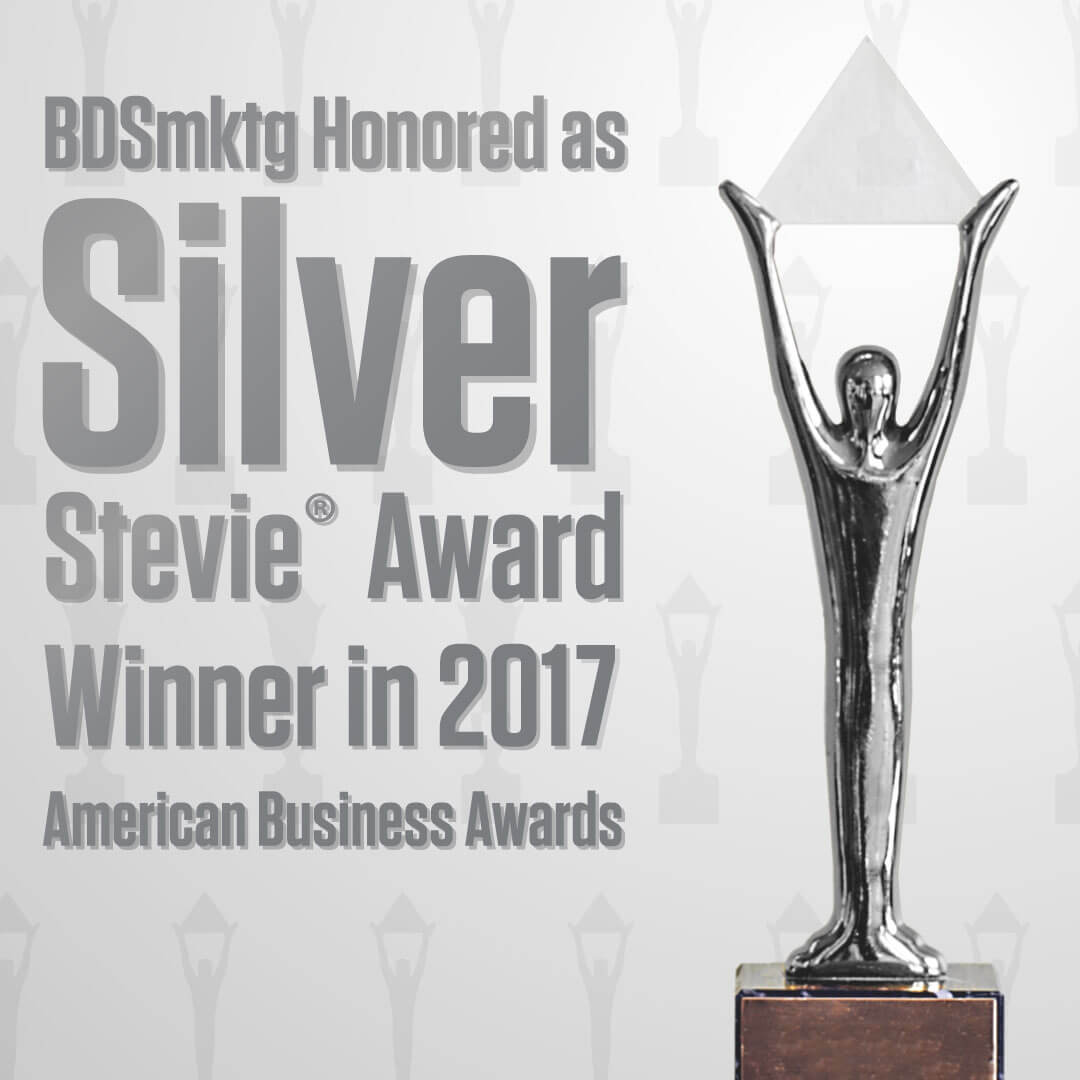 Irvine, Calif. – May 16, 2017 – BDSmktg, a retail marketing and sales agency that crafts custom brand demand solutions, was named the winner of a Silver Stevie® Award in the Marketing Department of the Year category at the 15th Annual American Business Awards.
BDS' award-winning submission highlighted the major 2016 achievements of the agency's Marketing Department, which included the launch of a new umbrella brand, BDS Solutions Group, which was the result of BDS' partnership with Apollo Retail Specialists and their investors, and rebranding initiatives for three new sister companies. The Marketing Department, led by Marketing Director Melissa Burke, also launched a newly-designed website that saw a substantial increase in new users and qualified sales leads, an expanded content marketing platform, the launch of two new service divisions, and a recruiting-focused digital advertising campaign that garnered over a million impressions.
"It is such an honor for our team to be recognized as a Silver Stevie® Award winner this year." said Melissa Burke, Director of Marketing at BDSmktg. "We have a limited size team and budget to work with, but by adapting quickly to change, staying focused on priorities and thinking creatively, our department was able to accomplish a remarkable number of large initiatives last year. I consider it a privilege to work with such talented team members and each individual contributed greatly to our successes last year with their hard work and dedication to excellence."
"BDS has consistently ranked as a winner or finalist in the American Business Awards since its inception in 2003. As an agency that is continuously innovating to meet the ever-changing needs of our clients and industry, it's exciting to continue to be recognized for the work that we are so passionate about." said Ken Kress, President of BDSmktg. "Just as we are passionate about our clients' brands, we are passionate about the BDSmktg brand as well. We have carefully crafted our brand values and are proud of our Marketing Department for continuing our brand legacy with careful thought and discipline during a year of unmatched growth and change.
The American Business Awards are the nation's premier business awards program. All organizations operating in the U.S.A. are eligible to submit nominations – public and private, for-profit and non-profit, large and small.
More than 190 professionals worldwide participated in the judging process to select this year's Stevie Award winners. "Each year the judges find the quality and variety of the nominations to be greater than the year before. The 2017 competition was intense and every organization that has won should be proud," said Michael Gallagher, president and founder of the Stevie Awards.
Details about The American Business Awards and the list of 2017 Stevie winners are available at www.StevieAwards.com/ABA.
About BDSmktg
BDSmktg is your trusted retail marketing and sales partner. With over 30 years of experience guiding customers through the buying journey, we are experts at powering sales for the world's top brands. BDSmktg offers our clients fully integrated solutions that drive brand demand and sell-through: Brand Advocacy, Retail Readiness, Retail Environments, Research, and Commercial. We craft custom solutions from our suite of services, and our specialized teams ensure your brand is ready for each new selling season. Founded in 1984, BDS Marketing, LLC. is headquartered in Irvine, California with regional offices in: Heath, Ohio; Chicago, Illinois; and Arlington, Virginia. For more information, visit http://www.BDSmktg.com.
About the Stevie Awards
Stevie Awards are conferred in seven programs: the Asia-Pacific Stevie Awards, the German Stevie Awards, The American Business Awards, The International Business Awards, the Stevie Awards for Women in Business, the Stevie Awards for Great Employers, and the Stevie Awards for Sales & Customer Service. Stevie Awards competitions receive more than 10,000 entries each year from organizations in more than 60 nations. Honoring organizations of all types and sizes and the people behind them, the Stevies recognize outstanding performances in the workplace worldwide. Learn more about the Stevie Awards at https://www.StevieAwards.com.