BDS CONNECTED SOLUTIONS, LLC. LAUNCHES NEW SOLUTION TO IMPROVE EMPLOYEE ENGAGEMENT AND OVERCOME BURNOUT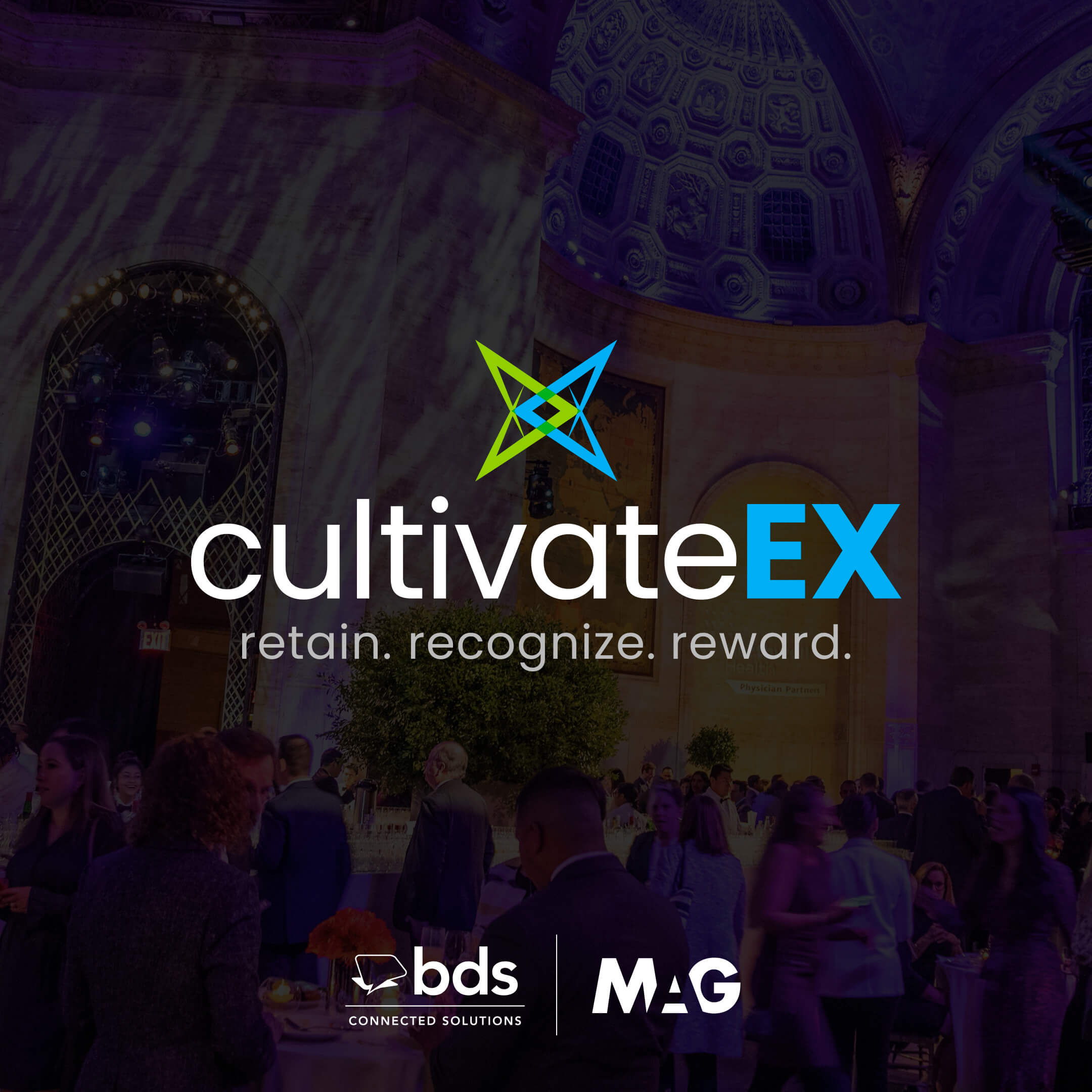 IRVINE, CA – MAY 24, 2022– BDS Connected Solutions, LLC. today announced the official launch of CultivateEX, its latest solution to invigorate the workforce and increase business productivity. Powered by MAG, BDS' Experiential team, CultivateEX focuses on retaining, recognizing, and rewarding employees through employee appreciation programs. CultivateEX is centered on improving company culture by creating memorable experiences that boost employee morale.  
Due to the pandemic and state of the economy, "The Great Resignation" spurred a trend of mass resignation throughout the nation. CultivateEX helps to overcome employee burnout by increasing motivation, inspiring collaboration, and improving mental health and well-being.  
Through pop-up events, employee rallies, corporate galas, and more, CultivateEX programs recognize employees for their hard work and dedication, reward their achievements, and pave the way for employee satisfaction and productivity. The programs are tailored to result in higher retention rates. 
From small teams to large audiences, CultivateEX is curated for a variety of groups. The programs provide customized experiences for employees regardless of location. Whether they are in-office employees, remote workers, or a hybrid of the two, the programs cater to employees wherever they are.  
"At BDS, we understand the impact that employee appreciation and recognition initiatives have on the workforce, company culture, and overall organization," said Sean Ludick, President of BDS. "CultivateEX delivers long-lasting experiences that focus on the recognition of employee achievements. We partnered with a well-recognized healthcare provider by producing over 45 events and experiences that left employees feeling appreciated. 90% of employees felt a sense of accomplishment and 88% of employees were proud to work for the organization. Utilizing CultivateEX will not only improve employee engagement, satisfaction, and loyalty, but will boost performance for the organization as a whole."  
"Employee recognition is one of the strongest influences on the culture of an organization," said Jonathan Margolis, President & CEO of MAG. "Employees should be recognized for their everyday contributions and achievements. We are thrilled to launch CultivateEX and provide our clients with creative and innovative employee appreciation solutions." 
To learn more about CultivateEX and the benefits of employee appreciation programs, visit: CultivateEX – MAG (themagexperience.com) 
About BDS Connected Solutions, LLC.  
Founded in 1984, BDS Connected Solutions has become the leading marketing and sales solution provider in the United States. The company powers Fortune 100 world-class brands such as Google Fiber, LG, Meta, Microsoft, Samsung, and top retailers with a connected mix of Sales & Training, Virtual Engagement, Experiential, Display Management, and Merchandising that exceed clients' ever-changing needs. Through many notable acquisitions, most recently Creative Channel Services (2021) and Michael Alan Group (2018), BDS has become an industry powerhouse by developing a robust suite of integrated solutions that generate demand and influence sales in the marketplace. As a digital-first, people-led company with a customer-obsessed approach, the company's mission is to influence every step of the modern customer journey, whether shoppers are in store, at home, or on the go, and ultimately close the sale. BDS is headquartered in Irvine, California with the MAG Experiential office located in New York City, New York. To learn more about BDS visit www.BDSsolutions.com and to learn more about MAG visit www.themagexperience.com.