Randy Schrock, SVP Strategic Services for BDSmktg, Appointed to CX@Rutgers Advisory Board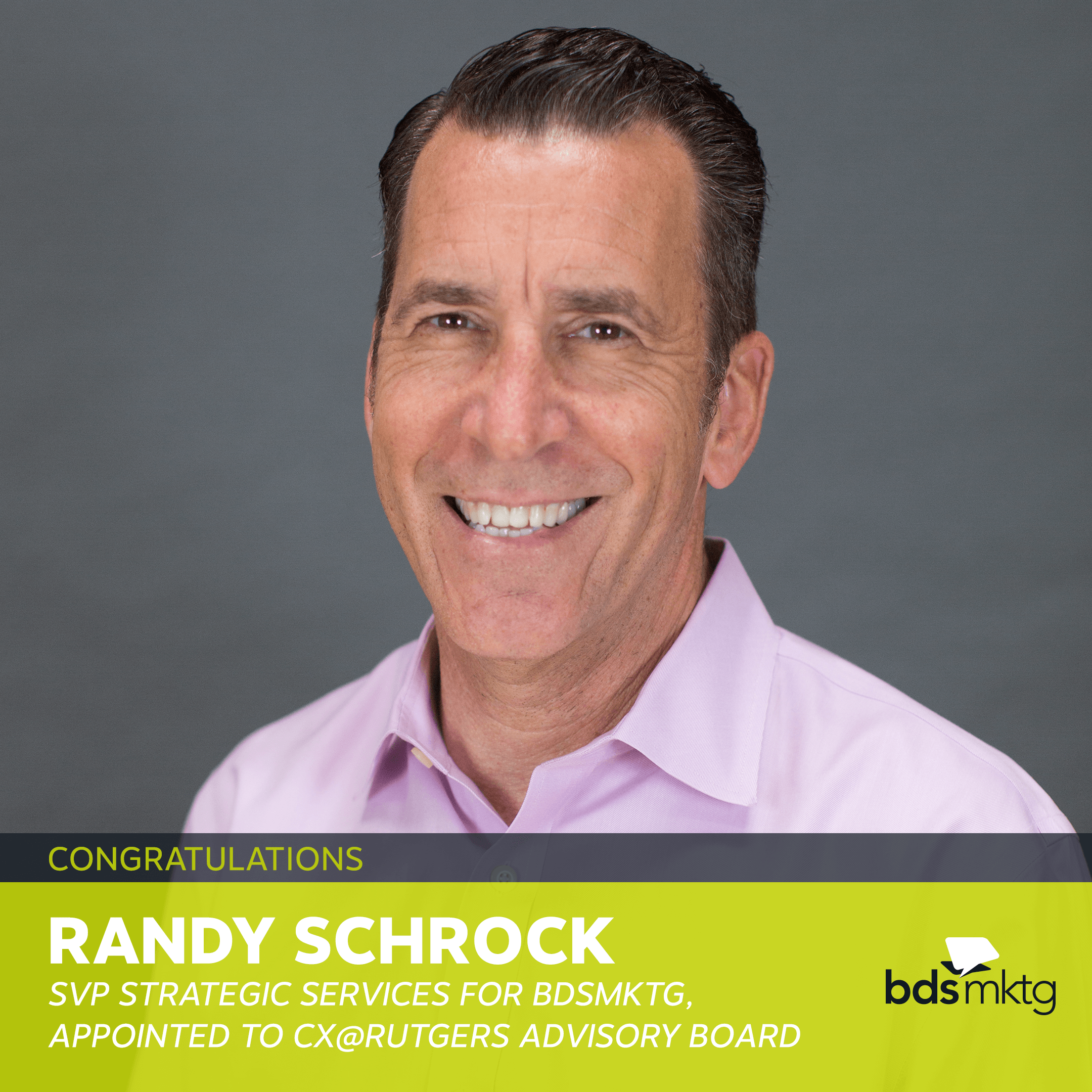 BDSmktg is pleased to announce the appointment of Randy Schrock, SVP of Strategic Services, to the CX@Rutgers Advisory Board. As an active board member, Schrock will be partnering with other top-flight executives to provide leadership and program guidance for students enrolled in the CX@Rutgers certificate program. This prestigious, invitation-only appointment is based on Schrock's personal and professional accomplishments in the industry and offers an exciting opportunity for this BDSmktg veteran to provide community outreach, while working with other CX professionals in the development of innovative strategies focused on improving customer experience.
"We live in a time during which the retail customer experience is changing before our very eyes," says Schrock. "It is a privilege to engage with both industry leaders in CX and the bright minds at Rutgers to help impact this industry for the benefit of both business and consumers."
Schrock brings more than 25 years of industry experience in the client service and research sectors to the CX@Rutgers Advisory Board. He currently oversees Strategic Services for BDS, including the Research and Analytics team, and provides strategic guidance across the company's client portfolio, working closely with Canon, Garmin, Samsung, and other world class brands. Schrock has authored both custom and syndicated market research, published in trade journals and has also spoken at international conferences. He is currently a member of CEA, MRA, MSPA, and is also aligned with UCLA Department of Statistics. To learn more about CX@Rutgers, visit cx.rutgers.edu.

About BDSmktg:
BDSmktg is an award-winning retail marketing and sales agency. With over 30 years of experience guiding customers through the buying journey, they are experts at powering sales for the world's top brands. BDSmktg offers their clients fully integrated solutions that drive brand demand and sell-through: Research, Brand Advocacy, Digital, Retail Readiness, and Retail Environments. Founded in 1984, BDS Marketing, LLC. is headquartered in Irvine, California with regional offices in Chicago, Illinois and Columbus, Ohio. For more information, visit BDSmktg.com.
Media Contact:
Melissa Burke
Director of Marketing, BDSmktg
[email protected]
(949) 472-6720