BDSmktg Honored as Silver Stevie® Award Winner in 2019 American Business Awards®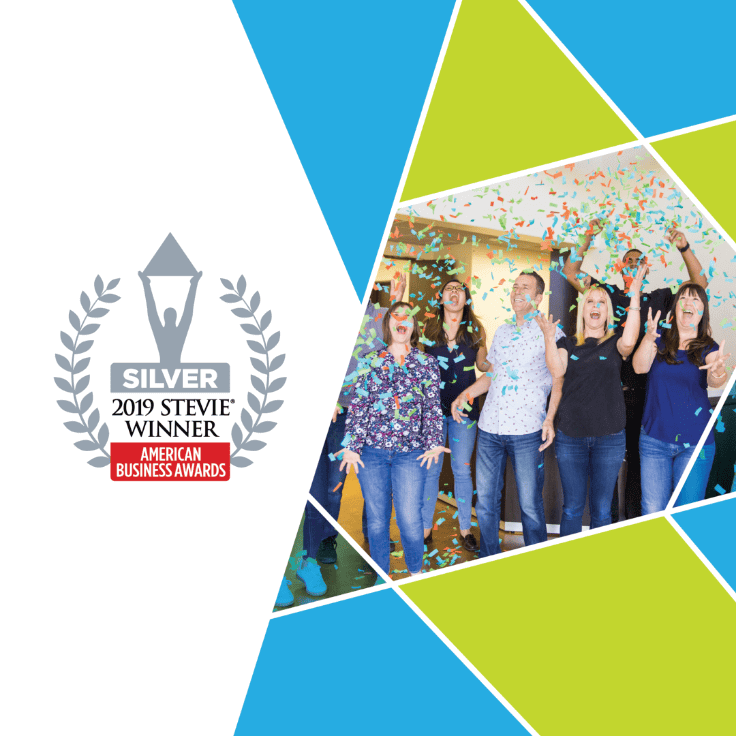 Stevie winners were presented their awards on June 11th in New York.
Irvine, Calif. – June 12, 2019 – BDSmktg was named the winner of the Silver Stevie® Award in the Engaged Community of the Year category in the 17th Annual American Business Awards®. BDS' award-winning submission, "Cross-Functional Collaboration Leads to Employee Engagement Success", highlighted how the agency achieved a more engaged community of employees in 2018. Led by a cross-functional team comprised of Learning Design (Training), Human Resources (HR), and Corporate Marketing experts, BDS' submission featured three major initiatives that drove employee engagement with the BDS brand:
1. Revamped the new-hire immersion experience that empowers new hires to successfully integrate into the BDS agency and culture
2. Created BDS Insiders, an employee-only Facebook group that extends BDS' unique culture beyond the office walls to remote employees
3. Developed Engage Center, a centralized online hub for employee training, learning, development, and engagement initiatives
Scot Maurath, Director of Learning Design, whose team drove the immersion revamp and the Engage Center launch, shared the catalyst behind these initiatives:
"With greater access to online and mobile resources, as well as the shift to BYOD (bring your own device), we're seeing trends like 'just-in-time/just-in-case learning', gamification, micro-learning, curation-freedom, and interactive online experiences become table stakes for driving employee knowledge retention, engagement, and ultimately satisfaction. This was why we made the move as an agency to go all-in on enhancing the way that we onboard, train, engage, and develop our employees."
Petra Fetters, VP of Human Resources, whose team members supported all three initiatives, said:
"Since the founding days of BDS, one of our core beliefs has remained constant – that happy employees lead to happy clients. We believe that if we provide a healthy work environment and positive culture for our employees, they in turn will strive to achieve outstanding results for our clients. These award-winning initiatives not only benefit our employees by creating opportunities for engagement, but they ultimately benefit our clients too."
Melissa Burke, Director of Marketing, whose team launched the BDS Insiders group, shared:
"With such a large remote workforce, it can be challenging to ensure everyone feels connected to one another. Early last year we decided to walk away from a traditional employee email newsletter that wasn't reaching our employees' often enough and move towards more relevant and personalized communication platforms. It's exciting to see our teams connecting with each other in real-time and gaining more exposure amongst themselves."
The American Business Awards are the nation's premier business awards program. All organizations operating in the U.S.A. are eligible to submit nominations – public and private, for-profit and non-profit, large and small.
More than 200 professionals worldwide participated in the judging process to select this year's Stevie Award winners. "The nominations submitted to The 2019 American Business Awards were outstanding. They illustrate the continued vibrancy of innovation and high level of achievement across the American economic landscape," said Michael Gallagher, President and Founder of the Stevie Awards.
Details about The American Business Awards and the list of 2019 Stevie winners are available at www.StevieAwards.com/ABA.

About BDSmktg
BDSmktg is an award-winning retail marketing and sales agency. With 35 years of experience guiding customers through the buying journey, they are experts at influencing purchase decisions for the world's top brands. BDS offers fully integrated solutions that drive brand demand and sell-through: Research, Advocacy, Digital, Experiential, Readiness, and Environments. Founded in 1984, BDS is headquartered in Irvine, California with regional offices in Chicago, Illinois; New York City, New York; and Columbus, Ohio. BDS Marketing, LLC. is a division of BDS Solutions Group, LLC. For more information, visit https://www.bdssolutions.com/.
About the Stevie Awards
Stevie Awards are conferred in seven programs: the Asia-Pacific Stevie Awards, the German Stevie Awards, The American Business Awards®, The International Business Awards®, the Stevie Awards for Women in Business, the Stevie Awards for Great Employers, and the Stevie Awards for Sales & Customer Service. Stevie Awards competitions receive more than 12,000 entries each year from organizations in more than 70 nations. Honoring organizations of all types and sizes and the people behind them, the Stevies recognize outstanding performances in the workplace worldwide. Learn more about the Stevie Awards at https://www.StevieAwards.com.
Contact
Melissa Burke
Marketing Director, BDSmktg