The Making of the 2018 BDSmktg Holiday Card [Expert Insights]
Have you ever wondered where we get our holiday card each year? We custom design it! While the holidays have come and gone by now, we're going behind the scenes with our corporate graphic design team in this expert insight article to talk about the process behind designing our holiday card each year and how 2018's festive printed piece came to life.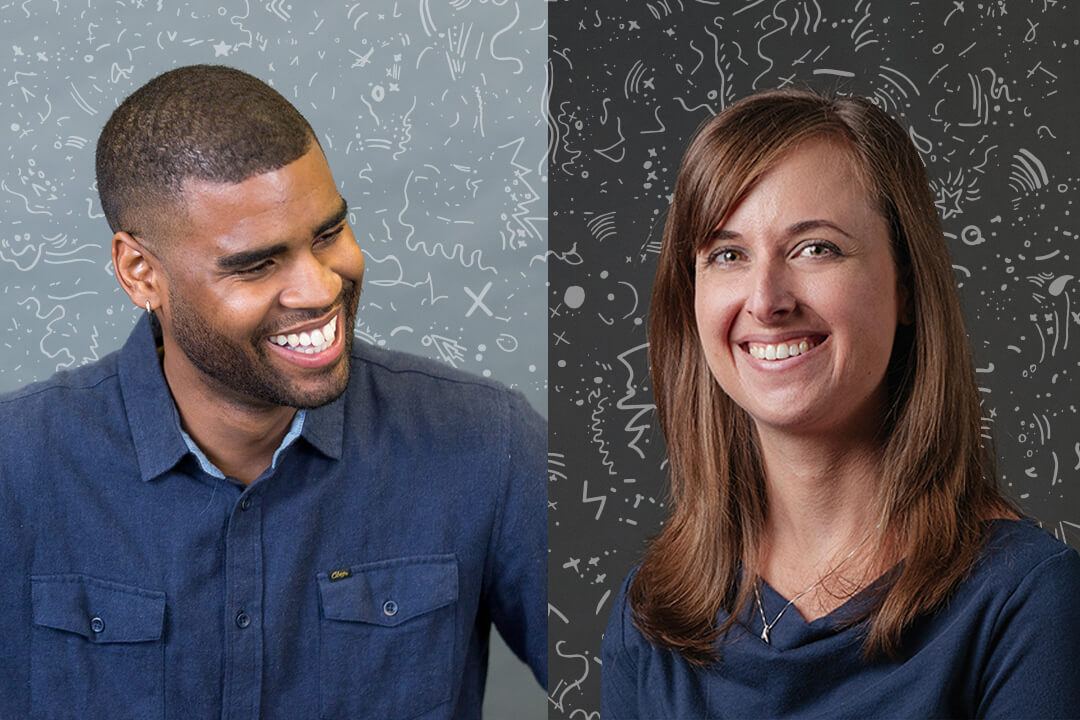 Meet Our Corporate Graphic Designers
Before we dive into the holiday card design, get to know two of our graphic designers, Shivonne T. and Bryce M. They both play important roles in the look and feel of the BDS brand and work with our various partners to bring our brand to life in a variety of mediums.
Shivonne, our Senior Art Director, has been with BDS for seven years. She oversees and executes the visual evolution and design of the BDS brand across a wide variety of corporate marketing projects, including our website, social media pages, office environments, internal tools, and more. When she's not designing up a storm, you can find her kayaking, sewing, and wood working (sounds oddly similar to Ron Swanson, right?).
"Doing graphic design work for BDSmktg has given me an opportunity to not only work with a variety of consumer electronic brands, but to also drive the look and feel of our own company branding. It's pretty special to see this brand evolve to where it is today, and be a part of it every step of the way. – Shivonne
Bryce, one of our graphic designers, has been with BDS almost one year, and is skilled at bringing our brand to life in extremely creative ways. Many of his hobbies outside of the office, like airsoft, competitive gaming, and skateboarding, inspire his colorful, edgy designs for BDS. He also is a member of our BDS Gives Back Committee, where he oversees the design for a variety of charity projects, including our "Cruisers for Kids" annual fundraising event.
"I let the subject guide me in each project. Before I start, I like to brainstorm and come up with a plan depending on the project or design needed. I try to be open minded and research anything that might help in that specific design." – Bryce

Starting the Holiday Card Design Process
With more and more projects veering towards digital, the holiday card is one of the few printed projects that our creative team gets to have full creative control. The process begins as early as September, when our Corporate Marketing and Design teams brainstorm together for the holiday card. From there, the designers take charge, and as we like to say, "wave their magic wands." For the past few years, Shivonne has taken the helm of designing the holiday cards (pictured below). However, for BDS' 2018 holiday card, she passed the torch to Bryce to show off his unique design style and create a memorable holiday card to share with our employees, clients, and partners.
"For this year's holiday card, I wanted to stay hands-off and let Bryce have some fun and run with it. I checked in from time to time, guiding him in the print production process, but ultimately let his creativity lead the way." – Shivonne

Gathering Inspiration
Before starting on the design, our designers look at the year's trends to see what's in style at that particular time or what's going to be the "it" style in the following year.
"I keep seeing retro '80's and '90's patterns and color palettes popping up in design more and more. There's been a lot of flat vector design in the past few years—as in no little to no dimension added with drop shadows or gradients, just flat areas of solid colors." – Shivonne
Tasked with creating the look and feel of this year's card, Bryce consulted his go-to sources of design inspiration, looked at different designs circulating on Pinterest, checked out the trends featured in design magazines, and took design cues from our favorite brands and partners.
"My inspiration came from two brilliant artists who go by the names of KAWS and PHree. I wanted to use iconic places in each city we represented – this approach was to work with no restrictions, but to stay within the guidelines of BDSmktg and bring my own flavor of design to the table." – Bryce
As every great designer knows, each design project doesn't go on without a few guidelines. As part of the brief, there were two main things that Bryce needed to achieve with his card design.
Incorporate the agency's newest divisions, wowbrands located in Ohio and MAG located in New York, as well as our Chicago regional office, into the card design.
Make a lasting branded impression with the card recipient.
Melissa Burke, Director of Marketing, stated:
"While in recent years we had the ease of designing for just one brand, this year we were challenged to incorporate our newest brands, MAG and WOWbrands, into one overall design. And on top of that, we wanted to push ourselves outside the box."
What was the overall solution? Sketch a card that incorporated all the things we love about where we work and the cities where our offices are located. From the Chicago "bean", to the New York pizza, to our beloved In-N-Out in California, Bryce hand drew each element of the monochromatic line-art design. And to give it that extra "wow" factor, the card had a couple of additional features: 1) the center popped out to become an ornament that the recipient could hang on a tree, and 2) a game on the back to find all of the different monuments, food items, logos, and more.
"This was my first die-cut card ever, so the experience was amazing to have the opportunity to try it out, and the fact that it was an ornament die-cut made the masterpiece even sweeter." – Bryce

Delivering an Experience
As the card is finalized and sent to print, the Marketing team gathers accessories that pulls together the whole design into an impressionable experience. This year, red vellum envelopes gave recipients a glimpse of the fun inside, while red ribbon was included to hang the die-cut ornament. Sealed with labels featuring BDS' hand-drawn logos and playful stamps, the Corporate Marketing team's vision for a memorable, unique, lasting, printed holiday piece came to life. Melissa summed up the card's success by saying:
"This piece sparked a lot of conversation, and it was one of the more exciting holiday cards we've put out over the years. I love how it really shows the creativity of our design team. They rose to the challenge and set a new precedent for the design of our holiday card going forward."   
That's a Wrap!
Until the Corporate Marketing and Design team starts the holiday card process back up again in September, that's a wrap! (Pun intended, of course.) Have a design idea that the team should consider for next year's card? Contact us here.
---