Winning the Modern Consumer Through Technology, Sustainability, and Brand Reputation
Shopping trends are continuously shifting due to technological advancements, conscious consumerism, and brand reputation. Prices and quality are no longer selling points for consumers across the globe. Consumers throughout every demographic are taking a deeper dive into learning more about products, services, and brands before making a purchase decision. Modern consumers are shifting buying behavior trends to focus more on what, how, when, and why they buy.
The Convenience Factor
With the influence of technology, consumer expectations are at an all-time high. Over half of consumers expect businesses to know their unique needs and believe companies need to provide cutting-edge digital experiences to keep their business. Convenience plays a major role in the buying journey of the modern consumer. Today, consumers seek additional information to motivate their purchase. Consumers want to have access to additional information, such as, product pricing, recommendations, and reviews before making a purchase or engaging with a service. According to Forbes, 98% of consumers report using more than one device throughout the day. Companies must ensure that consumers have access to all the information they seek online and have it readily available to them right on time across their devices. With the constantly changing technological environment, companies need to be more responsive and relevant to adapt to the buying behaviors of the modern consumer.
Customer Service: On and Offline
Consumers can access information at anytime from anywhere and they want that information fast. According to Hiver, over half of consumers consider "resolution time" to be a key indicator in customer support experiences. 32% of consumers expect more interaction with customer service and want the experience to be both more responsive and empathetic. 14% of Gen Z consumers especially value empathy and personalized experiences over timely resolution in comparison to Millennials (11%) and Baby Boomers (6%). This indicates that younger generations seek a different, more respectful and fulfilling customer service interaction than others, in addition to faster response times.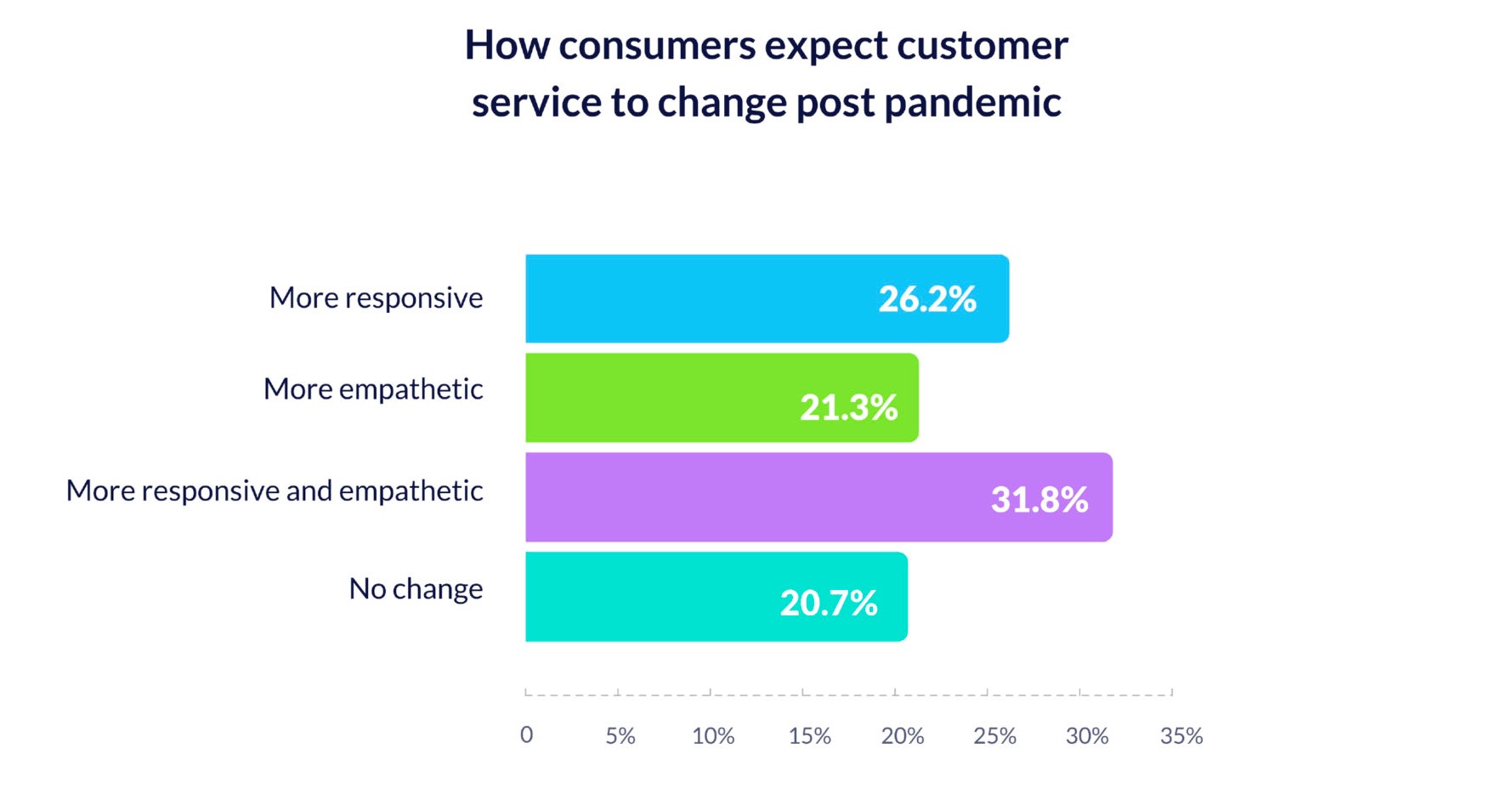 Our award-winning Tap-a-Tech™ solution offers consumers personalized customer service at their fingertips. Through one-on-one virtual product demonstrations, brands can leave a lasting impression on their customers by providing them with lower resolution times, personalized support, and exceptional customer service – on or offline.
Information Drives the Journey
Modern consumers are highly motivated by information. People rely on information to compare products and brands to make a purchase decision. Consumer behavior is influenced by brands that have a high level of detail to meet their expectations around the information that is readily available to them about a brand, product, or service. According to Business Wire, consumers are paying attention like never before, in fact, two-thirds of consumers believe they are better at making informed purchases today compared to five years ago.
Conscious Consumerism
Sustainability has made a major impact on consumer behavior. According to an Aflac survey, 92% of Millennial consumers are more likely to purchase products from ethical companies, as sustainability is now a matter of purchase, trust, and loyalty. 76% of consumers are more likely to support companies that source services and materials in ethical ways, are environmental-friendly, minimize harm on the environment, and invest in sustainability. Since modern consumers are taking actions in their everyday lives to be more sustainable, companies continue to face increasing pressure to become sustainable by improving their social impact and lessening their environmental one.
Modern consumers are influenced by companies with purpose. Half of modern consumers are focusing on personal purpose and making decisions based on purpose-driven brands. When seeking a product or service, consumers take into consideration the corporate social responsibility of a company, including efforts in environmental, philanthropic, ethical, and economic concerns. A Nielsen study shows that consumers are willing to pay more to support brands that adhere to missions that align with their own values.
Trust and Reputation Influence Buying Decisions
Today, consumers are focusing on brands that offer honesty, transparency, consistency, values, and act as an extension of who they personally are. Consumers are reconsidering their purchases to ensure they align with their personal purpose. Consumers are actively paying more attention to what brands are doing in the current environment than they were prior to the pandemic. Brand authenticity has never been more important to a business's success, especially when over half of consumers believe that the way a company acts matters. According to Social Media Today, 90% of Millennials say authenticity is a key factor when deciding which brands to support, while 80% of Baby Boomers, and 85% of Gen Xers reported the same sentiment. Purchase decisions heavily rely on a brand's reputation, authenticity, and trust with its customers.
Thanks for reading!
Follow the latest industry trends with insights straight from our experts: BDS Marketing Blog.