Buzzworthy Insights – A Look Into The Tech Takeover
01.10.2022
Buzzworthy Insights
CES 2022
This year CES was able to take place via a hybrid approach from January 5th to 7th, originally planned till the 8th. Due to COVID-19, the event was unable to take place last year. This year, the Consumer Technology Association was able to provide a new venue with improved ventilation and more square footage that allowed social distancing. Attendees were also required to provide proof of vaccination, wear masks during the event and on transportation, including testing at the venues and before return flights.
Some brands opted for the Metaverse experience, building virtual experiences within their respective environments to provide new experiences for consumers. Samsung built a virtual home featuring their products in an experience called "My House", allowing a user to customize a virtual home with various products. Others showcased products that improve any Metaverse experience, Owo, a Spanish tech company, featured their wireless wearable vest that allows you to feel physical sensations while in the Metaverse. Within the total CES event, there were many companies featuring a wide variety of Metaverse products from virtual makeup studios and VR concerts to smart glasses and NFTs. (View source)
Amazon Utilizing AI to Optimize Sustainability
Amazon is taking another step towards sustainability through the utilization of machine learning (ML) and artificial intelligence (AI). Over the past six years, Amazon has been utilizing several AI/ML combinations in order to reduce per-shipment packaging weight, resulting in a 36% decrease to shipping weight and eliminated the equivalent of more than 2 billion shipping boxes. Based largely on text-based information, the technologies are incorporated to identify product packaging requirements, determined via keyword, what the item should be shipped in. When used at scale, a combination of AI/ML and computer vision technology were utilized, improving performance by nearing 30%. (View source)
Battle of The Bots
The delivery landscape is becoming even more saturated – Who will come out on top?
Ottonomy, a featured company at CES 2022, showcased their autonomous last mile delivery robots, "Ottobots", that allow indoor and outdoor delivery. The first place to deploy the robots, Cincinnati/Northern Kentucky Airport. The robots will be utilized to deliver retail and food items in one of their several concourses, expanding to others depending on success rate. This comes at a time when many stores and college campuses are utilizing contactless experiences, along with autonomous delivery robots, in order to better accommodate consumer needs.
In the grocery sector, many robots are being implemented across backend services and delivery. Walmart has recently partnered with Gatik to introduce autonomous middle-mile delivery, along with partnerships involving several other robotics companies over the past few years, such as Nuro, to improve other delivery services. Kroger will be partnering with the U.K. based online grocer, Ocado, to introduce last mile delivery and backend services that improve the delivery experience. (View source 1, source 2, source 3)
Social Commerce Booming
Predicted to nearly triple in value by 2025.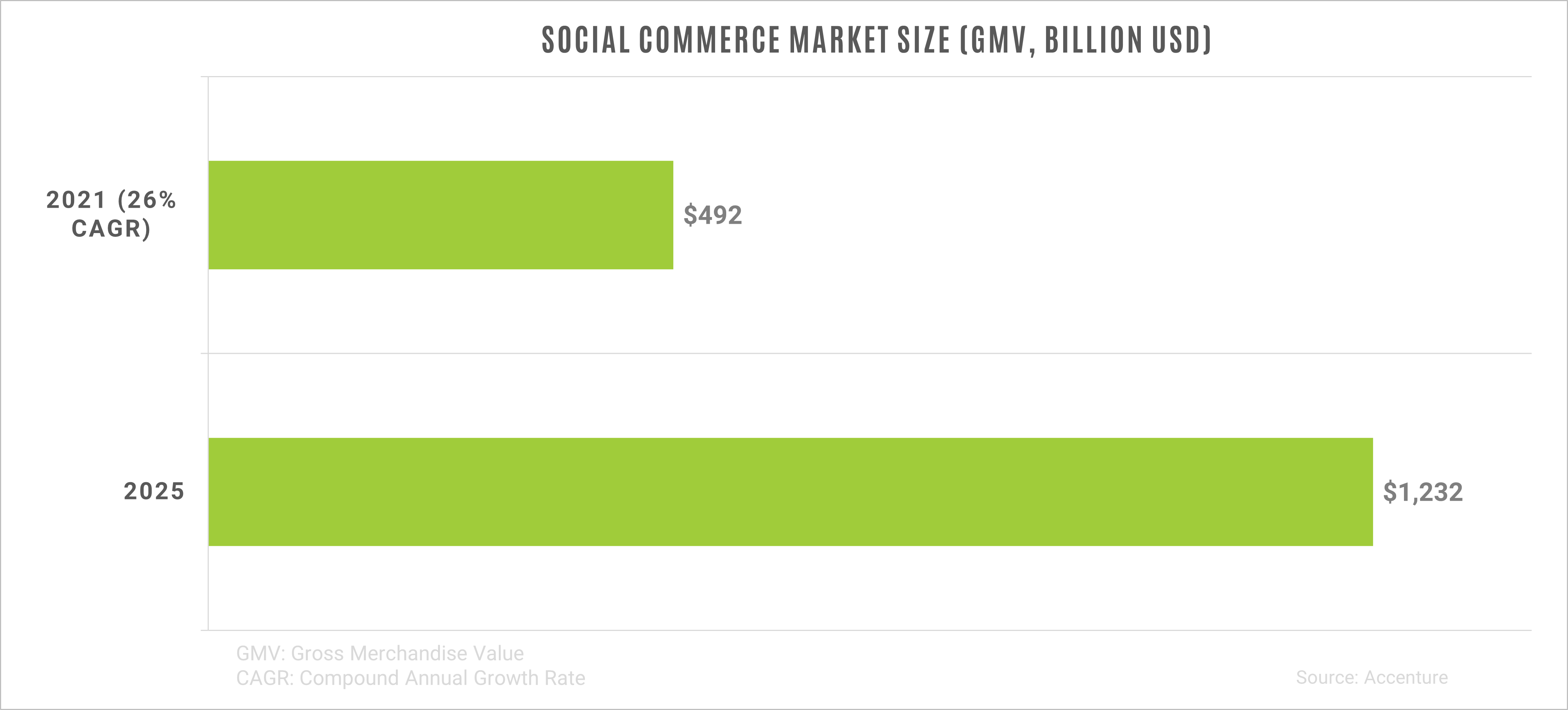 Around the world, consumers have taken to their mobile devices to find their next purchase, many are choosing social media channels to find these products, with this trend set to increase rapidly. Most importantly, this gives small and medium size businesses a much better chance of competing against big business as online marketing increases in complexity. According to Accenture's new Social Revolution study, 59% of respondents indicated they are more likely to support small and medium sized businesses through social commerce than when shopping through e-commerce websites. Additionally, 63% of these consumers are more likely to buy from the same seller again. Millennials and Gen – Z will be leading this change, followed closely by Gen – X.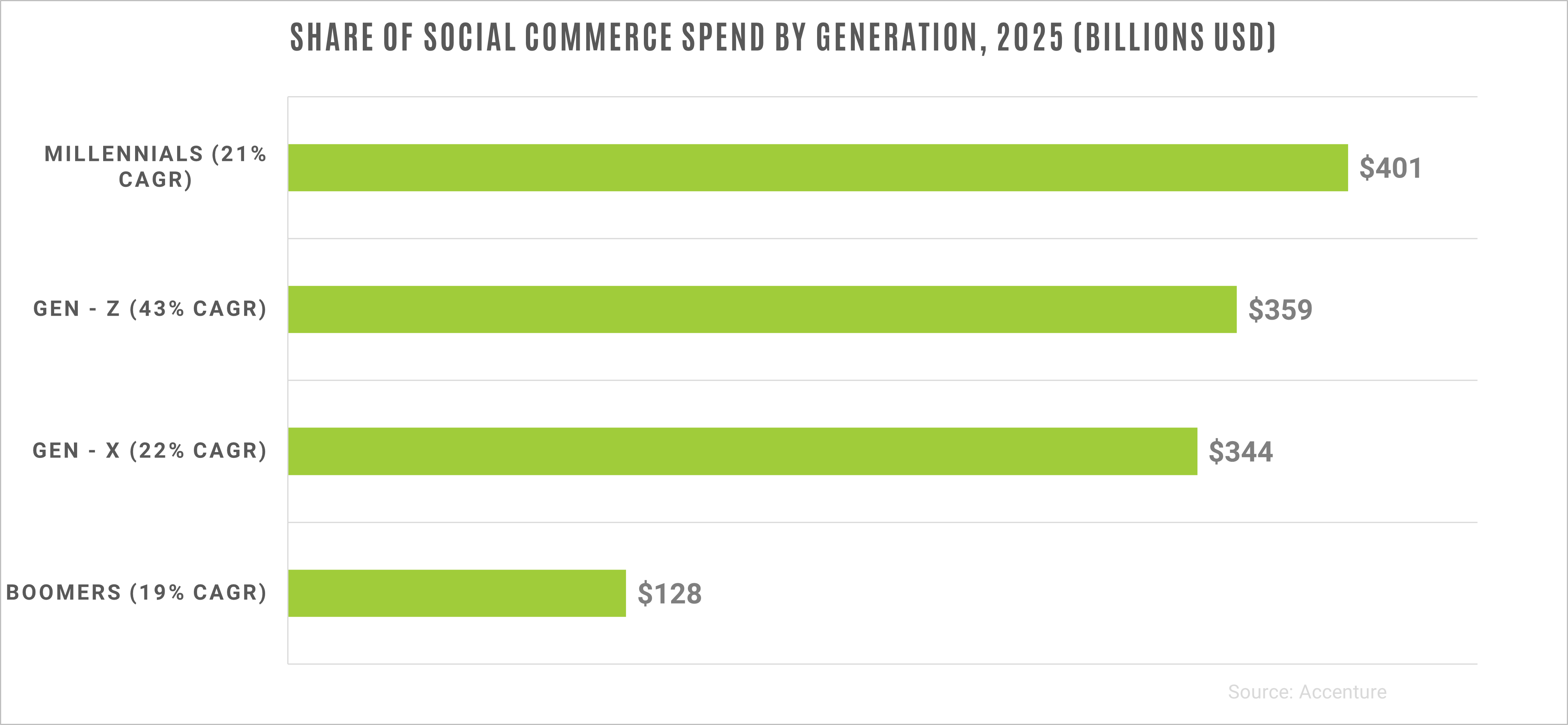 As for the product categories that are seeing the greatest number of global purchases, 18% of all social commerce by 2025 is expected to be clothing, following by consumer electronics (13%), and home décor (7%). While the greatest market is in China at $1,015B GMV and a CAGR of 26%, the US is projected to have the second highest share at $99B GMV with a CAGR of 25%. (View source 1, source 2)
Returns as The New Growth Strategy
Consumers were wary of supply chain issues all holiday season, due to this, multiples of clothing products were purchased in hopes that one would fit. Brands are now looking towards the returns process as a new avenue of growth, incorporating a seamless returns process in order to get more returning customers. Amazon is offering a variety of returns options for almost any product it offers, including AmazonFresh products. Customers with eligible returns will be able to bring the items, sometimes without a box or other materials, and simply drop them off with an associate to be packaged and returned, for free. There is a variety of locations customers can drop off their returns, depending on how much they want to prepare the items for return. In partnership with Kohl's and The UPS Store, Amazon consumers can leave their items with an associate to be boxed and returned. (View source)
Thanks for reading!
If you'd like Buzzworthy Insights sent to your inbox weekly, subscribe to the newsletter.