BDS Marketing, LLC. Acquires MAG Experiential Agency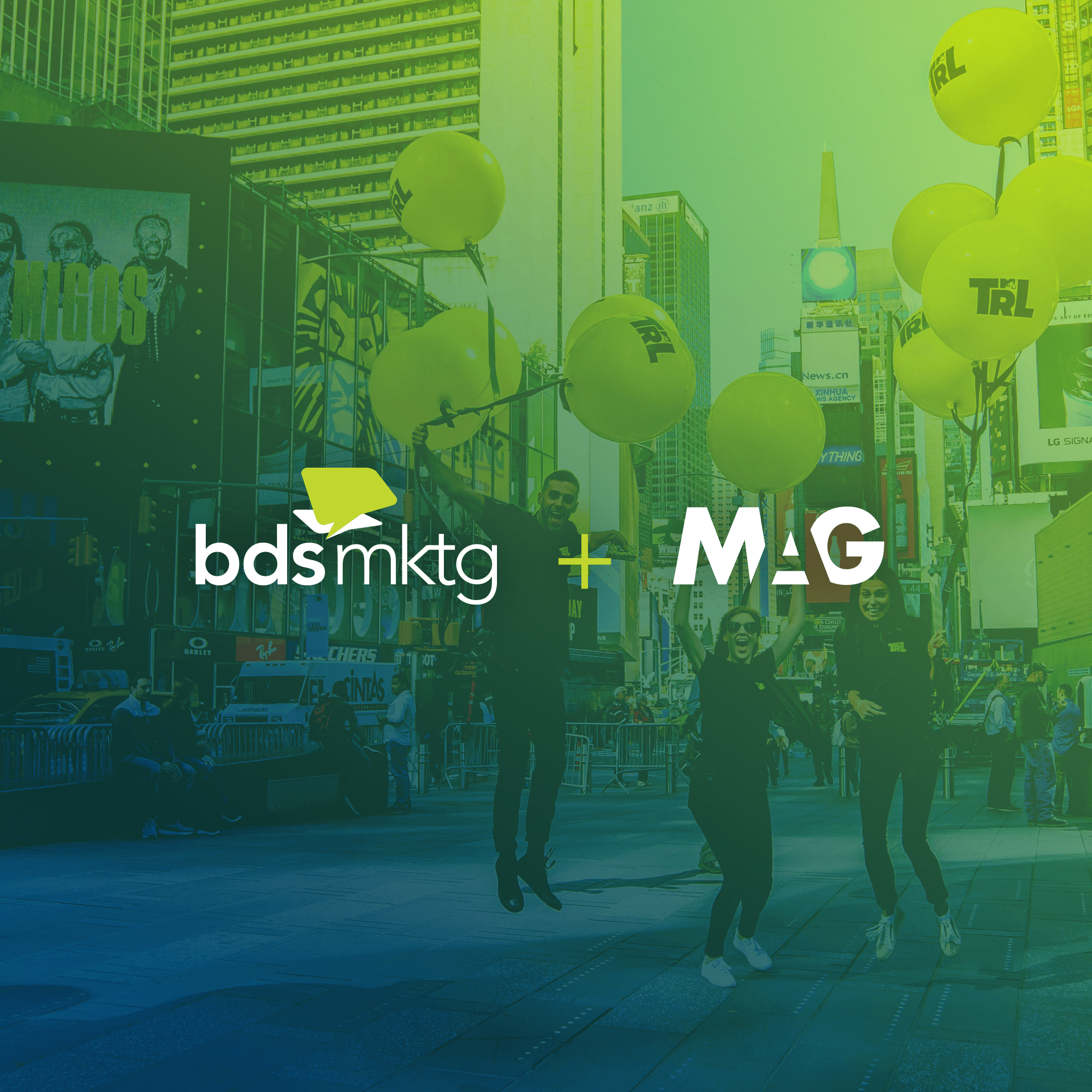 BDSmktg expands integrated solutions to include experiential marketing.

BDS Marketing, LLC. is pleased to announce the acquisition of MAG, a full-service experiential marketing agency based in New York City. As a leading agency in driving consumer influence, BDS continues to expand their reach outside the walls of retail by adding experiential marketing to their repertoire with this well-known industry icon.
"BDS is strategically positioned to influence consumer purchase decisions within a rapidly changing and blurred on-line and off-line ecosystem.  With retail being re-defined as wherever a consumer is making a purchase decision, BDS is committed to acquiring agencies with a proven expertise beyond traditional retail. Adding an experiential solution is key to today's omni-channel approach,"  says Mike Britton, Chief Strategy Officer and head of acquisitions for BDS' parent company. "With MAG's stellar reputation for delivering innovative strategies and quality consumer experiences, bringing MAG into the BDS family further positions us as a trusted and valuable strategic partner to our clients."
"We are thrilled to join BDS and foresee tremendous opportunity to deliver experiential strategies to an even larger array of clients," says Jonathan Margolis, President & CEO of MAG. "Our combined experience allows us to provide unparalleled consumer engagement at the retail level, while ensuring that consumers have a consistent brand experience across all touchpoints."
Known for designing and producing awe-inspiring experiential campaigns as well as immersive events within the B2B space, MAG is sought after by the world's biggest brands to represent them in the nation's largest markets and across the globe. The agency is consistently recognized by industry publications including Event Marketer's Top 100 It List, Chief Marketer's Top 200, Promo Top 100, and Best Places to Work in Events.
About BDSmktg:

BDSmktg is an award-winning retail marketing and sales agency. With over 30 years of experience guiding customers through the buying journey, they are experts at powering sales for the world's top brands. BDS offers their clients fully integrated solutions that drive brand demand and sell-through: Research, Brand Advocacy, Digital, Retail Readiness, Retail Environments, and now Experiential marketing. Founded in 1984, BDS is headquartered in Irvine, California with regional offices in Chicago, Illinois and Columbus, Ohio. BDS Marketing, LLC. is a division of BDS Solutions Group, LLC. For more information, visit www.BDSmktg.com.
About MAG:
MAG is a full-service experiential marketing agency based in New York City. Founded in 2001, the group produces publicity stunts & campaigns, national tours, corporate events, B2B initiatives, and strategic partnerships nationally and across the globe. Clients include major entertainment and lifestyle brands such as MTV, FOX, Universal Pictures, Microsoft, Walgreens, as well as major ad agencies and PR firms. To learn more about the group, please visit www.theMAGexperience.com.
Contact:
Melissa Burke
Director of Marketing, BDSmktg
(949) 472-6720