Buzzworthy Insights –  Holiday Happenings
04.02.2021
Buzzworthy Insights
Easter: Another Holiday the Pandemic is Impacting (view source 1, 2)
COVID-19 is still affecting how people are celebrating the holidays, and that's no different for Easter. Over half of consumers will either stay home or limit contact with others this Easter due to COVID-19 concerns, with gatherings down 42%. Consumers plan to spend an average of $179.70 this Easter, the highest figure on record.
What will be the most popular gifts for Easter? Candy remains most popular, with 90% planning to purchase candy for Easter 2021, followed by toys at 64%. Spa products are expected to see a 5% increase, perhaps due to consumers shifting in-person spa treatments to their homes. Categories seeing declines are clothes, accessories, flowers, and jewelry.
Where will consumers do their Easter shopping? More than half of consumers plan to do their Easter shopping at grocery stores, followed by mass retailers, dollar stores, online retailers, club stores, and drug stores.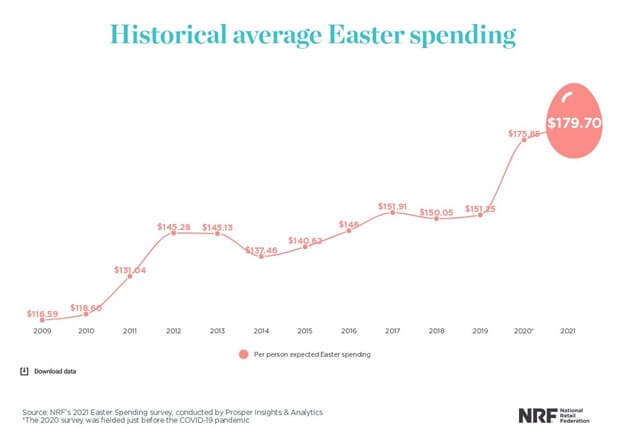 Source: NRF's 2021 Easter Spending survey, conducted by Prosper Insights & Analytics
The Effects of COVID-19, One Year Later
Conscious Consumers Value Safety and Digital, while Loyalty Diminishes (view source)
Many of the consumer shopping trends which sprang up at the onset of the COVID-19 pandemic are still having a large impact. 57% of consumers say the pandemic continues to impact how they shop. This figure is down from 76% in March 2020.
More consumers are becoming 'conscious consumers.'  Two-thirds of consumers are now supporting local or small businesses when possible. 4 in 10 are researching companies' values and practices to ensure they align with their personal beliefs.
Consumers continue to take precautions in-store. 86% of consumers say they are taking safety precautions in-store, about the same as 85% who were doing so in 2020. Most consumers are disinfecting their hands and shopping carts (86%), using debit/credit cards to avoid handling cash (70%), using self-checkout (66%), and shopping at slower times (65%).
Online shopping continues to pick up steam. Over half (51%) of consumers say they are shopping online more frequently as compared to the start of the pandemic, with 84% planning to continue shopping online in the future.
Brand loyalty is continuing to waiver. 85% of consumers reported not caring about brand names in March 2020 and that figure is now 61% today.
Consumers Miss Shopping In-Store (view source)
Shoppers miss the physical, human side of shopping in-store following a year of COVID-19 restrictions. Over three-fourths of U.S. consumers plan to shop more in-store this year than before. Additionally, 42% said they miss able being able to touch and feel products — and 63% miss getting out of the house.
To create a positive in-store experience for the consumers, retailers must:
Ensure there is an inviting in-store atmosphere (54%)
Employ believable, knowledgeable staff (50%)
Consumers want to return to physical retail, with digital being used to support and enhance the physical shopping experience using QR codes, apps, and self-checkout systems.
Store Openings Are Outpacing Closures in 2021 (view source)
Even with the COVID-19 pandemic still weighing on physical retail, retailers in the U.S. collectively plan to open 3,344 stores so far this year.
That is 39.5% more openings than announced at this point last year and well ahead of the 2,649 closures announced so far in 2021. In recent years, closures have far surpassed new stores.
Among those planning new stores for this year are Dollar General, which plans to add more than 1,000 locations in 2021, as well as Dollar Tree, Family Dollar, Five Below, Big Lots, and Burlington.
More Newsworthy Headlines
Whole Foods will soon roll out an augmented reality virtual makeup app to support a try-on experience for natural beauty brand Mineral Fusion; it's available in-store via QR code scan and mobile device, and Mineral Fusion's website via mobile device and desktop. (view source)
Customers want fitting rooms to open this year (77%), but only 36% would like to see beauty and wellness product testing return. (view source)
The pet industry generated $103.6 billion in annual sales in 2020, the highest level in industry history. (view source)
Anyone who shows a valid COVID-19 vaccination card at any Krispy Kreme location in the U.S. can receive a free Original Glazed doughnut every day through the remainder of 2021. (view source)
In-store Best Buy employees now have the option to request a free COVID-19 test kit if they are experiencing any symptoms or have learned of a recent exposure. (view source)
Please reach out to the BI Team via [email protected] with any questions.