Buzzworthy Insights – Is This the Future of Delivery?
09.27.2021
Buzzworthy Insights
Is This the Future of Delivery?
Autonomous delivery and dark stores
With retailers battling with suppliers and supply chain issues amid the pandemic, investments in autonomous operations have been greatly increasing, resulting in a pivotal move by Walmart to partner with Ford using the Argo AI self-Driving System. While this isn't their first venture in autonomous delivery, Walmart seems to be moving forward with Ford as they have previously worked with Udelv Gatik, and now Ford for the second time. All Walmart consumers within the selected service areas of the three markets will begin testing later this year and couples their Express Delivery service, along with expanding one of their newest endeavors, Walmart GoLocal, that delivers products from other businesses.
Along with this new wave of delivery, a new concept called "Dark Stores" is making a huge wave in the delivery industry. These stores have 2-3k SKUs at small convenient locations for bike delivery associates to pick up and deliver a variety of goods within 15 minutes or less. Buyk is the most recent to join this industry in NYC, the other two companies being Jokr and Gorillas, harnessing proprietary technology to strategically position these dark stores in order to allow quickest delivery time possible. In addition to expanding into other busy metro areas, Buyk hopes to partner with more local brands and hopes to offer their own private label goods in the future.
Curtailing this effort is Kroger and Instacart who recently partnered together to offer delivery of a assortment of goods from snacks to meal solutions in as little as 30minutes. And another company, similar to the dark stores concept, Robomart, is offering a new option for grocery, convenience and fast-food establishments. The platform, which offers these establishments six different options of how'd they like to be categorized, are able to select what they want to sell and where, which is then managed and stocked by Robomart. (View source 1, source 2, source 3, source 4)
The Future of Payment & Verification  
In the past week, there has been a multitude of offerings announced by Amazon alone, one being their licensing to AXS ticketing service to offer palm identification and payment at Red Rocks Amphitheater. In addition, they are expanding this "Just Walk Out" offering to 60 of their own stores. Combining a process of proprietary imaging and computer vision algorithms, consumers can sign-up for Amazon One at a registered kiosk. The process is very quick, consumers simply input a credit card before scanning one or both palms and input their phone number to complete sign-up.
As consumers are wanting a more digitally empowered landscape wherever they may need to pay, retailers will want to be looking into ways to implement similar "Just Walk Out" technology. Along with this tech, a more omnichannel presence is being taken already being introduced by many with interactive adventures being a trademark of Camp's stores, providing virtual showrooms as Neiman Marcus is introducing, and experimenting with virtual try-ons as GAP is doing with their new partnership with Drapr. (View source 1, source 2)
AI Robots Introduced to Midwest Grocer
Hy-vee grocery introducing robots to check when items are out-of-stock
In collaboration with Simbe Robotics', the well-known Midwest grocer, Hy-Vee, is introducing an AI robot to scan aisles of products to determine if they are in-stock. Named Tally, the robot has been functioning in stores throughout their Midwest operations and will be introduced to more within the coming weeks. It will firstly be used in their grocery, health, and wellness aisles scanning up to three times a day. Simbe Robotics' claims Tally, coupled with their management software, will provide actionable insights that store associates can act upon reducing out-stocks up to 30%. Along with Hy-vee, another Midwest grocer, Schnucks Markets, is committing to a multi-year full-scale rollout to introduce this same robot in all their locations, making it the first grocer in the world to release AI-powered inventory management at full scale. (View source)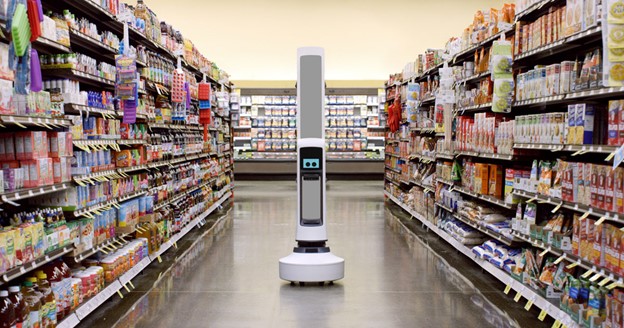 Photo source: https://www.simberobotics.com/
 Baby Boomers Top Spending Group for Apparel
Step out of the way young ones, Baby Boomers (ages 57 -75) are here to stay, and retailers should still target these individuals for the next 5 – 10 years. While marketers have been preoccupied with how to target the new spending generations, they have been ignoring baby boomers. The older generation is one inspired by fashion, creating a lot of what we find today and during this year from January to July, have increased spending 28% compared to pre-pandemic 2019, which is five times more than millennials and twice as much as gen-z. And according to research in 2018 done by Visa Business and Economic Insights, consumers over 50 accounted for more than half of all US spending, outpacing all other generations in spending growth. (View source)
Holiday Season 2021
Consumer spending and earlier shopping continuing to increase
With the holiday season approaching quicker than most years, due to supply chain concerns, studies on holiday spending are showing continual increases to spending as well. Recently, we covered how over a third of Americans were going to increase this year's holiday spending and that is now up to 48%, according to a OnePoll online survey of 2,000 Americans. There is a clear shift in spending too, with the top gift respondents planning to give loved ones being a memorable experience (sporting event, concert, night out, etc.) at 42%, electronics (29%), a vacation (26%), and clothing at 25%. In addition to these increases, as consumers learn about holiday season supply chain issues, more respondents are indicating they are shopping earlier. Over half of respondents (61%) are no longer waiting for Black Friday and Cyber Monday sales and one in five have already begun their shopping this September.
Due to the record level spending, there is an increasing indication of buy now, pay later (BNPL) options to curb worries of overspending, with 69% of those consumers using the option even when they have the ability to pay in full. (View source)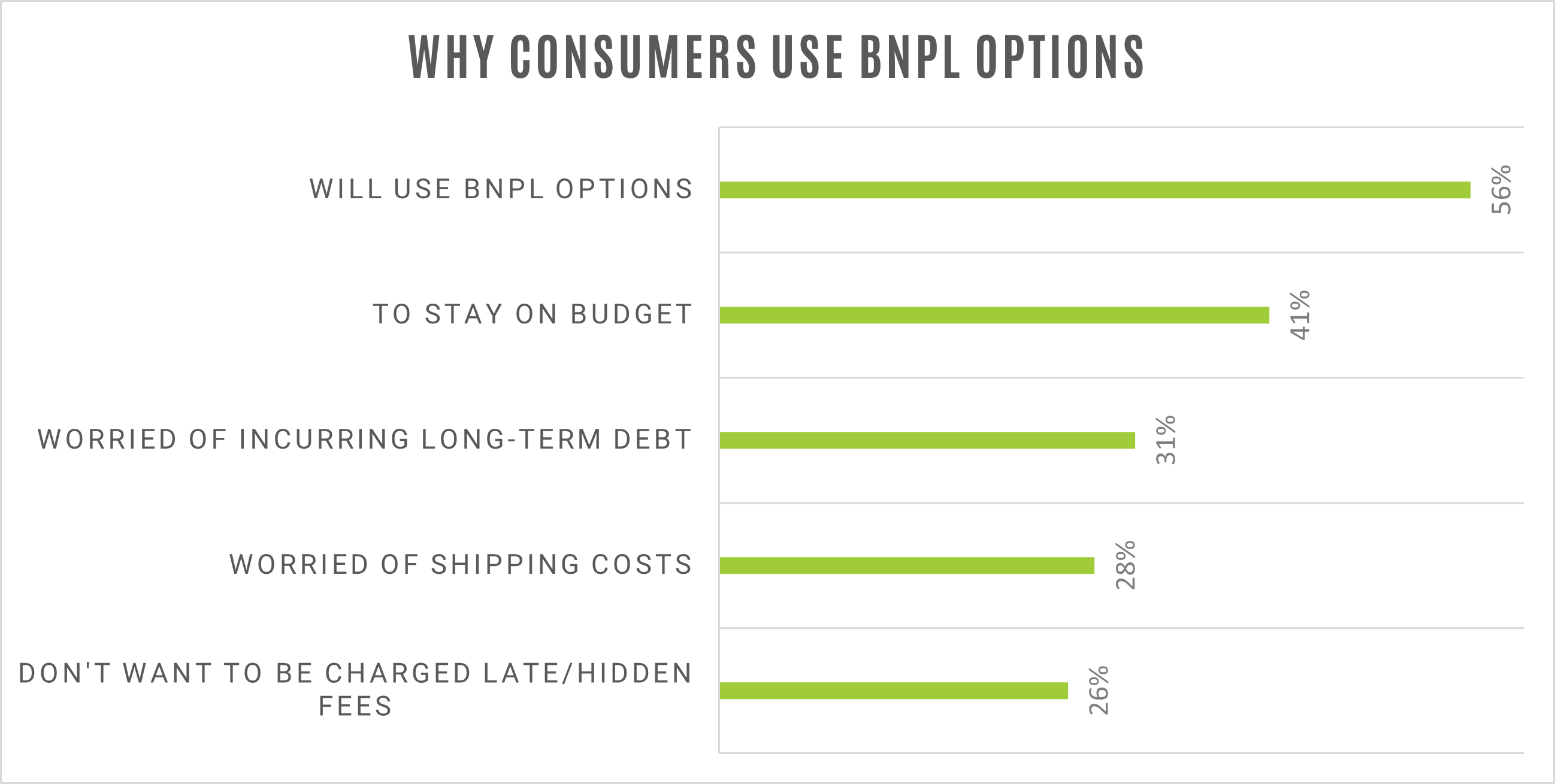 Thanks for reading!
If you'd like Buzzworthy Insights sent to your inbox weekly, please subscribe to our newsletter
Sign up here: http://eepurl.com/hukcCn