Buzzworthy Insights – Supply Chain Conundrum
10.11.2021
Buzzworthy Insights
Supply Chain Conundrum
Consumers are worried supply chain issues will never end.
As consumers are becoming more aware of the supply chain conundrum we are experiencing, they are becoming more critical than ever of their purchasing decisions. When retailers do not focus on these issues, especially moving forward, they are at high risk of losing customers as 80% indicate they would stop buying from a brand entirely due to delays or shortages, according to a new study by Oracle of 1,000 US consumers. Of that eighty percent, 58% of them would stop buying from a brand due to 1-3 delays or disruptions.
Retailers can retain consumers by keeping them up to date with their shipping status as 63% indicate they want regular updates with their shipping status, 59% want more transparency on inventory, notify of potential supply chain issues (54%), and offer refunds (56%) or discounts (52%) if items are delayed or end up being canceled. (View source)
Holiday Season
Retailers starting "Black Friday" deals earlier than ever.
Due to the continuing disruptions to the supply chain, retailers are attempting to gain holiday market share by releasing sales, Black Friday in particular, earlier than ever in hopes to alleviate worries of out-of-stock items and delivery delays. Target will be featuring their holiday promotion from October 10th – 13th and it will be the first time they are offering all deals across online and physical stores. For the first time ever, they will also be offering an option to customers that allows them to request a price adjustment on any item that is later reduced in the season, along with their typical price matching.
On the curtail of this announcement, Amazon declared they will start "Black Friday-worthy deals" along with sharing gift ideas for everyone in your household and sending gifts by just an email or mobile phone number. Even with early sales similar to last year, a bulk of sales still occurred in December, especially in the toys categories as about 16% of Q4 toy sales occurred in October compared to 55% in December. (View source 1, source 2, source 3)
The Contactless Shopping Experience
Aldi is stepping into the no-cashier arena.
In partnership with Trigo Vision Ltd., Aldi is beginning to test an autonomous shopping experience in their Aldi Nord store located in Utrecht, Netherlands. Working similar to Amazon's "Just Walk Out" technology, the ceiling-mounted cameras will track shopper movement and product choices, allowing the customer to simply walk in, grab what they want, and leave. Customer data is fully autonomized and compliant with privacy regulations. Instead of using tracking via biometric identifiers, Trigo Vision technology only tracks movement and items they choose, autonomizing the data in order to send the customer a digital receipt and payment once they leave the store.
As consumers continue to want more digital capabilities, retailers will want to invest in technologies that allow a customer to seamlessly get what they need without having to wait around in a line. Verizon has also tested this idea, launching a contactless pop-up called Express Shop, allowing any visitor to simply enter the store by tapping a credit card upon entry and emailing them a receipt upon leaving. (View source)
Ever-Expanding Walmart
Walmart gains first major GoLocal delivery client and new partnership.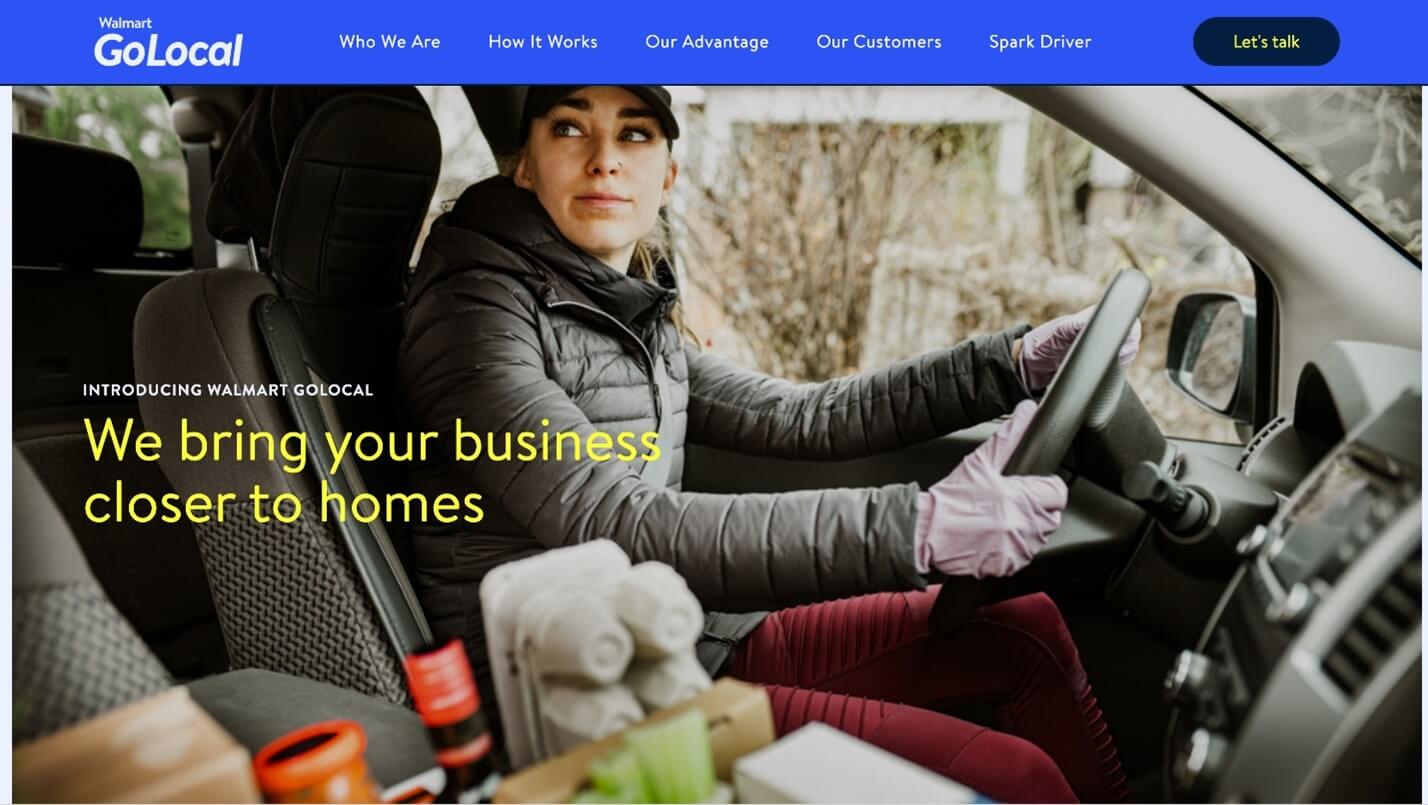 Photo: Walmart
Walmart's white-label delivery source, GoLocal, which harnesses third-party drivers to deliver local orders from other businesses gained their first major client, Home Depot. With this partnership, Home Depot is hoping to gain same-day and next-day delivery to 90% of the U.S. population, something Stephanie Smith, Home Depot's VP of supply chain, said is one of their main goals moving forward. In addition, Walmart is partnering with American Express to bring holders of their Platinum card additional benefits by covering the Walmart+ monthly cost. According to JungleScout, nearly half of online Walmart shoppers already have Walmart+, with 23% indicating they may join in the future.
This merger comes after American Express claimed Walmart is a top retailer for their Platinum holders, according to their Amex Trendex trend index. Of the respondents, 45% say they spent more this year on online grocery shopping, and more than sixty percent (63%) shop online once or twice a week. (View source 1, source 2)
Grocery Shopping from Home
New interactive video experiences introduced to Albertson's companies.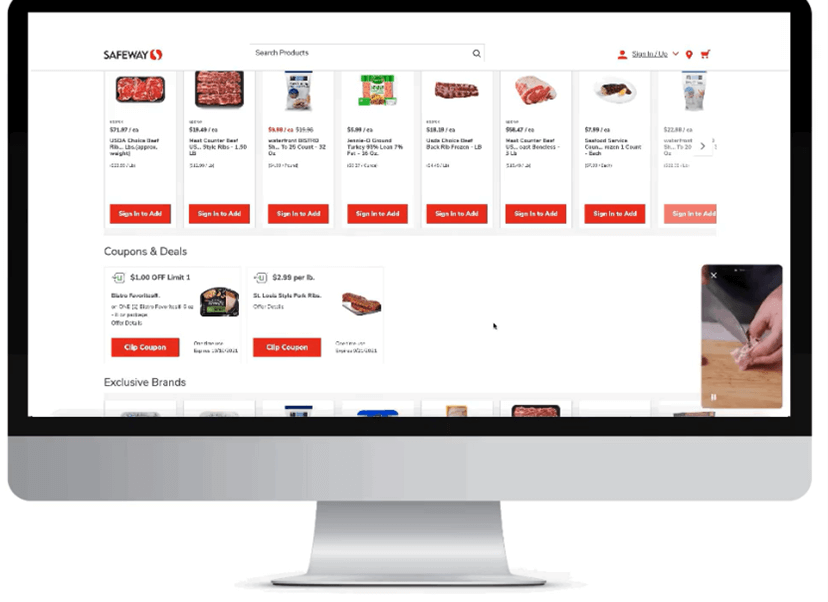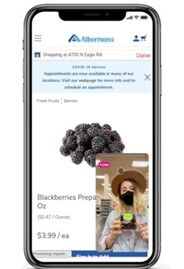 Sources: Firework
Similar to videos you see on TikTok and Instagram/Facebook Stories, Albertsons is looking to implement this on their grocery retailers' websites which includes the likes of Safeway, Vons, and Jewel Osco, among many others. Firstly, the rollout will deploy short videos and cooking experiences on various banner websites of theirs, moving to expanded experiences in 2022. Customers will also be able to create, curate, and host short and livestreamed videos allowing them to build small communities and continually engage with the brands and products they love. This comes at a time when consumers are still reluctant to enter stores, even for groceries, this will give retailers the chance to monetize their digital space and in future rollouts, monetizing the consumer hosted communities. Firework CEO Vincent Yang is extremely hopeful saying, "Firework is redefining the future of video-first Web 3.0 with distributed, decentralized hosting, and is here to enable every business to reclaim ownership of its brand, its community and the opportunities therein." (View source)
Thanks for reading!
If you'd like Buzzworthy Insights sent to your inbox weekly, subscribe to the newsletter.