Buzzworthy Insights – Prime Day News
06.07.2021
Buzzworthy Insights
Prime Day is happening later this month.
Amazon has officially confirmed the dates of its two-day Prime Day sales event! Prime Day 2021 will be held Monday, June 21st – Tuesday, June 22nd. Amazon has also revealed the deals and discounts they will be offering as well as its focus on sales for small-to-mid-sized businesses who sell on their platform.
Small-and-mid-sized businesses will offer over 1 million deals during Prime Day. Prime members can access a curated collection of Black-owned, women-owned, military family-owned, and other small businesses. (View source)
From June 7-22, Amazon will offer a $10 credit to use on Prime Day to members who spend $10 on select small business items based in the U.S., U.K., Spain, Germany, Italy, France, and Japan.
On June 7th, celebrities Kristen Bell, Karamo Brown, and Mindy Kaling will shop alongside customers during Amazon Live streaming sessions where they will talk with small business-owners and showcase their products. Similar sessions will stream living during Prime Day.
Over one million deals will be offered around the global across all categories during Prime. Deals will also be available in all of Amazon's brick-and-mortar banners. Prime members can begin shopping early deals on Amazon devices on Friday, June 18.

Photo: Amazon Support Small @ Amazon.com
Other major retailers are joining in on the deals.
Target is launching its own online promotion "Target Deal Days" one day earlier than Prime Day. The event takes place Sunday, June 20 – Tuesday, June 22 and does not require a membership to participate (unlike Prime Day). Target will offer discounts across its entire product assortment, which includes food and beverage, and all purchases will be eligible for in-store and curbside pick-up, and same-day delivery. Additionally, Target will offer an early 5% discount on digital gift cards from June 16-19.
Walmart is not to be left out! The retailer will hold its in-store and online promotion "Deals for Days" event Sunday, June 20 – Wednesday, June 23. Walmart is offering "Black Friday-like savings" from Walmart and its third-party sellers on top items from electronics, home, toys, beauty, and fashion. Deals will vary from being in-store-only, online-only, or offered in both.  (View source 1, source 2, source 3)
Brick-and-Mortar is Here to Stay
In-person shopping isn't going anywhere.
Even with the high growth of online shopping during last year, consumers still want to shop in-store. The top reasons people shop in brick-and-mortar include physically experiencing products (62%), trying things in store (53%), and the speed of purchase (45%).
Delivery charges and the inability to physically experience products are top reasons in terms of online purchasing barriers (46%). Although some shoppers see convenience as a benefit, there are times that the delivery waits become a barrier, especially when the needs are immediate.
However, the type of items that consumers are buying matters. In-store shopping is the preferred method for purchasing essential items such as food, cleaning supplies, and toiletries (78%). Online shopping is the preferred method for discretionary items such as shoes, clothing, and electronics (72%).
Brick-and-mortar penetration levels are almost double the online levels across essential categories. The largest gap is seen with food and drink, where penetration is 32 points higher in brick-and-mortar channels. (View source)

PPT Graphic: "Why U.S. Consumers Use Brick-And-Mortar"
Free Samples Are Back
Sam's Club is bringing back the joy of free samples!
Sam's Club is resuming its sample offerings, but with a twist – the retailer will add sampling events that take place in its parking lots. The new sampling program is called "Taste & Tips" and will launch to all Sam's Club locations nationwide. This news comes as Costco announced last week that it will bring back free samples in "phases."
Taste & Tips launches this week and will initially take place on weekends and in limited quantities. Safety measures will be put in place, such as sealed samples. The sampling program will also include immersive experiences such as including Sam's Club new company-branded food truck called "Member's Mark Summer Eats Food Truck." The food truck will tour the central U.S., giving members a chance to try new and popular items from Sam's Club private food brand, Member's Mark.
Sam's Club recognizes that consumer shopping behaviors have changed. Many don't want to simply shop anymore – experiences are increasingly important. The retailer is continuing to test new ways to offer sample items to its customers, including serving samples directly to members as they check out. (View source)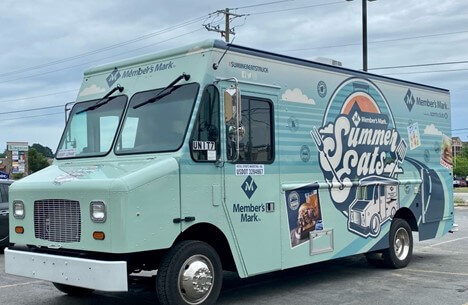 Photo: KTLA/Sam's Club
Convenience and Crypto
Sheetz will become the first convenience store retailer to accept payments via bitcoin.
Customers will soon be able to pay for in-store items or gas at the pump using digital currencies such as bitcoin, ether, dogecoin, and more this summer. Sheetz is using Flexa, a digital currency payment platform, to convert the cryptocurrency to U.S dollars in real-time. Customers will also be able to link their My Sheetz Rewardz loyalty account when paying with Flexa.
This move comes at a time when brands such as Camping World, Newegg, and Tesla announced that they are accepting cryptocurrency as payment this year. Sheetz is providing customers a place where they can get what they want, when they want it – and that includes accepting various forms of payment options. (View source)
Ultra-fast Delivery Gains Speed
New York welcomes a new delivery service that fills online orders in 15 minutes or less.
Jokr, a new 15-minute delivery platform, is launching in New York City and offers bike-based deliveries. Jokr relies on a network of micro-fulfillment hubs around the areas it operates in and fills orders across categories such as grocery, personal care, baby, wellness, and household items. The service is free to use and requires no minimum order or delivery fees.
Jokr's micro-fulfillment hubs are designed to provide flexibility and control of its products. Hubs are refreshed daily with items that constantly change based on availability and demand. The hubs act as micro-distribution centers, ready for immediate fulfillment and riders readily wait to deliver the items in 15 minutes or less. Additionally, its prices are on par with grocery stores – the company says the prices can even be lower.
Jokr aims to work on a "hyper-local level" by purchasing from local businesses and hiring riders full-time from the local communities. (View source)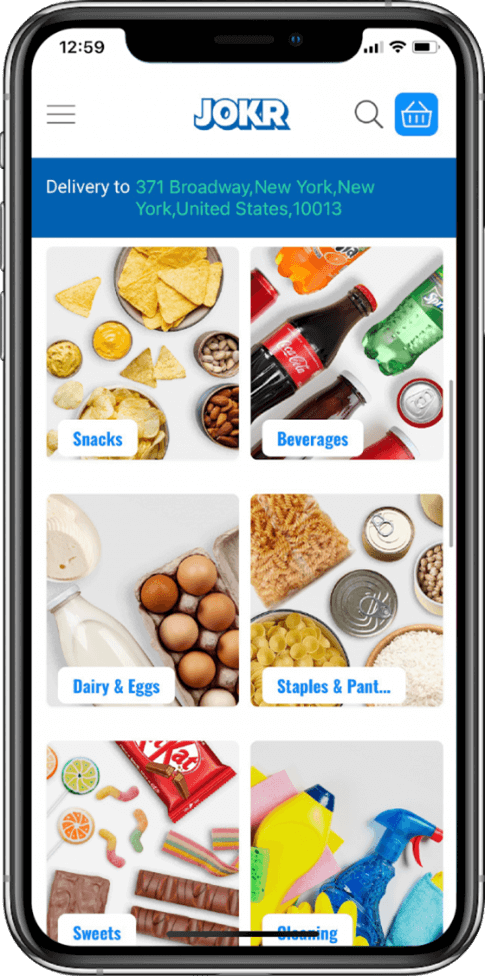 Photo: Progressive Grocer/Jokr
Thanks for reading!
If you'd like Buzzworthy Insights sent to your inbox weekly, please subscribe to the newsletter.
Link: http://eepurl.com/hukcCn